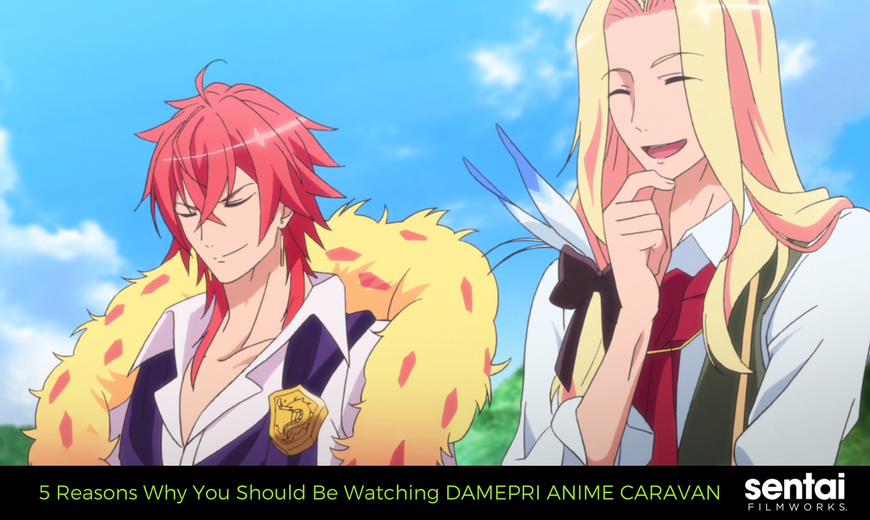 5 Reasons Why You Should Be Watching DAMEPRI ANIME CARAVAN
---
Whether you want awesome comedic timing or just to look at pretty bishonen, DAMEPRI ANIME CARAVAN has a little something for everyone, from it's over the top characters to its rather dependable heroine. This series turns the usual otome anime tropes on its head and gives a real depiction of how anyone would react in these very anime moments.
Relatable Heroine

Ani is the Princess of Inako and she has the (un)fortunate luck of acting as a diplomat for two countries in which some colorful princes reside. She isn't afraid to speak her mind and call out the ridiculousness of the situations she finds herself in. Her spunk and character make her charming, and her exasperated facial expression can't be beat!
The Bishonen

This wouldn't be an otome game adaption without its' beautiful suitors. There is the narcissist Narek, the Cassanova Vino, the pure Ruze, and the otaku Mare. These four princes are over the top and tend to take their tropes a bit too literally. It's great as Ani makes them see that being a bit more compassionate, or down to Earth might help their likeability…
Side Characters

One of our favorite aspects of the show is the side characters. The world is filled with just as zany personalities as our four princes. Characters like Riot, who is short with words and has great disguises like, you know, a cabbage. Then there are characters like the Prime Minister of Selenfalen, who likes to interrogate lawbreakers by tying them up. The usual stuff, we swear!
Grimaru

The protector of Inako is a pink floating cat thing, which turns out to be the perfect companion for a princess! Her job is to help and protect Ani but sometimes Grimaru accidentally ends up causing a bit more trouble. With good intentions, she is a hilarious addition to the cast!
Over the Top Situations

If there something uniquely charming about DAMEPRI ANIME CARAVAN, it's the absurd situations the group often find themselves in. A perfect example is when a wild boar suddenly appears and Ani uses her cape as a matador would, only for her plan to be foiled by Grimaru. Or even when the flamboyant Prince Narek uses confetti as a good luck charm.
A Comedic Delight
If you want a change of pace this season, we highly suggest this self-aware otome adaption. With humor and wit, you'll enjoy DAMEPRI ANIME CARAVAN and its colorful characters. Catch the series on HIDIVE! Who's your favorite character in the series? Tell us by tagging @sentaifilmworks on Facebook or Twitter.