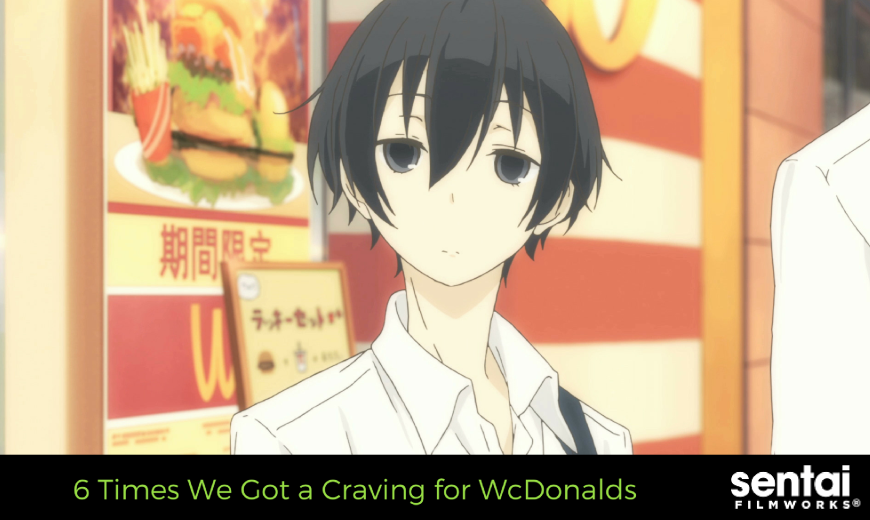 6 Times We Got a Craving for WcDonalds
---
Let's all go eat at our favorite anime restaurant, WcDonalds! This casual anime eating establishment is a staple in many anime, and it's strong resemblance to a similarly named IRL franchise is impossible to miss.
Let's take a brief look at the times we were suddenly craving a burger and fries.
This is one of the coolest fast-food places you'll visit, but only when Sakamoto is at the register. At this very special WcDonald, you can order a Big Wac, fries, and one smile for takeout!
These health-conscious cyclists still have their guilty pleasures. They tend to pair long bike rides with delicious food afterwards, and… is that TWO burgers we see on Hinako's tray? You go, girl.
Speaking of "ham-barkers," thank you Mayuko for introducing Tora to hamburgers. We're never quite told the brand, but we can see that telltale yellow on the wrapper!
Who would have thought you could attempt to do "the talk" at EcDonald's? Look closely at the screenshot, and you'll see Yuta and Rikka having a moment right there at the window.
Can you make it through the entire WcDonald's scene in Watamote without cringing? Socially awkward Kuroki can barely whisper her order to the girl at the counter, and later we get to experience… the face. (We won't spoil it for you if you haven't seen it, but let's just say she comes up with a "strategic" way of trying to disguise herself to exit the restaurant.)
Even fast-food places can slow down whenever our listless Tanaka-kun is involved. Apparently, he likes the fries and milkshakes. It's amazing how well you see those (albeit inverted) golden arches hiding in plain sight.
Where is YOUR Favorite WcDonald's?
Everyone has their one favorite place, right? There are a lot of shows out there: help us spot the other WcDonald's instances, and share your findings with us on Facebook, Twitter, Tumblr, and Instagram.