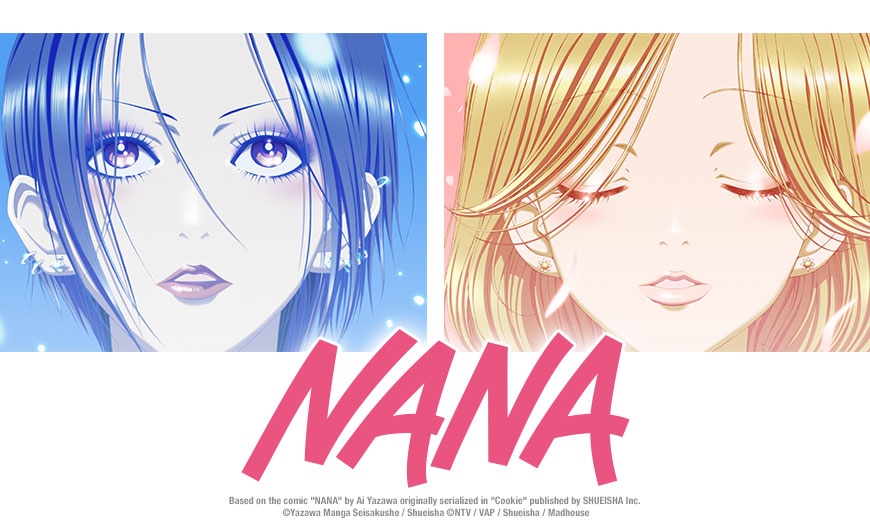 Acclaimed Anime Series "NANA" Coming to Sentai
---
HOUSTON, TX — January 26, 2021 — Sentai announced today that it acquired NANA, the 47-episode anime series produced by Madhouse and based on the manga by Ai Yazawa (NEIGHBORHOOD STORY, TENSHI NANKA JA NAI) with 40+ million copies sold. The series has been upconverted from its original format to vivid high definition.
Two twenty-somethings seemingly share nothing in common apart from their first name, but a chance meeting on a train bound for Tokyo sets Nana Komatsu and Nana Osaki on a collision course with destiny. Nana Komatsu, a love-at-first-sight dreamer, aims to find enduring happiness in the big city. Nana Osaki, neo punk rock vocalist, pursues her burning ambitions of musical stardom and worldwide fame. As their fates increasingly intertwine, they each chase their dreams — until the harsh realities of life in big city Tokyo threaten to tear everything apart.
A production of studio Madhouse (No Game, No Life, Parasyte -the maxim-, DEATH NOTE), NANA is directed by Morio Asaka (Chihayafuru, MY Love STORY!!, Cardcaptor Sakura) with series composition by Tomoko Konparu (Blue Spring Ride, Sunday Without God, Glass Mask) and music by Tomoki Hasegawa (Mysterious Girlfriend X, D.N.Angel, Zan Sayonara Zetsubo Sensei). The series stars Romi Park (Land of the Lustrous, Fullmetal Alchemist: Brotherhood, Shaman King) as punk-rocker Nana Osaki and KAORI (Kaleido Star, Final Fantasy: Unlimited, Pokémon: Advanced Generation) as the cheerful Nana Komatsu.
Sentai is planning an HD version for release on digital outlets with an HD home video release to follow.
For Sentai's latest announcements regarding this and other great titles, be sure to like us on Facebook and follow us on Twitter.
About Sentai
A Cool Japan Fund portfolio company, Sentai is a leading global supplier of anime and official anime merchandise, distributing and curating one of the industry's most diverse libraries of top trending and classic titles. Sentai offers thousands of hours of content across both traditional and digital platforms and is dedicated to bringing captivating stories and iconic characters directly from Japan. With hit series that include MADE IN ABYSS, Food Wars!, Princess Tutu and Parasyte -the maxim-, Sentai's catalog continues to grow with new favorites like Bloom Into You, Revue Starlight and O Maidens in Your Savage Season, as well as classic anime series such as Legend of the Galactic Heroes and The Big O. For more information, visit www.sentaifilmworks.com.
###