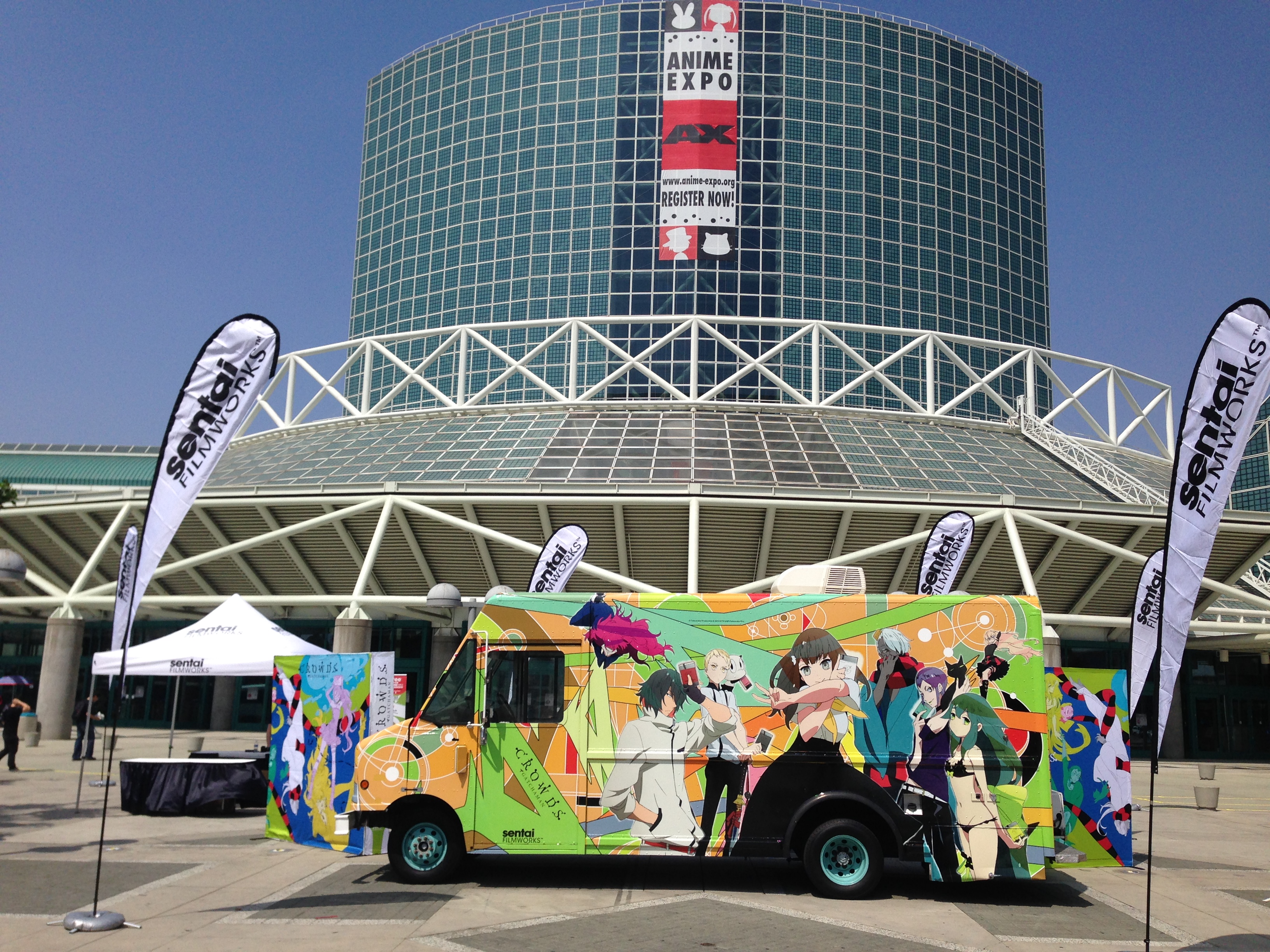 Anime Expo was Animazing!
---
Now that we've caught our breath…
First and foremost, we want to thank you, our fans! You guys truly are the reason we show up to such an event. Your fanatical fandom and wonderful spirit radiated to the rafters and it was contagious.
We met a lot of wonderful people, gave away lots of free loot, and had lots of fun along the way. Did you get any Sentai Filmworks swag? Or, did you not get a chance to go? Either way, here's a rundown:
Day Zero - July 2, 2014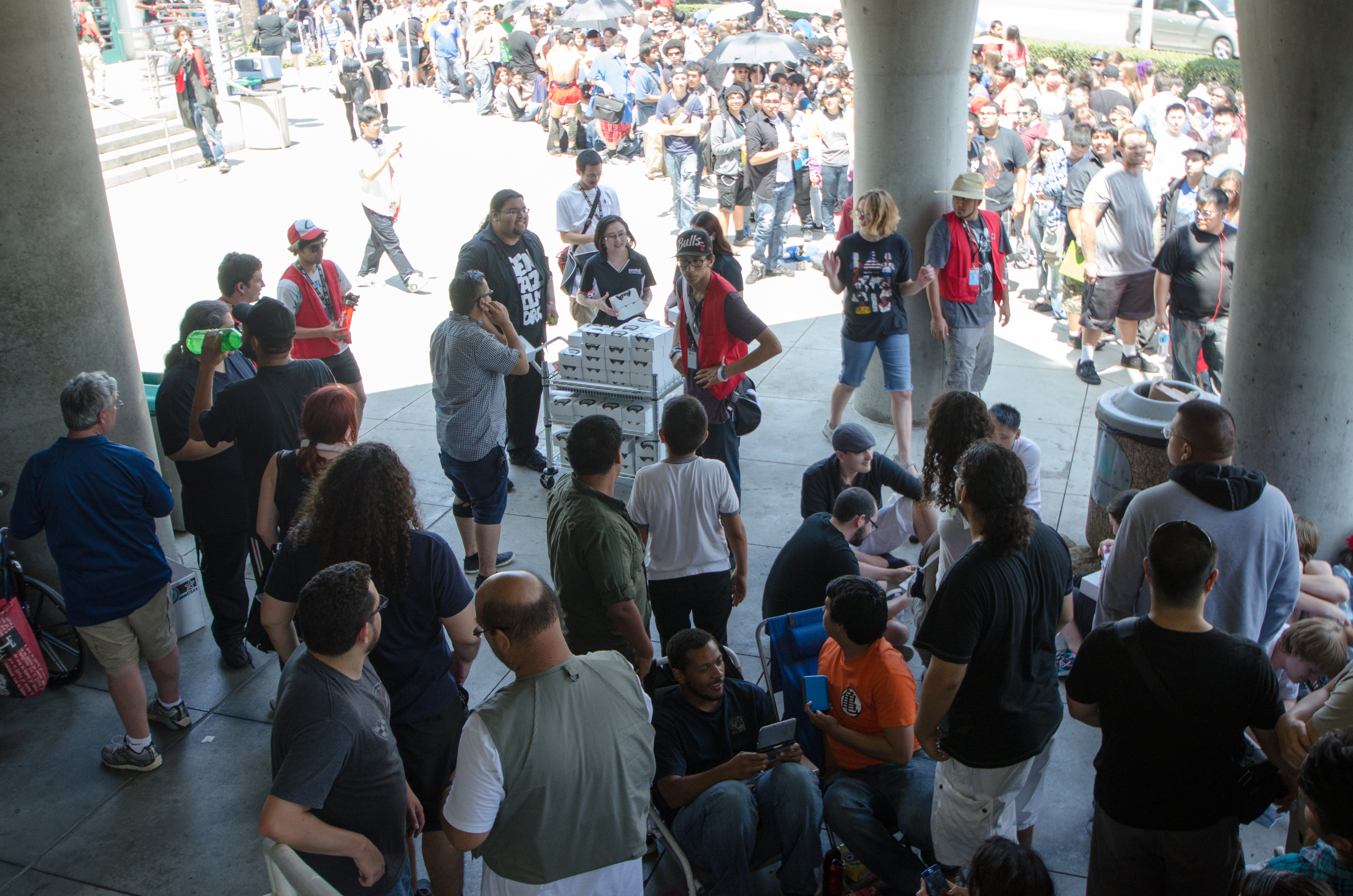 Sheesh. Day zero felt like a marathon that we hadn't trained for. Except… the marathon was run up a mountain pushing a boulder a la Sisyphus and it seriously felt like it was never going to end. There's a lot to do, guys and girls! Plenty to unpack and organize. We had a "dry run" of our Gatchaman Crowds Fluff Ice. If you were there standing in the very long line waiting for your badge, then you got a firsthand look at the beginning of our weekend long Fan Service Initiative! Perhaps you got some bottled water and/or a cold treat from us? It was certainly a long, hard day… but it was nice outside. If we hadn't been working so hard, it would've been a great day to play volleyball like we saw some of the Haikyu!! cosplayers doing!
Day One - July 3, 2014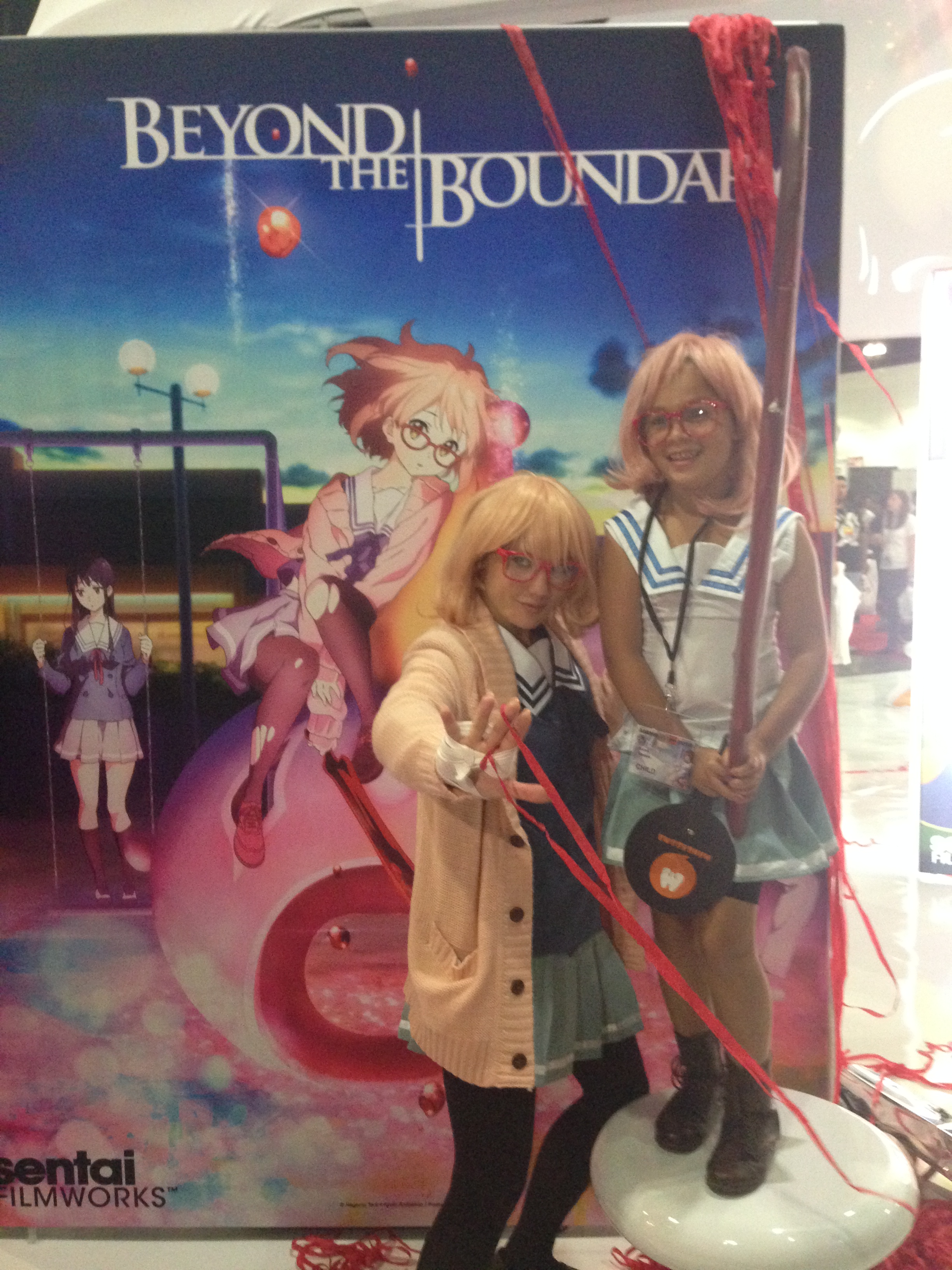 The devil is in the details: Lots of work went into putting the finishing touches on the Fluff Ice Truck and Booth (#1301). Did you get a picture with Hajime from Gatchaman Crowds and Mirai from Beyond the Boundary? Our 2nd Annual Sticker Rally was a smash hit. Did you get our stickers?! We passed out "Sentai Noticed Me!" and Gathcaman Crowds stickers. And if you collected them both, you hopefully were one of the lucky ones to receive a limited edition Anime Expo tee. Also, there was a Beyond the Boundary booth takeover that happened at noon. Mirai was a bloody mess. ;)
Day Two - July 4, 2014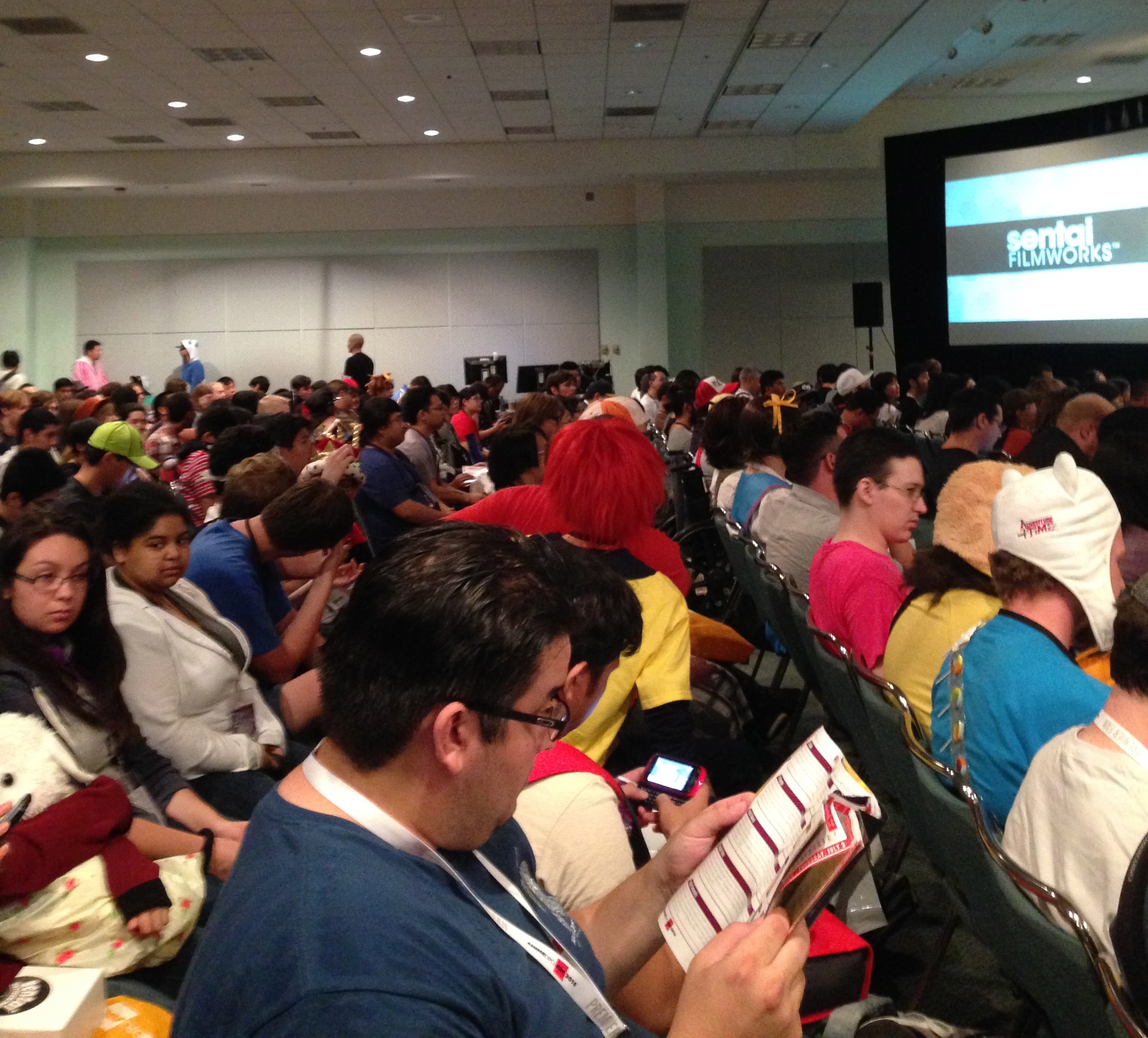 If you were able to get into our Industry Panel on Friday, then count yourself lucky, since it got packed pretty quickly. Count yourself SUPER lucky if you were one of the first 150 to get in, since those early birds had a nice "Sentai Noticed Me" bento box of snacks waiting them at their seats. Aside from treating our more fervent followers right, we also had a slew of announcements ready and queued up for those in attendance. Here's a quick rundown of all that was discussed:
New Summer 2014 Acquisitions
Rail Wars!
Invaders of the Rokujyoma?!
GLASSLIP
Blue Spring Ride
Argevollen
Sabagebu! -Survival Game Club!-
Akame ga Kill!
NOTE: We have since announced more Summer titles: Samurai Jam -Bakumatsu Rock- and Bladedance of the Elementalers!
New Title Acquisitions
Chaika -The Coffin Princess-
My Mental Choices are Completely Interfering with my School Romantic Comedy
I Couldn't Become a Hero, So I Reluctantly Decided to Get a Job
Box Sets
Beyond the Boundary (NEW!)
November Schedule
HOTD Box Set (12 eps. + OVA)
Log Horizon Shiroe and Akatsuki cosplayers joined us for more festivities at the booth as well. Did you happen to get a Log Horizon sticker? Oh yeah, and Rikka from Love, Chunybio & Other Delusions joined us, too. And we had a very special guest: Jessica Nigri cosplayed as Alka from Blade & Soul!! Did you score a photo with her and a special Blade & Soul sticker? As if that wasn't enough, the Worldwide Premiere of the Short Peace English Dub screened. We even had a Short Peace sticker. And Hajime from Gatchaman Crowds was back! To top it all off, we gave out more Fluff Ice!
Day Three - July 5, 2014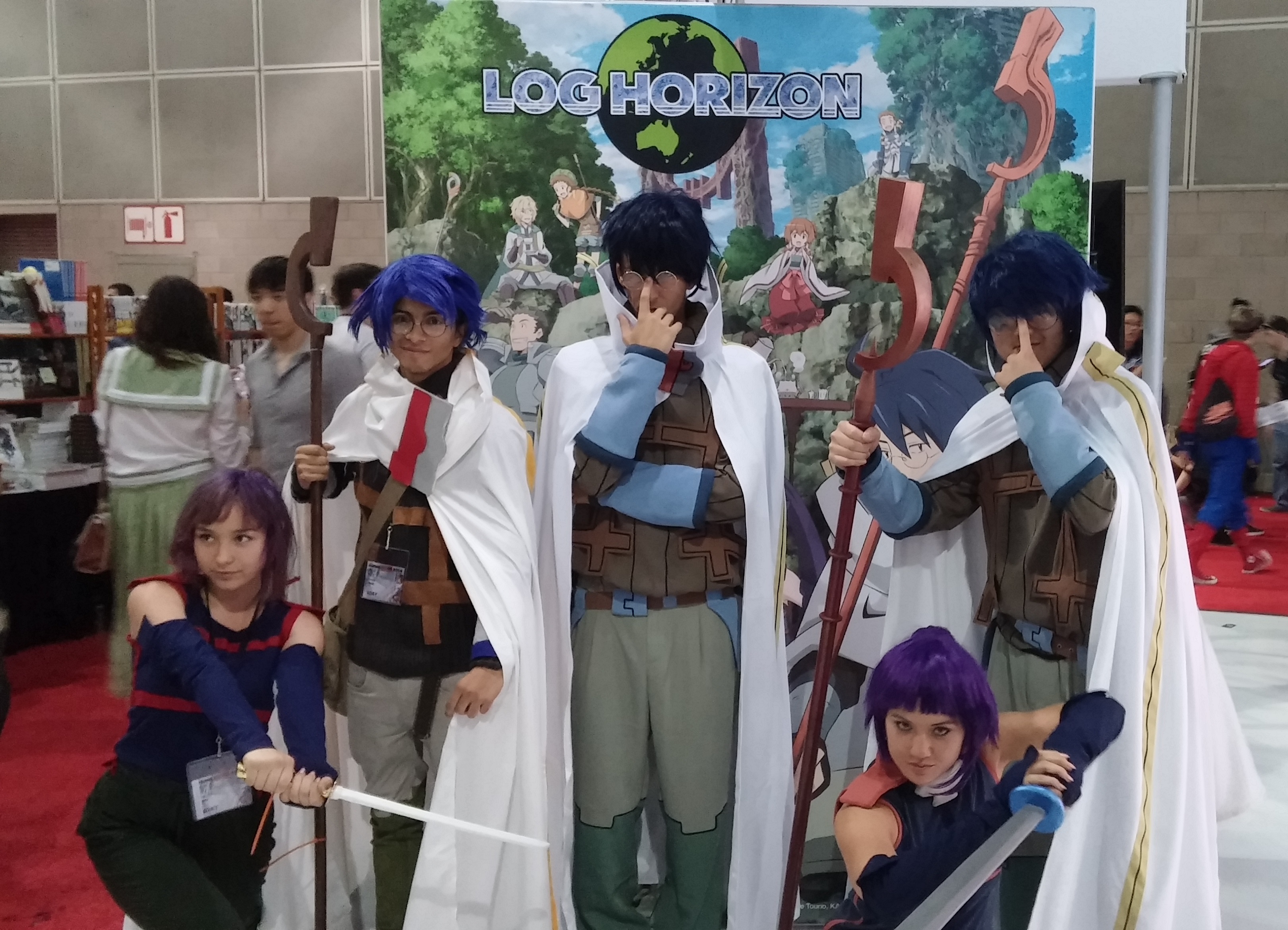 Shiroe and Akatsuki from Log Horizon showed up again and were some real crowd pleasers. And Rikka looked cute as ever! We even had a Love, Chunybio & Other Delusions booth takeover. Once again, Jessica Nigri graced us with her presence – but Saturday she cosplayed as iconic pink-haired power house, Super Sonico! Lots of Sonico swag to be had: stickers, guitar picks, buttons! And did you see the guitar, headphones, and picks that we raffled away?! And we had another t-shirt to give away, too! And what seemed to be a very coveted treasure: No Game, No Life posters! And don't think we didn't notice all you Sora and Shiro cosplayers! BLANK never looked so good!
Day Four - July 6, 2014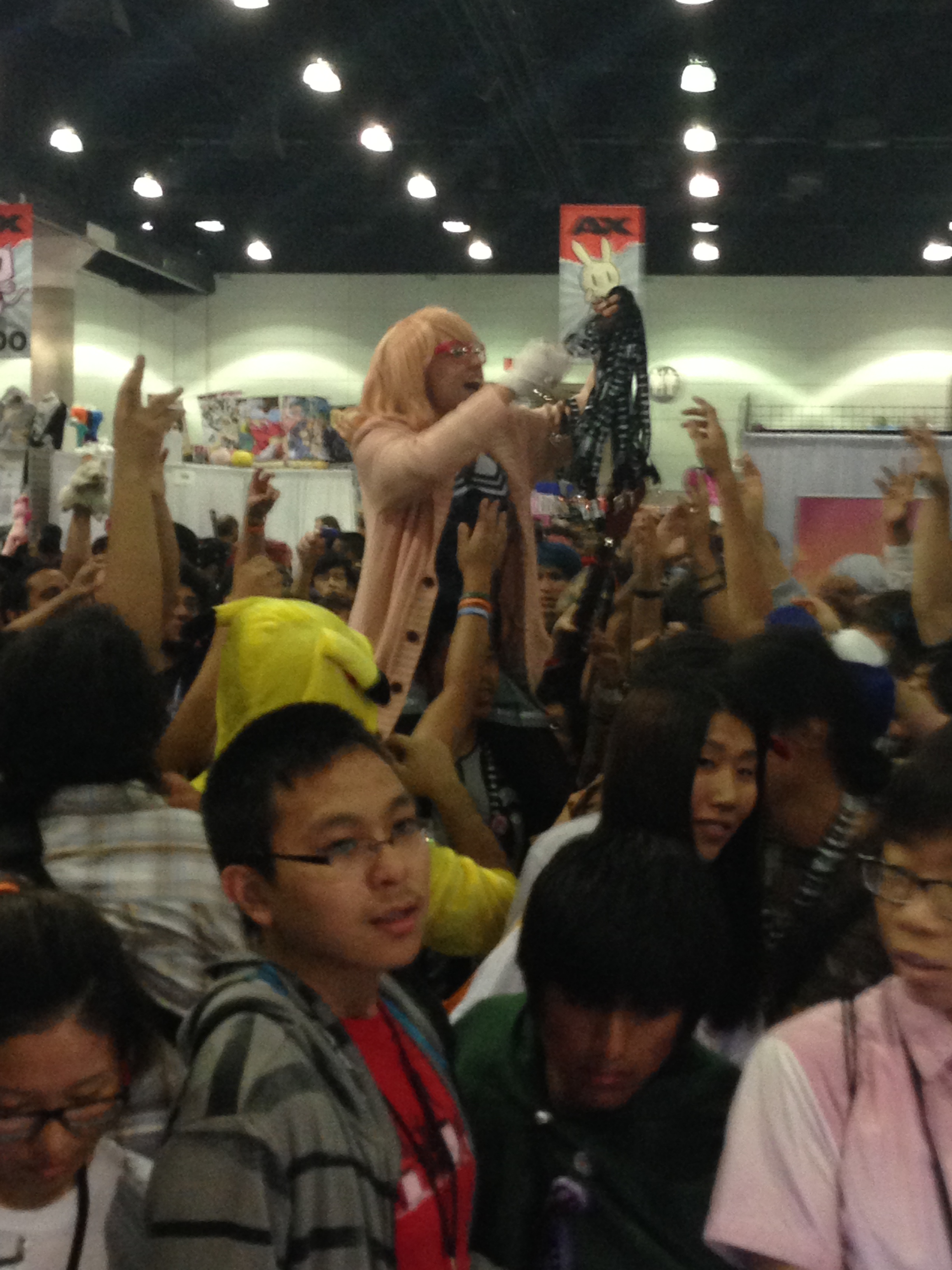 All good things must come to an end, and the same holds true for AX. But we went out with a bang! Mirai from Beyond the Boundary was back. And we loved seeing all the fans cosplay as Mirai. You all looked so great!! Today was the last chance to eat some of that yummy Gatchaman Crowds Fluff Ice. Did you try all three flavors! They were all so good! And did you see the stuff we raffled off for the Gatchaman Crowds sweepstakes?
Anyway, everything must go! And it did! We literally gave away everything we had. We surely weren't going to bring any of this back on a plane. If you got something, hold it near and dear to your heart. If not, let's meet up next year!