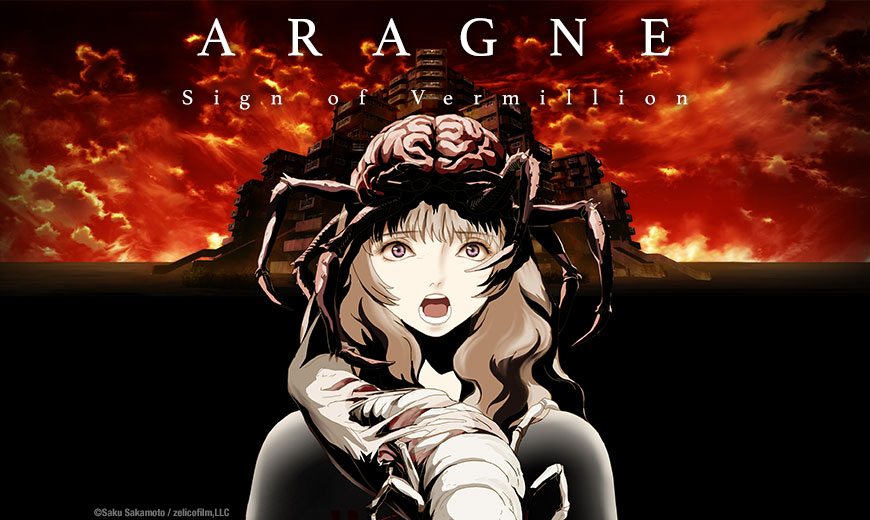 "Aragne: Sign of Vermillion" to Deliver Digital Thrills on October 9, 2020
---
Get into the spirit of Halloween with Aragne: Sign of Vermillion, the bone-chilling indy horror film replete with hypnotic visuals, eerie music and bizarre scares that will leave you trembling in your seat.
Digital Screenings Start October 9, 2020
Available via Eventive's digital cinema experience, Aragne blends traditional and CGI animation to produce a creep-tastic feature film no horror fan will want to miss.
Viewers can book a virtual screening through a local theater or through Sentai. By purchasing a virtual ticket through a participating theater, anime fans can support their local businesses even while social distancing.
More About Aragne: Sign of Vermillion
Aragne: Sign of Vermillion hails from the mind of Saku Sakamoto, an animation veteran who cut his teeth on fan-favorites like Ghost in the Shell 2: Innocence.
Sakamoto served as Aragne's creator, screenwriter, director, music composer, and one-man animation army in an effort to challenge himself as an artist. Sakamoto is known for his unique visual aesthetics and creativity, and his work on Aragne shows why he's become known as the "transcendent painter."
Sakamoto funded his experimental indy project through a successful initial run on Kickstarter, which was backed by the likes of Takashi Shimuzu (creator of The Grudge). The film made its world premiere at the Fantasia International Film Festival in 2018.
Want a Sneak Peek? Check Out the Trailer Below!
"Rin's new apartment building is a far cry from the sunny, idyllic photos from the rental brochure. Instead of offering sanctuary from a dangerous world outside, it oozes decay and dread. Residents exhibit unsettling, peculiar qualities and grotesque eruptions. Sinister forces seem to lie around every corner, and if Rin wants to survive, she will have to discover the terrifying truth — one she has kept buried within…"
Purchase your tickets to a digital screening of Aragne: Sign of Vermillion today.
A word of warning, horror fans: You may be watching in the safety and comfort of your own homes, but this is one flick you'll want to watch with the lights on.