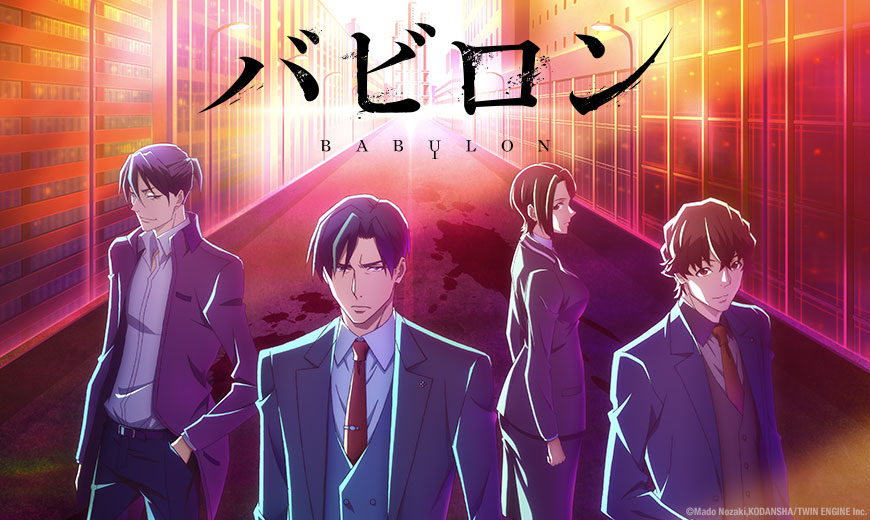 "Babylon" Coming to Home Video from Sentai
---
HOUSTON, TX — February 11, 2021 — Sentai announced today that it acquired rights to the suspense-filled thriller Babylon, the anime series based on Mado Nozaki's popular light novels. Sentai plans to release the series on Blu-ray as well as digital sell-through via select outlets.
Zen Seizaki, dedicated prosecutor with the Tokyo District Public Prosecutors Office, is assigned a seemingly cut-and-dry case of false advertisement on part of a pharmaceutical company. But what starts as a routine investigation soon turns into something much darker, the strange details of the case painting a portrait of corruption and deceit that permeates the mayoral election being run in the newly formed Shiniki District. Soon Seizaki discovers depravity that puts at risk the very fabric of the Japanese justice system — not to mention Seizaki's own sense of right and wrong.
The anime is a production of studio Revoroot (FLCL Alternative) and directed by Kiyotaka Suzuki (Psycho-Pass 2); Yutaka Yamada (Vinland Saga) provided the series' musical composition. Babylon features the vocal talents of Takahiro Sakurai (Psycho-Pass) as Shinobu Kujin, Satsuki Yukino (When They Cry) as Ai Magase and Yuichi Nakamura (Jujutsu Kaisen) as Zen Seizaki.
The series will be released on home video, including Blu-ray and digital sell-through, in Spring 2021.
For Sentai's latest announcements regarding this and other great titles, be sure to like us on Facebook and follow us on Twitter.
About Sentai
A Cool Japan Fund portfolio company, Sentai is a leading global supplier of anime and official anime merchandise, distributing, and curating one of the industry's most diverse libraries of top trending and classic titles. Sentai offers thousands of hours of content across both traditional and digital platforms and is dedicated to bringing captivating stories and iconic characters directly from Japan. With hit series that include MADE IN ABYSS, Food Wars!, Princess Tutu and Parasyte -the maxim-, Sentai's catalog continues to grow with new favorites like Bloom Into You, Revue Starlight and O Maidens in Your Savage Season, as well as classic anime series such as Legend of the Galactic Heroes and The Big O. For more information, visit http://www.sentai.com/.
###