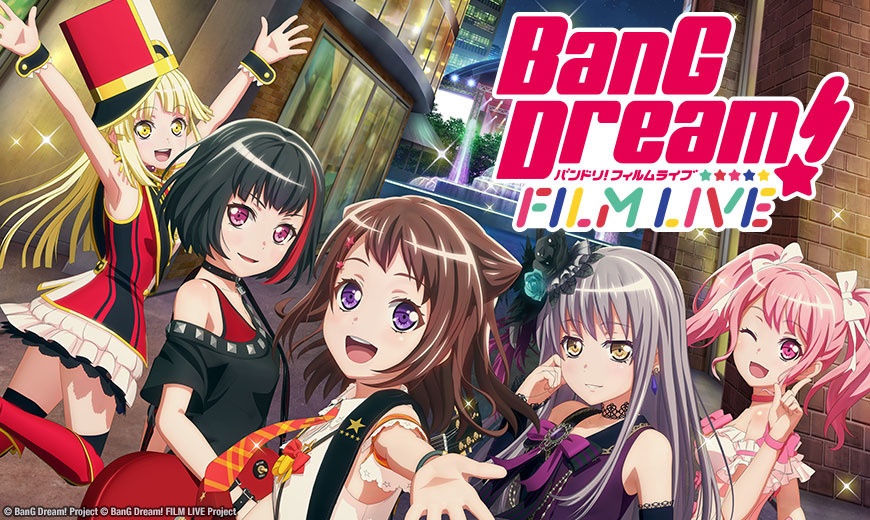 "BANG DREAM! FILM LIVE" TO ROCK THE HOUSE ON NOVEMBER 13, 2020
---
The bands of BanG Dream! are ready to rock your faces off in the musical spectacle fans have been waiting for! Indulge your craving for pulse-pounding music with this fresh concert experience that celebrates the music of your favorite acts across the BanG Dream! franchise.
DIGITAL SCREENINGS START NOVEMBER 13, 2020
Available via Eventive's digital cinema experience, BanG Dream! FILM LIVE features songs and performances by Poppin'Party, Roselia, Afterglow and more as these acts take to the stage to deliver the rock show of a lifetime.
Viewers can book a virtual screening through a local theater or through Sentai. By purchasing a virtual ticket through a participating theater, anime fans can support their local businesses even while social distancing.
MORE ABOUT BANG DREAM! FILM LIVE
BanG Dream! FILM LIVE is the concert movie extravaganza based on Bushiroad's popular BanG Dream! multimedia franchise, which incorporates a rhythm game for mobile, live concerts with the franchise's musical acts, and an anime series that recently aired its third season. (Watch it now on HIDIVE!)
But you don't need to be a BanG Dream! devotee to enjoy FILM LIVE; this concert-movie appeals to music and anime fans alike! Every BangG Dream! band represents a different musical subgenre, from Roselia's Visual Kei symphonic metal to the jazz-infused pop rock of Hello! Happy World, meaning there's something for everyone to love on the stage of FILM LIVE.
And since most in-person musical concerts have been put on pause, there's no better time than now to immerse yourself in the music of BanG Dream! and experience the live-concert aesthetic of BanG Dream! FILM LIVE.
WANT A SNEAK PEEK? CHECK OUT THE TRAILER BELOW!
The bands of BanG Dream!, including Poppin'Party, Roselia and other fan favorites, are back in action and they're ready to rock the world in this feature length music-driven spectacle! Join the bands as they take to the stage and perform their greatest hits in this exciting, star-studded and dreamy musical experience. Be sure to fire up the light sticks and sing along in the ultimate celebration of the music of BanG Dream!
Purchase your tickets to a digital screening of BanG Dream! FILM LIVE today.