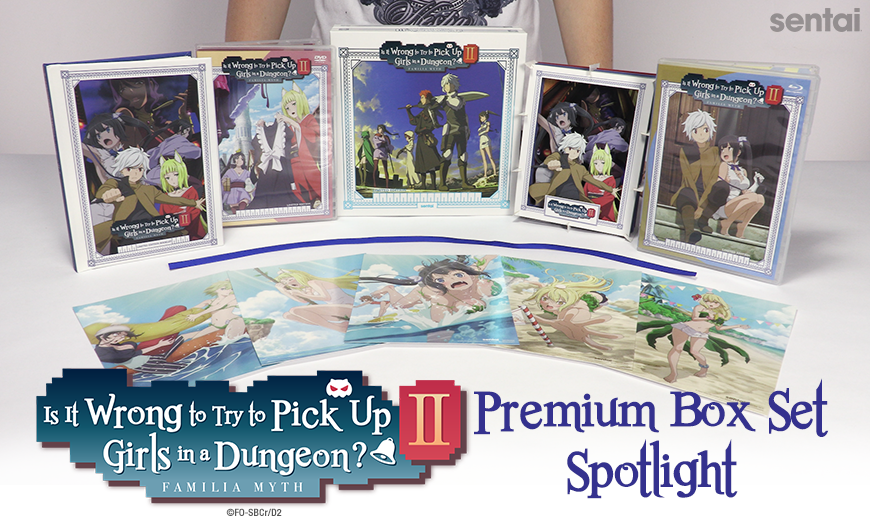 DanMachi Season 2 Premium Box Set Spotlight
---
The DanMachi Season 2 Premium Box Set is here at last! And the good news is that you don't have to fight off a hoard of dungeon monsters to get your hands on it. Whether you're a member of our family or the Hestia Familia, a copy of your very own is just a click away.
All we need to ask is this: "Is it wrong to think this might be one of our favorite Premium Box Sets ever?" Let's take a look inside and find out.
A Familia-r Collector's Box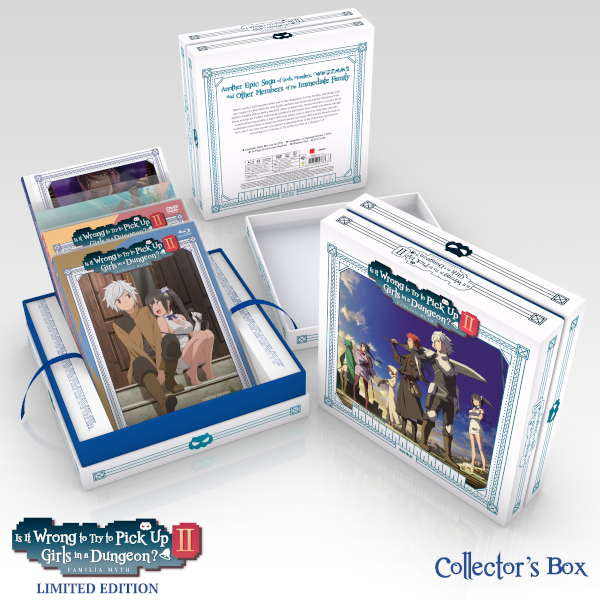 Wait. Does that box look familiar to you? It should, because it's been carefully designed to complement the PBS for DanMachi Season 1. If you were lucky enough to score a Season 1 PBS, you have GOT to get your hands on a copy of this set, too!
Watch DanMachi Season 2 on Both DVD and Blu-ray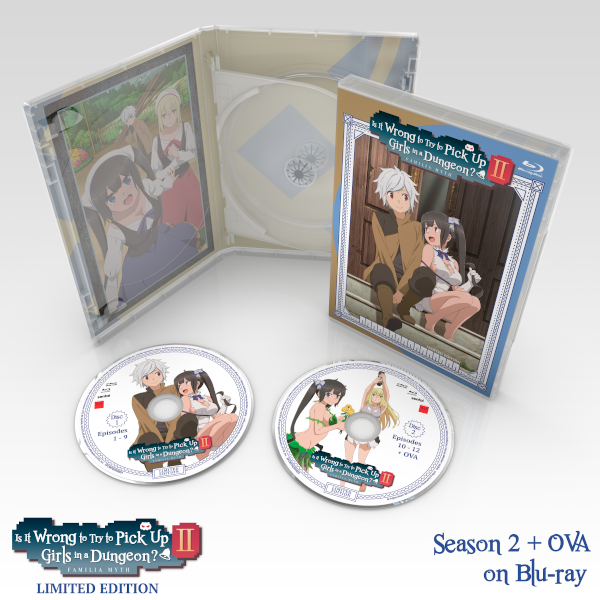 We released DanMachi Season 1 on both DVD and Blu-ray, so we're giving you both versions in this box set, too! The PBS contains the full second season of Is It Wrong to Try to Pick Up Girls in a Dungeon? (both subbed and dubbed!) as well as the subbed and dubbed second OVA , three clean opening animations and three clean closing animations — all on both DVD and Blu-ray. That's over 250 minutes of DanMachi goodness in two formats!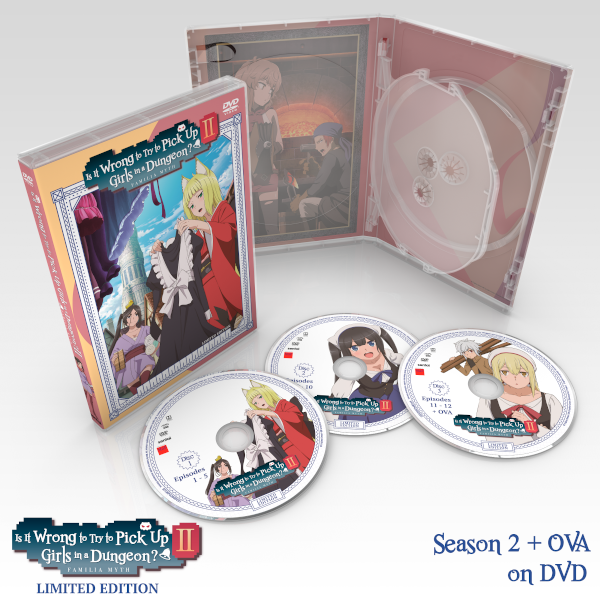 And for a nice little ~personal touch,~ we wrapped Hestia's signature blue ribbon around the box so you can help everything slip into something more comfortable, if you catch our drift. 😉
5 Glorious Art Cards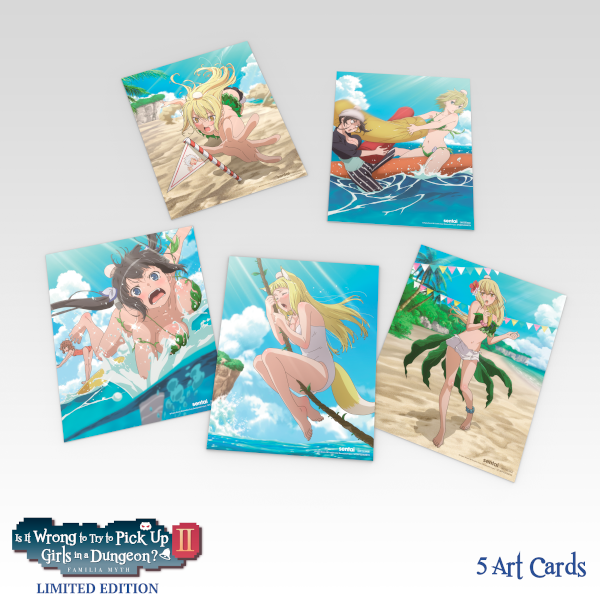 Looking for a little summer fun to spice up your fall? Look no further than these steamy art cards, with illustrations inspired by the second OVA!
A Full-Color, 56-Page Art Booklet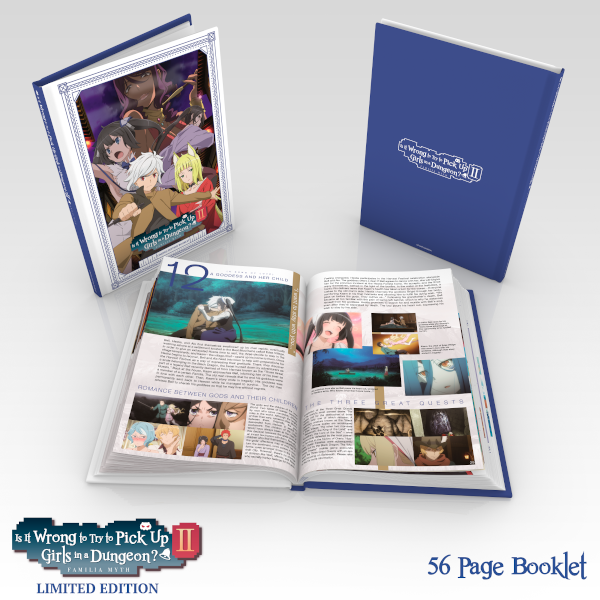 Delve even deeper into the world of DanMachi with this 56-page art booklet, which includes production details and tons of gorgeous artwork!
Brighten Up Your Room with This Shadow Box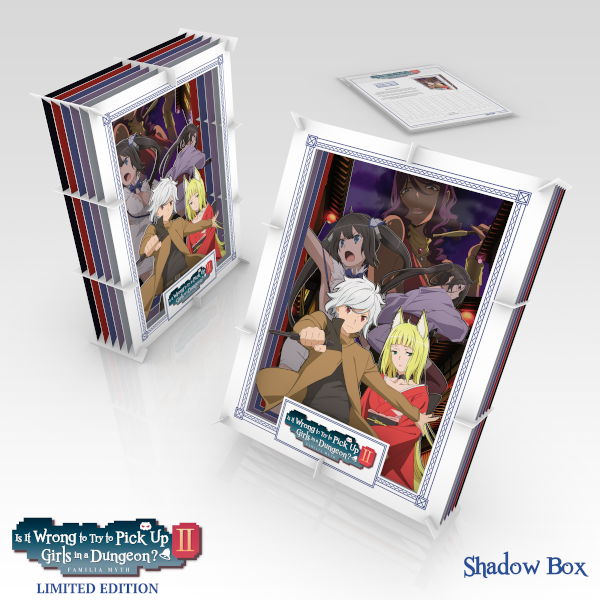 We were so excited to include this unique item in the DanMachi Season 2 Premium Box Set! In this shadowbox, a series of overlapping cutouts work together to form an eye-popping, 3D illustration that'll look at home on any discerning shelf or desk.
Add the DanMachi Season 2 Premium Box Set to Your Merch Familia today!
We loved putting this box set together, and we hope you love displaying it proudly on your shelf next to the rest of your DanMachi swag. Take a pic of your collection and tag us on social @SentaiFilmworks to show it off! And don't forget to take home all the action-packed glory of the Is it Wrong to Try to Pick Up Girls in a Dungeon? II PBS today!
Want to see more product spotlights and other Sentai news? Sign up for our newsletter to stay in-the-know!