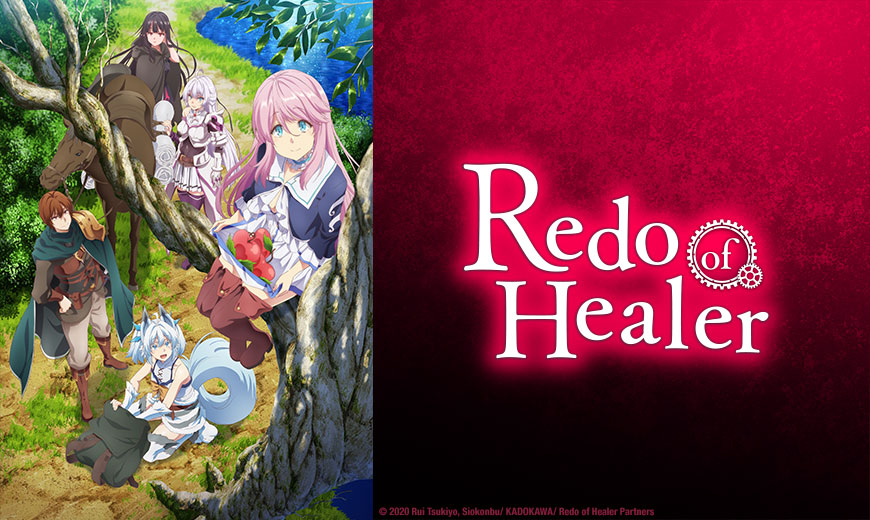 Dark Fantasy Series "Redo of Healer" Coming to Sentai
---
HOUSTON, TX — December 28, 2020 — Sentai announced today that it acquired exclusive rights to Redo of Healer, the dark fantasy anime series based on the light novel series written by Rui Tsukiyo. Sentai's licensed territories include the United States, Canada, Australia, New Zealand, the United Kingdom, Ireland, South Africa, Denmark, Finland, Iceland, Norway, Sweden, the Netherlands, Greenland, Faroe and Åland Islands, Scandinavia, Spain, Portugal and Latin America.
In a dark world of monsters, adventurers and mages, some of the most gifted healers are subjugated to brute force even by the hands of their compatriots. But one mage, Kayal, gains the ability to rewind time, turn the tables and right all wrongs.
Redo of Healer is a production of Studio TNK (Kandagawa Jet Girls). It is directed by Takuya Asaoka (episode director DOREIKU: The Animation) with screenplay and series composition from Kazuyuki Fudeyasu (Interspecies Reviewers). Jyunji Goto (High School DxD) provides the character design work.
The series stars Yuya Hozumi (My Girlfriend is Shobitch) as Keyaru, Ayano Shibuya as Flare Arlgrande Jioral, and Shizuka Ishigami (Why the hell are you here, Teacher!?) as Setsuna. Minami Kuribayashi (Kämpfer) performs Redo of Healer's theme song, "Zankoku na Yume to Nemure."
The series will be available on select digital outlets in Winter 2021, with a home video release to follow.
For Sentai Filmworks' latest announcements regarding this and other great titles, be sure to like us on Facebook and follow us on Twitter.
About Sentai Filmworks, LLC
A Cool Japan Fund portfolio company, Sentai is a leading global supplier of anime and official anime merchandise, distributing and curating one of the industry's most diverse libraries of top trending and classic titles. Sentai offers thousands of hours of content across both traditional and digital platforms and is dedicated to bringing captivating stories and iconic characters directly from Japan. With hit series that include MADE IN ABYSS, Food Wars!, Princess Tutu and Parasyte -the maxim-, Sentai's catalog continues to grow with new favorites like Bloom Into You, Revue Starlight and O Maidens in Your Savage Season, as well as classic anime series such as Legend of the Galactic Heroes and The Big O. For more information, visit www.sentaifilmworks.com.
###