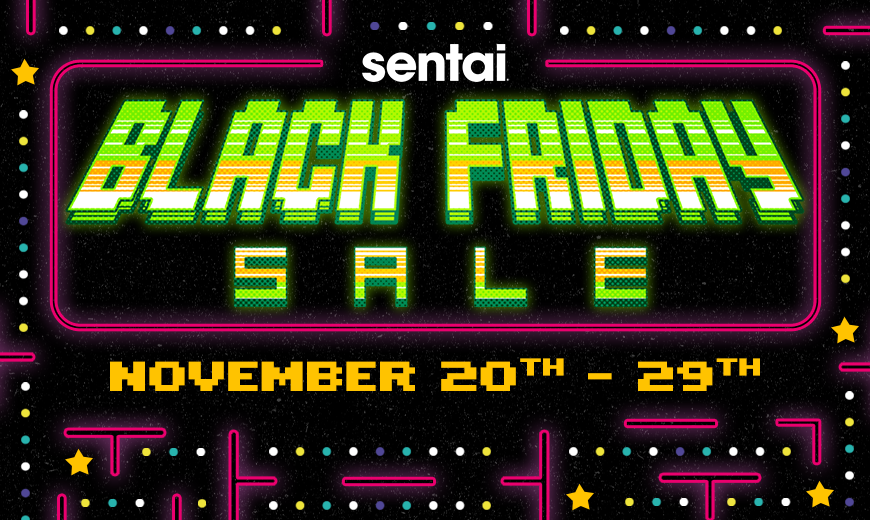 Don't Despair! The Sentai Black Friday Sale 2020 is HERE!
---
Turkey isn't the only thing to look forward to this month. The Sentai Black Friday Sale, 2020 Edition, starts early and lasts till the end of the month so YOU can rake in sweet deals on your favorite Sentai anime.
So… When IS the Sentai Black Friday Sale this Year?
IT'S RIGHT NOW! The sale started today, the 20th of November, and it lasts till the 29th — that's 10 whole days of deals! And if you miss out, don't worry. Come back for Cyber Monday for more of our great deals.
… we'd say that all of the above means there's no need to rush to place an order, but we'd be lying. Stock is already flying off our shelves (seriously, we're having trouble dodging it all). Order early to snag the best deals on your most coveted anime titles.
(And you didn't hear this from us, but Limited Edition Box Sets and Steelbooks are in especially short supply. Snap up them or even a copy of the Legend of the Galactic Heroes box set while we still have 'em!)
What Can I Expect from the Sale?
Do you even have to ask? You can expect deals, deals, DEALS on our fantastic titles! In fact, you can expect up to 95% off on select items across our inventory.
Yup. You read that right: 95% off select merchandise. Who doesn't love sweet, sweet savings on Blu-rays, DVDs, box sets and merch?
Did Someone Say "Free Shipping?"
We want to talk about free shipping.
No, we don't want to talk about the way you keep freely shipping Sentai and HIDIVE on Twitter. We want to talk about free POSTAL shipping — the kind you get when you place an order over $50 USD!
And don't worry, our Canadian neighbors.You can also score free shipping on orders over $200!
If you haven't shopped for holiday gifts yet, now's a good time to snag some sweet presents for your friends and family — before the mail gets clogged with last-minute packages and deliveries and stuff. (We can't be the only ones who haven't done any holiday shopping yet, right?)
Yeah. That's what we thought. ;)
ANYWAY. Click here to take advantage of these great deals and give the gift of anime! Or maybe just treat yourself to something nice. 2020 hasn't been easy, and we all need a break full of our favorite shows. You deserve it!
Want to be the first to hear about our awesome sales? Sign up for our newsletter and be the first in line for sweet deals and even sweeter anime news.