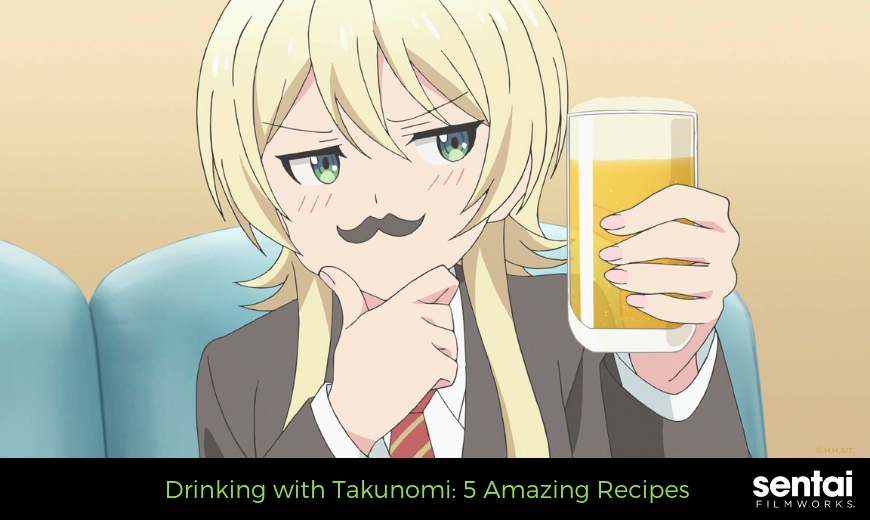 Drinking with Takunomi: 5 Amazing Recipes
---
OBLIGATORY DISCLAIMERS: Sentai Filmworks does NOT condone underage drinking. The legal drinking age in the United States is 21. If you're not 21, or of legal drinking age in your country, then this blog isn't for you.
Please drink responsibly. You shouldn't be drinking and driving. The Holidays are coming up, and that'll most likely involve alcohol. We get it. We have an office party ourselves. But ask a friend to drive or get a ride share.
Ok, with that out of the way, let's get down to why you clicked on this blog: You want to learn how to make Takunomi-themed drinks, and we are going to provide you the recipes straight from the series itself!
Takunomi's Shochu Highball

What time is it? It's chu-hi time, that's what! Before you ask, "chu-hi," also known as "chuhai" is short for "shochu highball." You're gonna need:
Soda Water
Japanese Shochu
Ice
Stirrer
First, put some ice in your glass.
Now, pour in some Japanese Shochu.
Stir it up until both the glass and shochu get cold.
Put some more ice in the glass.
Pour in that sweet, sweet soda water. (Note: Soda water isn't naturally sweet)
Stir everything together slowly, not letting all the carbonation escape.

Wait, hold on a minute! Isn't chu-hi supposed to have some sort of fruity flavor to it? Well, yes. But as Takunomi points out, a Shochu Highball was made with only soda water and shochu back in the Showa Era, so we're doing this old-school.
Takunomi's Kitty Wine Cocktail
This one is for those of you who want to spice your wine up a bit. Wine's great and all, but not everyone likes red wine. Depending on the type, red wine can be really bitter or sweet. (Yep, wines are NOT divided merely into red and white. There are categories within categories!) Fortunately, we humans are an ingenious lot. For this drink, you'll need:
Any red wine, preferably your favorite.
Ginger Ale
Wine Glass
Stirrer
Pour in one part red wine into a glass.
Pour in one part ginger ale.
Stir and enjoy responsibly.
Try it with cheese and almonds as a side dish, it's great! If it's still not your cup of tea (see what we did there?), then take comfort in the knowledge that you tried something new!
Takunomi's Coffee Rum Iced Latte
Ever given some thought just how much your daily latte adds up over the course of an entire year? Trust us, you don't want to know. For reasons that should be obvious, alcoholic latte's aren't sold at the local coffee shop, but that doesn't mean you can't make one yourself in the safety and comfort of your own home! This time, you'll require:
Coffee Rum
Milk
Ice
A Glass
Stirrer
Put some ice in your glass.
Add one part Coffee Rum.
Pour in three parts cold milk.
Stir and enjoy!
You're probably wondering what type of milk you should use. That really depends if you're a 2% or Vitamin D type of person. If you're really feeling adventurous, then upgrade to Whole! As for skim milk? Well, we don't talk about skim milk around these parts.
Takunomi's Kakubin Whisky Highball
Also known as a "kaku-highball," this one's similar to the Shochu Highball recipe above, except you're using whisky instead of shochu. If you like highballs, but whisky is more your thing, then we've got you covered. Your list this time includes:
Suntory Whisky
Soda Water
Lemon
Ice
A big glass
Knife
Stirrer
Cut the lemon with your knife.
Fill a big glass with ice.
Pour in one part whisky
Pour in four parts soda water.
Squeeze a little lemon into the mix.
Stir and enjoy!
Whisky has quite a kick to it, so it's not for everyone. If not, don't feel bad. Some of us can't drink the stuff without coughing up a lung or two either. But here's the important part: This recipe calls for whisky WITHOUT the "e" since we're specifically using Suntory Whisky, which is Japanese. This is an important distinction since this recipe doesn't use American whiskey, which DOES have an "e."
Takunomi's Three-Tiered Otoko Ume Sour Approach
Word of advice: Take note of the "Sour" in the name. If you don't like plums or super sour stuff, then stay clear! However, if you love the stuff, then venture forth! For this adventure, you shall require:
Salt
Dish
Beer Mug
Otoko Ume Sour
A pickled plum
Pour some salt on a dish.
Coat the rim of the beer mug with salt.
Fill the beer mug up with ice.
Add Otoko Ume Sour.
Add a pickled plum.
You may be wondering where to find Otoko Ume Sour. We'll admit that it's a rather specific item. If it's not in a specialty store, you may need to pick some up the next time you or someone you know is in Japan.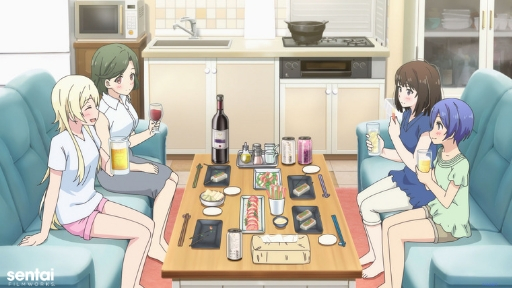 So, bottoms up! We hope that all you responsible adults of legal drinking age enjoy these drinks in the safety and comfort of your home with all your friends like the characters in Takunomi! If you're interested in the series and wish to hear more tips and trivia regarding alcohol, grab your pre-order on our shop or head on over and start watching the series on HIDIVE! Even better, do both!
Anyone else got some recipes to share? We're always on the lookout for new ones, so let us know with @SentaiFilmworks with the social media buttons below! And don't forget to sign up for our newsletter!