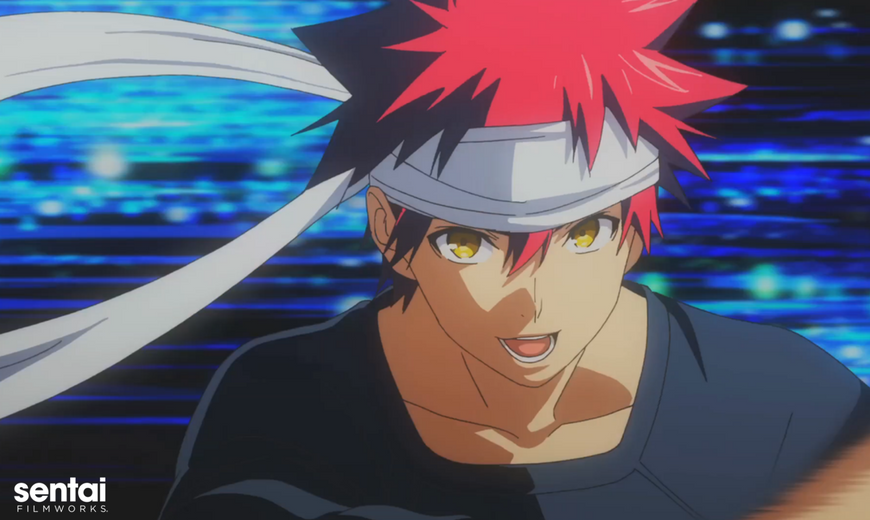 Food Wars! The Second Plate English Dub Cast List
---
Complete Collection Available on February 13, 2018!
Premium Box Set | Standard Edition
About Food Wars! The Second Plate
At the Tohtsuki Culinary Academy, the first rule is survival of the fittest, and if you don't have what it takes to become a master chef, you need to get out of the kitchen before you get burned. With the wheat of first-year students separated from the chaff, cocky former diner cook Yukihira Soma is one of the handful of kitchen whizzes still standing. As the next round of the Autumn Elections gets underway, can he survive a brutal bento boxing match with the chemistry-obsessed granddaughter of the Academy's director? And which of the other contenders; Megumi, Ryo, Akira, Hisako, Takumi or sinister dark-horse Subaru; will advance to fight for the gold medal? Get ready for another cut-throat season of eat, beat, and defeat in FOOD WARS! THE SECOND PLATE!
Rating:
TV-14 (D)
ADR Director:
Kyle Colby Jones
ADR Script:
Marta Bechtol
Kyle Colby Jones
Christopher Bourque
Food Wars! The Second Plate English Dub Cast List
Soma Yukihira Blake Shepard
Erina Nakiri Stephanie Wittels
Megumi Tadokoro Jad Saxton
Akira Hayama Kregg Dailey
Ryo Kurokiba Leraldo Anzaldua
Alice Nakiri Christina Kelly
Subaru Mimasaka Rob Mungle
Joichiro Yukihira Jay Hickman
Hisako Arato Brittney Karbowski
Yuki Yoshino Luci Christian
Ryoko Sakaki Kelley Peters
Takumi Aldini Bryson Baugus
Isami Aldini Clint Bickham
Senzaemon Nakiri John Swasey
Chapelle John Gremillion
Mitsuru Sotsuda Patrick Poole
Kakinoshin Oizumi Marty Fleck
Abel Blondin Joe Daniels
Aoki Andrew Love
Sato Corey Hartzog
Etsuya Eizan Anthony Hunter
Fumio Daimido Joanne Bonasso
Gin Dojima Ty Mahany
Hinako Inui Allison Sumrall
Ikumi Mito Rachel Landon
Jun Shiomi Monica Rial
Kojiro Shinomiya Benjamin McLaughlin
Leonara Nakiri Emily Neves
Lucie Hugo Hilary Haag
Fuyumi Mizuhara Chaney Moore
Seishu Saotome Jeremy Gee
Satoshi Isshiki Scott Gibbs
Shun Ibusaki Houston Hayes
Sonoka Kikuchi Molly Searcy
Taki Tsunozaki Kira Vincent-Davis
Gao Wei Genevieve Simmons
Urara Jennifer Gilbert
Yua Margaret McDonald
Zenji Marui Greg Ayres
Mamoru Mitamura Gabriel Regojo
Also with James Belcher
Karlii Hoch
Kara Greenberg
Juliet Simmons
David Wald
Patricia Duran
Chris Gibson
Mark X. Laskowski
Steven Finley
Jovan Jackson