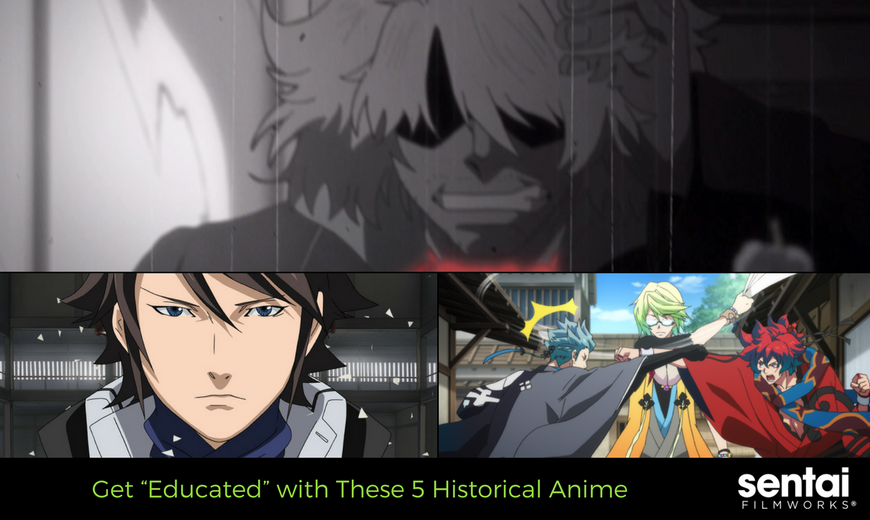 Get "Educated" with These 5 Historical Anime
---
Historical anime is a joy to watch, especially, when you're learning too! It's the one history lesson where we are avidly engaged with the content, and fascinated by the characters. These titles give life to an exciting history that we might not have otherwise known and gives us material to research on our own!
Following the story of the Shinsengumi, Hakouki adapts the historical end of the Edo period with some exciting changes. The main difference being the genetic experimentation on some of the Shinsengumi to create a super soldier. We follow along with historical events, including the attempted burning of Kyoto, the Boshin War, and the suppression of the Choshu revolutionaries.
Loosely based on historical figures in the Bakumatsu Era, they all have one thing in common: they love to jam out to rock. In this alternate history anime, we have historical figures like Sakamoto Ryoma (an insurgent), Hijikata Toshizo (Shinsengumi), and Yoshinobu Tokugawa (15th Head of the Tokugawa Shogunate). Each one of these characters, while not completely faithful to their historical counterparts, still hold some truth in their interactions with one another. Also, who doesn't enjoy some rock and roll once in a while?
This comedic retelling of some of history's famous composers hits the nail when it comes to faithful renditions of their work and personalities. In this slapstick comedy, we see these composers trying to make it in the real world while juggling their iconic past. The relationships are carried over, like Chopin and Liszt being buddies. We also love the Mozart's (Motz-kun!) flirtatious tendencies followed him into this new life in Japan.
Set in the 1960's, we follow the young medical student Hazama Kuroo and his foray into becoming the eventual back-alley surgeon, Black Jack. His story is intertwined with the development of the Vietnam War and the social upheaval that took the world by storm. With changing ideologies and warring countries, Young Black Jack presents a view of the political climate of 1960's Japan.
Another series featuring the end of the Edo period, we see the changes starting to take place with the unstable Shogunate trying to stay in power. The plays shown in this series take a more historical turn when they seem to be helping history along the right course. With a supernatural bent, we learn more about this fascinating time period.
That's a lot of… Bakumatsu
Did we miss a series? Share with us on Facebook, Twitter, Tumblr, and Instagram. (Make sure you @SentaiFilmworks so we can see it!)