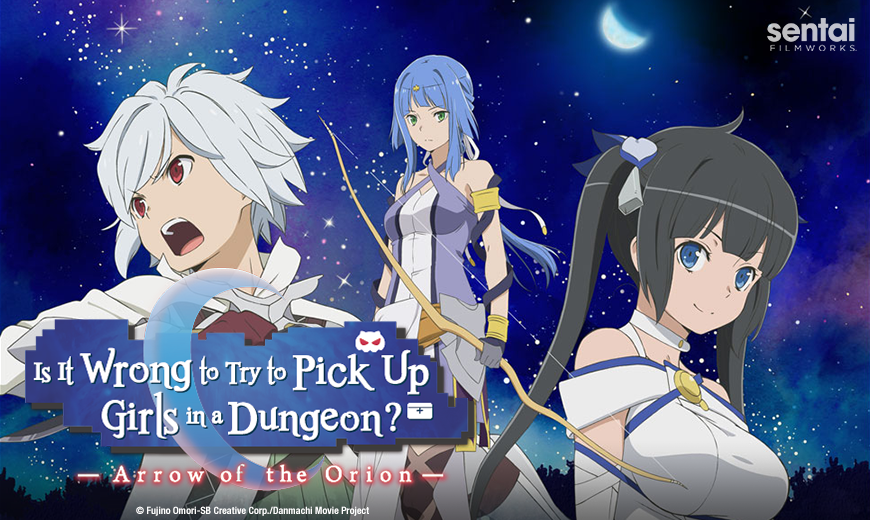 "Is It Wrong to Try to Pick Up Girls in a Dungeon?: Arrow of the Orion" All-New Feature Film Hits Theaters July 2019
---
HOUSTON, TX – June 13, 2019 – Sentai Filmworks announced today that Is It Wrong to Try to Pick Up Girls in a Dungeon?: Arrow of the Orion launches theatrically in select movie theaters July 23, 2019. Sentai Filmworks is partnering with Fathom Events to bring the all-new feature film plus exclusive content to big screens nationwide.
Picking up shortly after the events of the global hit TV series of the same name, Is It Wrong to Try to Pick Up Girls in a Dungeon?: Arrow of the Orion is a gripping standalone adventure penned by Fujino Ōmori, the author of the original light novel series with animation production by J.C.STAFF. Maya Sakamoto (MADE IN ABYSS, Cutie Honey Universe) will voice Artemis, a beautiful and mysterious character new to the franchise, while Yoshitsugu Matsuoka and Inori Minase reprise their roles of Bell the adventurer and Hestia the goddess, respectively. The film will be directed by Katsuhi Sakurabi (Heaven's Memo Pad, Flying Witch).
Is It Wrong to Try to Pick Up Girls in a Dungeon?: Arrow of the Orion will be available in Japanese with English subtitles in the U.S. For more information and to book your ticket, visit www.danmachimovie.com.
Synopsis:
Far from the dungeon beneath Orario rises a new threat, one the beautiful goddess Artemis has sworn to destroy with the help of her chosen warrior. But this fighter isn't the renowned Ais Wallenstein or another storied hero of Orario legend. Instead the fate of Artemis' quest falls upon the shoulders of Bell Cranel, who must partner with the goddess and stand against the menace lurking in the remains of a distant, ancient city. Although Bell is the ordained champion of Artemis and a member of the goddess Hestia's familia, their adventure will test every skill and take every ounce of courage that Bell has — and perhaps, along the way, turn him into the hero he has always aspired to be.
For Sentai Filmworks' latest announcements regarding this and other great titles, be sure to like us on Facebook and follow us on Twitter.
About Sentai Filmworks, LLC
Sentai Filmworks is a leading global supplier of anime and official anime merchandise, distributing, and curating one of the industry's most diverse libraries of top trending and classic titles. Offering thousands of hours of content across both traditional and digital platforms, Sentai is dedicated to bringing captivating stories and iconic characters directly from Japan. With hit series that include MADE IN ABYSS, Land of the Lustrous, The Big O, and Parasyte -the maxim-, Sentai's catalog continues to grow with new favorites like Domestic Girlfriend, Princess Principal, and Bloom Into You, as well as classic anime series such as Legend of the Galactic Heroes. For more information, visit www.sentaifilmworks.com.
###