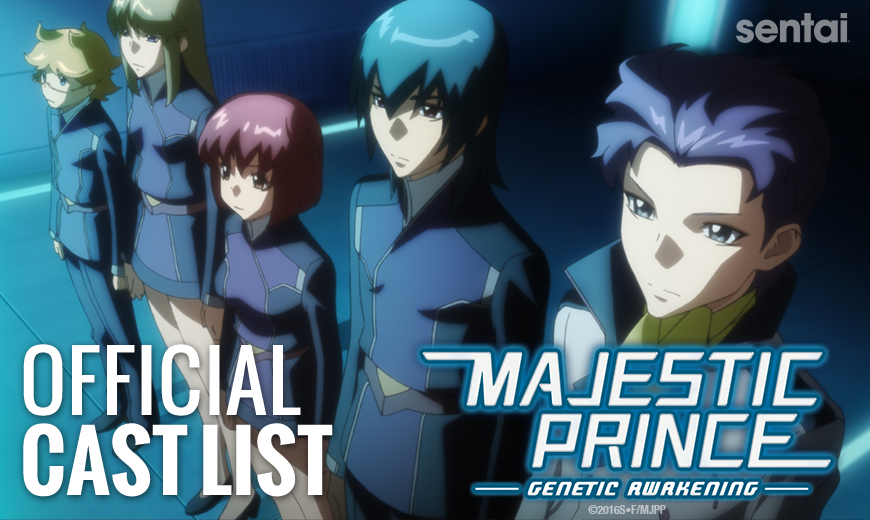 Majestic Prince: Genetic Awakening & Wings to the Future Official English Dub Cast Lists
---
Order your copy of Majestic Prince: Genetic Awakening & OVA today!
Majestic Prince: Genetic Awakening
Izuru has fallen into a coma following critical injuries he sustained in a fierce battle with his sworn enemy, Jiart. Now Asagi must step in to command Team Rabbits, but does he have what it takes to live up to his brother Izuru's legacy? There's no time for second-guessing as Asagai and Team Rabbits take the ultimate stand against a terrifying new enemy, the likes of which they've never before encountered.
Majestic Prince: Wings to the Future
Team Fawn from Gurantseere Academy dreams of one day fighting beside the heroes of Team Rabbit. One day, they finally get their chance as the GDF launches another attack during one of their training exercises. They are then thrust into battle as the rest watch on television.
| | |
| --- | --- |
| Majestic Prince: Genetic Awakening Movie Cast List | |
| Director | Blake Jackson |
| Audio Engineer | David Lascoe, Jonathan Rodriguez, Patrick Marrero |
| Translation | Ian Fagen |
| ADR Script | George Manley, Blake Jackson |
| Mix | Brent Marshall |
| | |
| Izuru Hitachi | Houston Hayes |
| Toshikazu Asagi | Corey Hartzog |
| Kei Kugimiya | Genevieve Simmons |
| Tamaki Irie | Monica Rial |
| Ataru Suruga | Tyler Galindo |
| Ange Kuroki | Kalin Coates |
| Dioluna | Katelyn Barr |
| Teoria | Maggie Flecknoe |
| Daneel | Blake Shepard |
| Jiart | David Matranga |
| Galkie, Dai Komine, Diego, Noritada | John Swasey |
| Anne Medicum | Natalie Rial |
| Chris Solferino | Joe Daniels |
| Sei Yuzuhira | Mike Haimoto |
| Yui Magallanes | Elle Brandt |
| Rin Suzukaze | Shelley Calene-Black |
| Simon Gato | Jay Hickman |
| Reika Saionji, Natalie, Naomi | Molly Searcy |
| Siegfried Von Vestannah | David Wald |
| Giuliano Visconti, Shinjiro | John Gremillion |
| Hazuki Amane, Anna, Lula | Luci Christian |
| Degawa, Shinzaburo | Mark X Laskowski |
| Mayu | Nancy Novotny |
| Dan | Clint Bickham |
| Chandra, Shinichiro | Kyle Colby Jones |
| Patricia | Melissa Molano |
| Peko | Tiffany Grant |
| Rona | Samantha Stevens |
| Matteo | Carl Masterson |
| Hideyuki | Rob Mungle |
| Takashi | Blake Jackson |
| | |
| Additional Voices | |
| Natalie Rial | |
| Luci Christian | |
| Melissa Molano | |
| Mike Haimoto | |
| Joe Daniels | |
| Blake Shepard | |
| Elle Brandt | |
| | |
| | |
| Majestic Prince: Wings to the Future OVA Cast List | |
| Director | Blake Jackson |
| Audio Engineer | David Lascoe, Jonathan Rodriguez, Patrick Marrero |
| Translation | Jackie McClure |
| ADR Script | George Manley, Blake Jackson |
| Mix | Brent Marshall |
| | |
| Anne Medicum | Natalie Rial |
| Chris Solferino | Joe Daniels |
| Sei Yuzuhira | Mike Haimoto |
| Yui Magallanes | Elle Brandt |
| Sugita | Ty Mahaney |
| | |
| Kei Kugimiya | Genevieve Simmons |
| Tamaki Irie | Monica Rial |
| Dai Komine | John Swasey |
| Simon Gato | Jay Hickman |
| Reika Saionji | Molly Searcy |