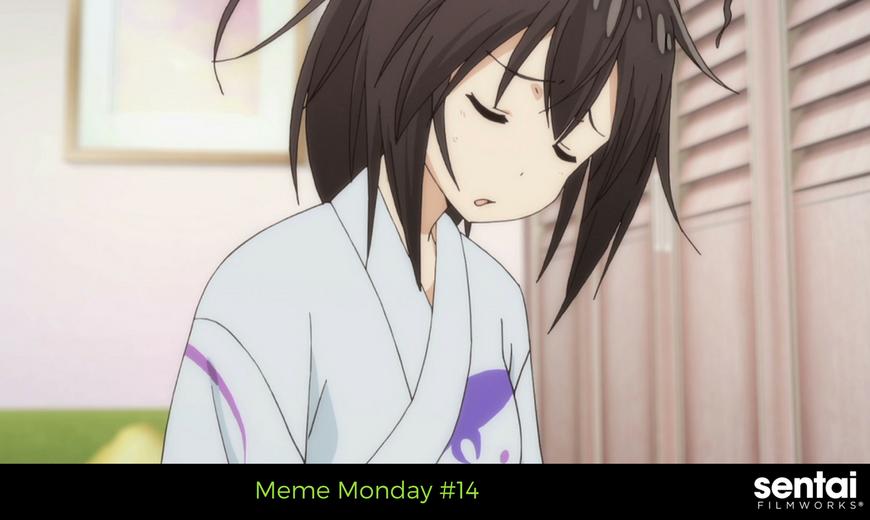 You know what's more pleasant than a Monday? A few things come to mind, like a manicure from the When They Cry (Higurashi) girls... or an umbrella accident on the stairs… or even a parasyte invasion. Okay, we might be overreacting to Mondays in general, but what can we say: we're more of a Tuesday kind of people. Only memes can save us from this dreary day. Who relates?
When someone asks us… (Kabukibu!)

"Do you like anime" is like a trigger that launches us into a state of wanting to talk about our favorite titles. We get a bit zealous like Kabukibu!'s Maruko does with her costume designs, and we can't help but identify with her enthusiasm.
How many times has a maid saved the day for a struggling school festival attraction? In the case of ATOM THE BEGINNING, a little maid went a long way, even though that maid wasn't even human! You're adorable, Six. Work it.
It doesn't matter what's getting repaired: your car, your bike, your laptop... When you get a repair bill, you can probably relate to how Wallenstein-san felt when she got her beloved sword back. #bills #responsibilities #why
Mondays are a lot like the "Etrack" spell: it builds walls, and we suffocate! Poor man, poor town, poor Monday.
It's Just a Flesh Wound! (Sagrada Reset)

In the words of our favorite non-anime knight, "It's just a flesh wound!" Meanwhile, Kei is all like, "Oh this? Nah, a little gushing blood from the middle of a hand never hurt anyone. Especially when you have a friend who can reset time by up to three days."
It's Meme-tastic
Who knew so many memes were hiding in our Spring 2017 anime lineup? If you see anymore, please share them with us on Facebook, Twitter, Tumblr, and Instagram. (Make sure you @SentaiFilmworks so we can see it!)