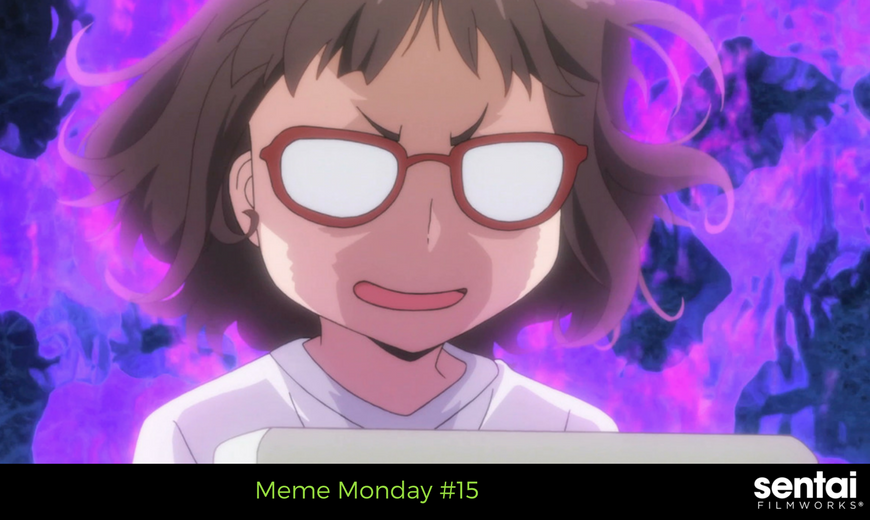 It's the third Monday of June, and we hope you're enjoying your summer vacation. If you're like us... just imagine it's Friday. It will help with the pain. Meme time!
What's your anime beach episode?
We can all dream, right. If only every day could be an anime beach episode! (Let us know if you ended up in a beach adventure with Tentacle-chan in the comments.)
Talking about senpai, Lefiya wasn't so happy when Bell-kun started training with Ais. You're not alone, Lefiya. We all want senpai to notice us.
A new instrument is always an exciting moment, especially for Nino. We love how unabashedly she tries to learn how to play the guitar, eventually making it a staple in her performance. She was adorable when she told Yuzu: Guitar…. GUITAR…. GUITAAAAAAAR!
#DesignerProblems (Kabukibu!)

Cosplaying is hard: everything from getting the right fabric, to getting the right color. No one could know hardship better than Maruko from Kabukibu!, the kabuki club's costume designer. Amazingly, she's consistently able to channel her otaku passion into helping her friends.
We're in Texas, and it's that time of the year again where the sun is as dangerous as ever. Big brother Taihei shares our pain. If we only had popsicles… anime summer episode?
FEED US MEMES!
Summer is upon us, and we're secretly jealous of those who have a summer vacation. To ease the pain, what anime memes have you seen around the interwebs? Share with us on Facebook, Twitter, Tumblr, and Instagram.