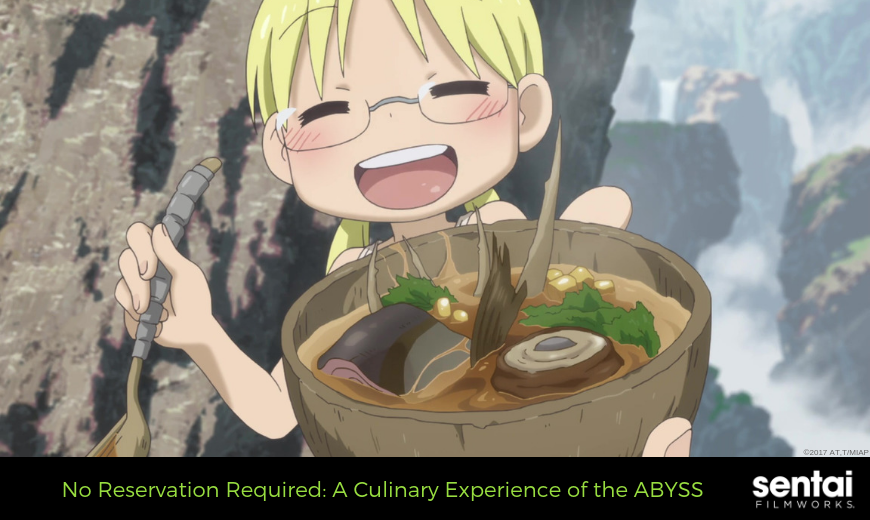 No Reservation Required: A Culinary Experience of the ABYSS
---
The Abyss doesn't immediately spring to mind when one thinks of fine dining venues, but hear us out: Deep in the inscrutable depths of the Abyss exists a diverse culinary tradition just waiting to be sampled by any intrepid cave raider brave enough to seek it out.
Not convinced? Follow the foodies at Sentai Filmworks on a culinary tour of the Abyss as we bring to light all the delectable dishes hiding just below the surface, and read on as we rate and review them on a discerning scale of one to five White Whistles.
Please note there are mild spoilers ahead!
Riko Bombs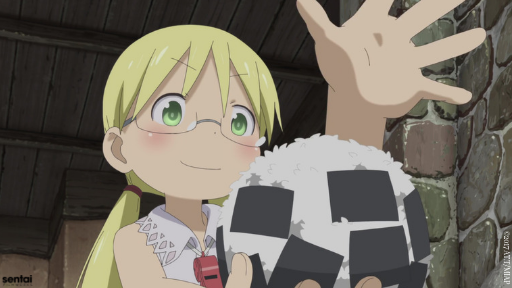 Technically you can find these rustic treats in the surface town of Orth, but their creator carried them with her into the Abyss and made them a delving staple. These oversized, handmade rice balls contain an astonishing array of unconventional fillings; you never quite know what Riko has hidden inside them, but the explosions of flavor they provide have more than earned them their name of "Riko Bombs." They might be simple, but they're filling and nutritious.
Our rating: Two out of five White Whistles — though some of the more unusual flavor combinations might merit an adjusted rating.
Riko's Hodgepodge Stew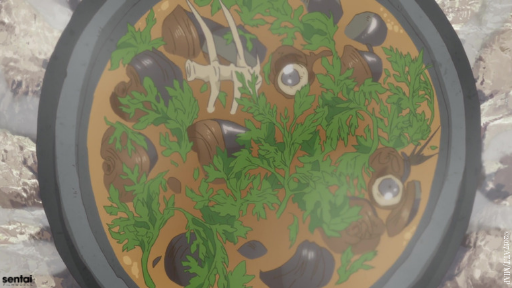 Another invention of the young cave raider Riko, our next dish is composed of a colorful and appetizing array of Abyss and delving staples, all of which come together to form a deceptively delightful dinner: Riko's Hodgepodge Stew. Demonfish plucked fresh from the clear streams of the first layer, bones and all, perfectly complement a miso stock liberally perfumed by sainona greens and spiced with ground up eternal fortune flowers. Don't be fooled by the stew's plain presentation or the fish eyeballs floating in the broth: Riko's Hodgepodge Stew is delicious, satisfying and worthy of gracing any discerning delver's palate.
Our rating: Three out of five White Whistles. Its flavor is on point, but the presentation (not to mention the creepy fish eyes) leaves something to be desired.
BBQ Corpse-Weeper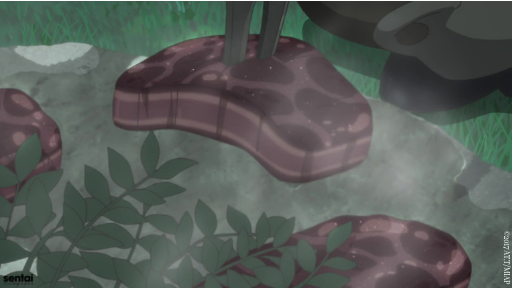 Some might balk at the idea of consuming the meat of the corpse-weepers of the Abyss' second layer. It's true that corpse-weepers feed on cave raiders from time to time, but adventurous diners should most assuredly give this cuisine a chance. Smoked under ouba leaves, seasoned simply but effectively with ground up eternal fortunes and rock salt, this meat bears a distinctive smoky flavor some patrons have described as "peculiar but tasty" and "appealing to the instincts." And for the most adventurous diners of all, be sure to pick up a to-go order of smoked corpse-weeper entrails for the road. These preserved delicacies will sustain you as you journey deeper into the Abyss in search of your next great meal.
Our rating: Four out of five White Whistles, because we at Sentai Filmworks have a soft spot for BBQ.
Ozen's Mystery Meat-Monster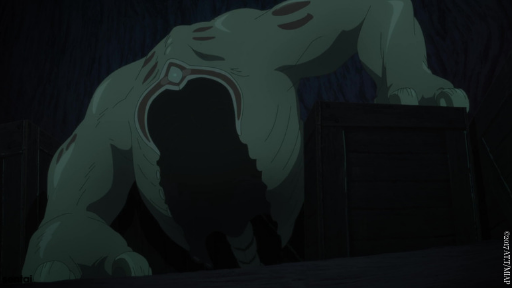 What list of cuisines would be complete without an entry one should avoid at all costs? Consider this a word of warning to any hungry delver reading this: for the sake of every discerning restaurateur out there, do not put any part of your dinner in a Curse Repelling Vessel. Do not do it. Please. Because if you do, you might end up with a particular dish the foodies at Sentai Filmworks refuse to taste-test for you. The name of that dish is Ozen's Mystery Meat-Monster, and it is… unappetizing.
Our rating: Negative five White Whistles, but that picture really should speak for itself.
Fire-Roasted Neritantan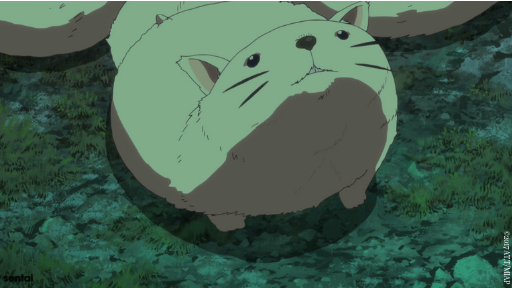 If you're the sentimental sort, be warned that you shouldn't get attached to the charming neritantans who inhabit the Great Fault of the third layer. They are as delicious as they are adorable, owing largely to their diet consisting only of baracocha fruit. This makes their meat incredibly tender and indescribably juicy; it's no wonder they're the favorite food of both madokajacks and cave raiders who traverse the Great Fault. Just be careful not to follow the scent of baracocha fruit in your pursuit of a neritantan to roast on a spit. The amakagame is also a fan of their rich and hearty taste, and it lures neritantans (not to mention clumsy cave raiders) by secreting the fruit's ripe scent. Proceed with caution, foodies, and hunt neritantans responsibly.
Our rating: Three out of five White Whistles. We'd rate this dish higher if it weren't so perilous to sample.
Nanachi's Special Netherworld Stew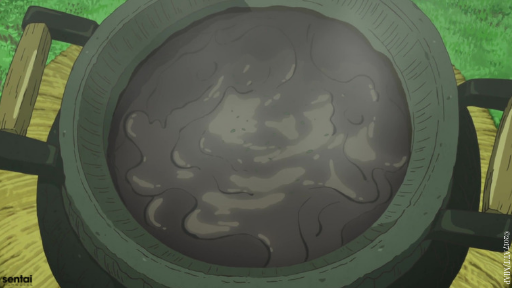 We would be remiss if we didn't mention this… concoction. Made of a haphazard combination of demonfish, giant-hammerbeak eggs and yellow shining grass, the ingredients are blended together whole without any type of seasoning or recognizable preparation methods. The creator of this dish promises that its looks are deceiving — but for the love of good cooking, do not be deceived. This dish resembles a pot of gooey mud and has an even more dismal flavor profile. Nanachi is adorable. Nanachi's cooking is not. Furthermore, while you might have a cute dining companion if you choose to sample this dish, the dining ambiance leaves something to be desired considering SPOILER you'll start bleeding out of your eyeballs if you stand up too fast. As the robot Reg might say, this dish is "irredeemable."
Our rating: Despite our problems with this dish, we still have to give this one out of five White Whistles. Nanachi tried, and that earns Nanachi a whistle. Mostly for effort. Definitely not for taste.
Pan-Fried Demonfish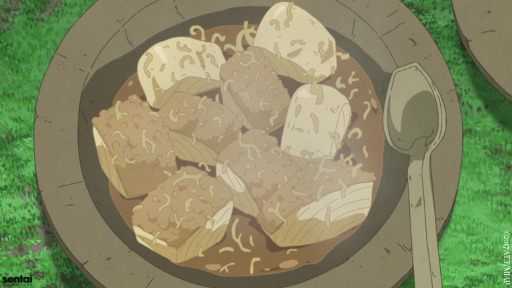 If you consumed Nanachi's Special Netherworld Stew against our expert advice, you'd be in desperate need of a palate cleanser. Fortunately, the fourth layer of the Abyss provides just that in the form of Pan-Fried Demonfish. Served alongside crushed hammerbeak eggs seasoned with salt, this dish is light, flaky, flavorful and altogether mouth watering — just look at the sear on that fillet! Since the fish is fried in its own fat, its flavor remains remarkably pure and unadulterated, providing cave raiders brave enough to visit the fourth layer with a memorable taste of the flavor of the Abyss itself.
Our rating: Five out of five White Whistles because this dish is just that good (and anything we taste after eating Nanachi's Special Netherworld Stew tastes like perfection in comparison).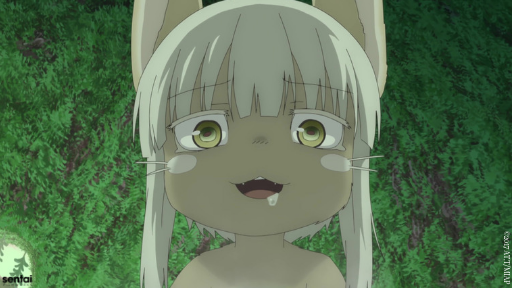 Are you salivating yet? We know we are! But unless you plan on becoming a cave raider yourself, these dishes might remain as out of reach and mysterious as the depths of the Abyss itself...
Never fear, fellow foodies: You can always live vicariously through Riko and Reg as they sample all the cuisine the Abyss has to offer when you attend the subtitled (3/20/19) or English dubbed (3/25/19) screenings! While you can't have Pan-Fried Demonfish or BBQ Corpse-Weeper at the events, you can have some popcorn to whet your appetite, and that's even better than a bowl of Riko's Hodgepodge Stew!
Hungry for more? In the mood to recreate any of these dishes for yourself? Tag us with @SentaiFilmworks when you use the social media buttons below and let us know! And don't forget to sign up for our newsletter!