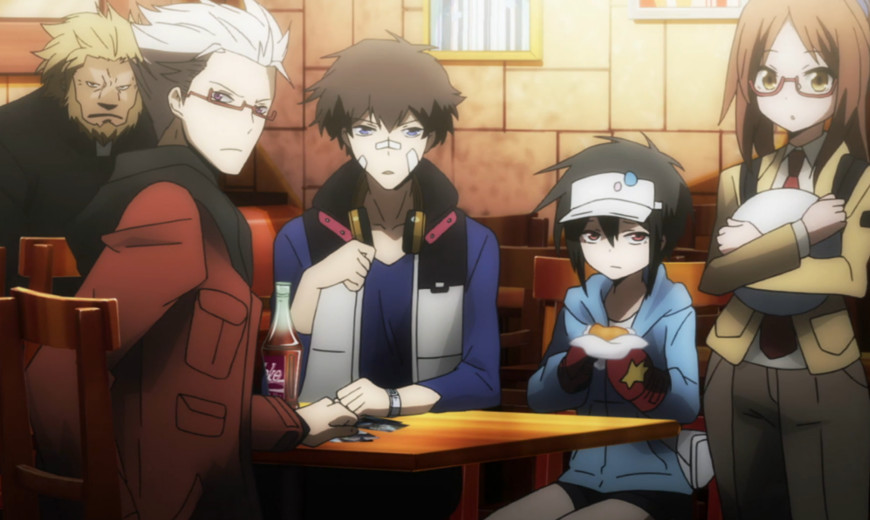 Official RE: Hamatora the Animation English Dub Cast List
---
Available January 26, 2016
About RE: Hamatora the Animation
Having the incredible powers that come with being a Minimum Holder can be a huge advantage to a private detective firm like Hamatora, but how can anyone stop someone who can both come back from the dead AND steal your powers at the same time? That's the problem that now confronts Murasaki and Hajime, and it's made even more vexing by the fact that the team's founder, Nice, may be dead as well. But while it may or may not have been Nice, Art is definitely killing himself for more than just Art's sake and his goal seems to be to gather as many stolen powers as he can in order to rival Nice's ability. However, the strength of a power isn't all that matters, and a lesser ability can triumph over a greater one if used correctly. It's Rock - Paper-Scissors but with super powers as Minimum Holder takes on Minimum Holder in RE: HAMATORA!
Genres: Comedy Drama Mystery Shounen
Director
Christopher Ayres
English Dub Cast
Nice Adam Gibbs
Murasaki David Wald
Art Leraldo Anzaldua
Hajime Christina Kelly
Birthday Blake Shepard
Ratio Andrew Love
Honey Margaret McDonald
Three George Manley
Koneko Nancy Novotny
Master Carl Masterson
Gasuke Luis Galindo
Mao Mike Yager
Theo Greg Ayres
Rei Juliet Simmons
Moral Chris Patton
Chiyuu Kasi Hollowell
Momoka Carli Mosier
Ishigami John Gremillion
Mamiya Bryan Kaplun
Gouda Kira Vincent Davis
Suzuki Mark X Laskowski
Masumoto Josh Morrison
Suruga Scott Gibbs
Sakuraba Jovan Jackson
Doktor Rutherford Cravens
Wind Jovan Jackson
Hikaru Bryson Baugus
Paper Stephen E. Moellering
Sakurai Gareth West
Samura John Swasey
Natsukawa Tommy Baird
Kid Nice Tiffany Grant
Kid Art Katelyn Barr
Skill Kalin Coates
Youko Amanda L. Baird
Mina Joanne Bonasso
Kotone Tiffany Terrell
Mio Kira Vincent Davis
Ichiko Tiffany Grant
Beckiena Allison Sumrall
Hagii Houston Hayes
Onoo John Swasey
Ogii Mark X Laskowski
Dr. Watanabe Houston Hayes
Nurse Katelyn Barr
Order your copy of RE: Hamatora the Animation today!