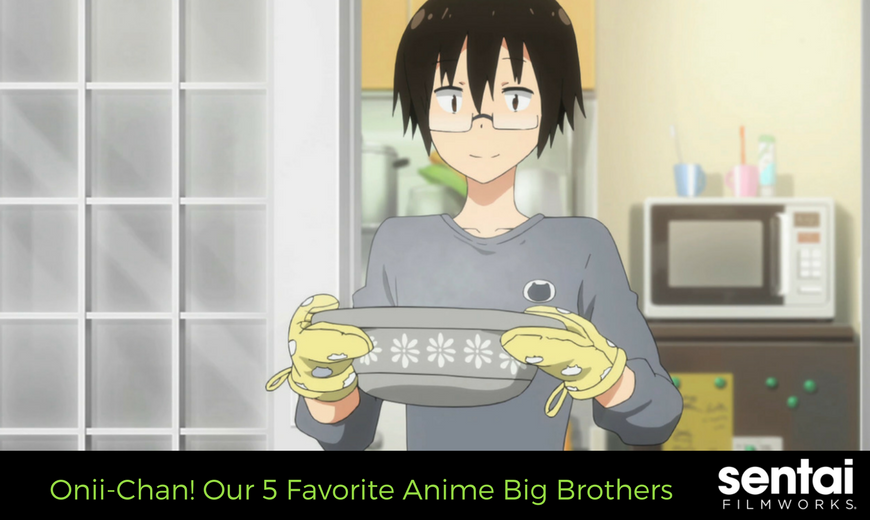 Onii-Chan! Our 5 Favorite Anime Big Brothers
---
You've heard the phrase, "Onii-chan!" We've already talked about the best anime little sisters, but we need to do a shout-out to the anime big brothers too!
Top 5 List of Onii-chan!
This is an obvious choice for us, Taihei is somehow able to tolerate his hamster-hooded little sister with nearly saintly patience, even going out of his way to try to make her a functioning member of society. We are loving his character growth in the second season, Himouto! Umaru-chan R.
Sora is one-half of the unstoppable gaming duo [BLANK]. He and his younger, step sister Shiro share a strong emotional connection, even having deep anxiety when they're apart. In terms of trust, no big brother has trusted a little sister more than Sora.
Takumi is the older twin of the Aldini Brothers. Takumi seeks to both challenge and nurture his twin brother, Isami, as they dish out their own unique twist on Italian food at Tohtsuki Academy. Despite being the older brother, dare we say that Takumi seems to be the more hot-headed and immature of the two?
Haruka seems to be swimming in girls these days, but his heart belongs only to his beloved girlfriend, Kosaka. That being said, he still tries to be a tolerant big brother to his cute little sister.
Shogo is always looking out for his bro… sometimes too much. He's overprotective and hates the guy who he sees as "taking his little brother away from him." Way to out your brother, dude.
Big Brotheeeeeeeer!
We know we didn't capture all the good big brothers on this one list! Let us know your favorites on Facebook and Twitter.