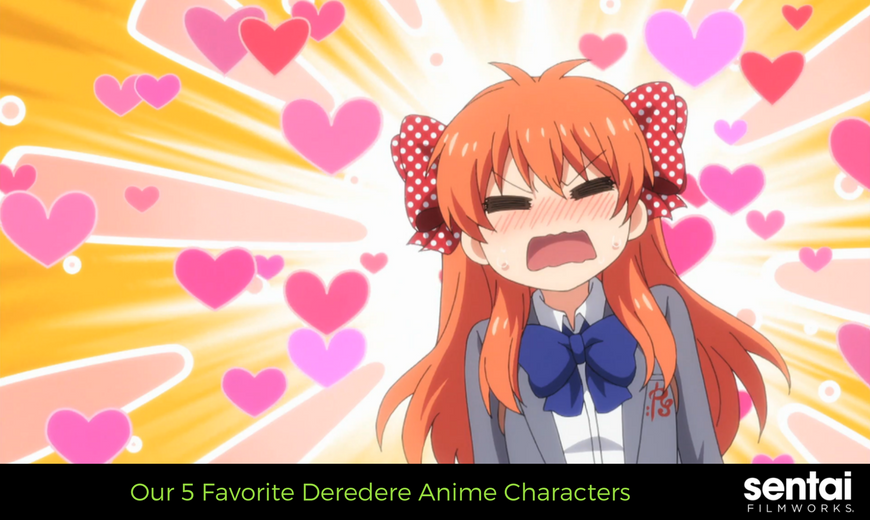 Our 5 Favorite Deredere Anime Characters
---
Known for their cheerful disposition, no worries in the world and their general kindness makes these dere characters a joy to be around. They're honest with their feelings and dote on those they love. Sometimes we wish they would dote on us! Without further ado here are our choices for our favorites deredere characters.
The epitome of the form, Chiyo does her best to express her feelings for Nozaki, even if he isn't the best at picking up hints. Anything but subtle, Chiyo tries her best to be helpful and confess her growing feelings for him. At the end of the day, she is never disillusioned and is in fact just happy that she can be around him. The sweetness!
The sweetest of the group, Rinko doesn't let anyone dissuade her from pursuing a relationship with the loveable Takeo. While conventional narratives would allow us to believe that she would go with Takeo's bishounen friend, she destroys those expectations by falling for Takeo's compassionate and charming nature. Her always smiling demeanor, and never give up attitude has earned a well-deserved spot on this list. Protect this innocent smile!
What we love about Koko is that she isn't afraid to show her feelings or shout them out to the world. She knows what she wants and ultimately goes for it. Even though she might be a bit more abrasive than the other characters on this list, Koko is still shy when it comes to intimacy and tries her best for Banri.
The happy go lucky odd ball who doesn't seem to have much trouble expressing herself! Rikka might have had some hiccups expressing herself at first but as the series progressed she grew more confident in herself. Rikka even steals a kiss from Yuuta, talk about bold! We love this charming little lady for her ability to be herself and show us a little childhood magic.
Lala Satalin Deviluke (To LOVE-Ru)

Bubbly and enthusiastic about the smallest things, Lala goes all out when she's REALLY into something. Not one to be subtle, Lala tries her best to express her feelings and accept Rito for who he is.
Bubble Gum Sweet
We love our adorable dere dere characters, and their cheery faces. Did we miss your favorite? Let us know your favorites on Facebook and Twitter.