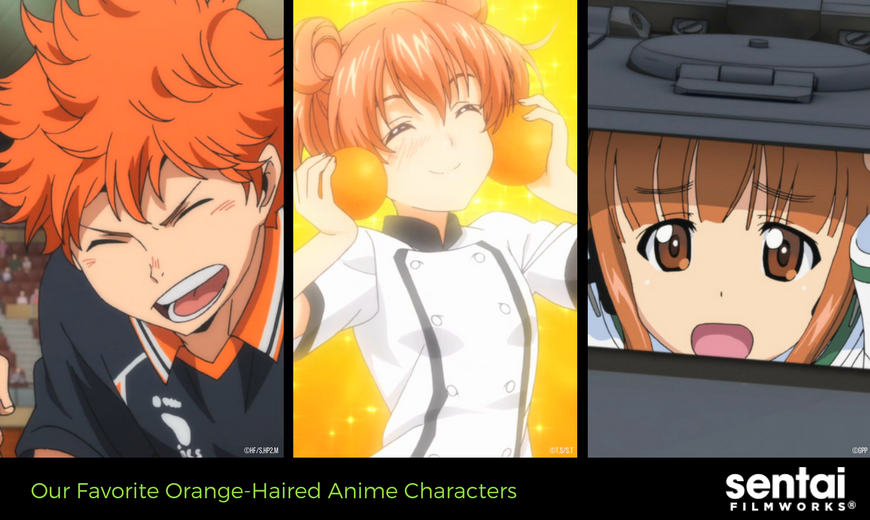 Our Favorite Orange Haired Anime Characters
---
As bright as the sun, orange-haired anime characters are odd and never quite what they seem. Full of energy and curiosity, these characters excel at their over-the-top activities from volleyball to confessing their true feelings (…or not). These tangerine-haired individuals don't let anyone get in their way.
Known for his exuberance and high athleticism, Hinata doesn't let defeat keep him down. He's both audacious and tenacious and is recognized for constantly striving to do his best. While his stature is technically a weakness in volleyball, he compensates for it with his attitude. Hinata is one of those characters that lives up to his exotic hair color, full of boldness and energy.
Excitable and adorable, Chiyo never gives up, as shown throughout her many failed (misinterpreted) confessions to Nozaki. With her naturally friendly disposition, Chiyo never has a hard time making friends and loving them for their unique personalities. As she continues to fall for Nozaki, not once does she ever stop trying on account of his inability to take a hint, now that's true determination! If only WE could confess to senpai at least once!
Bubbly and extroverted, Saori is the radio operator for the sensha-do Anglerfish team. She's a girl who claims to be an expert in love and romance yet has never actually dated anybody. Despite this, she's an understanding friend, and is always aware of her comrades' emotions, making sure to negate negative thinking while in combat or daily life. As the surrogate older sister to her juniors, the Rabbit team, Saori is always there for her friends and is the first to offer advice or support.
This orange-haired anime character is a smooth talker who also happens to be MORE than easy on the eyes. Ren is a ladies' man, and he's always surrounded by beautiful woman. At first, you would think that he was a carefree soul: the third son of a prestigious family who doesn't seem to have any responsibilities other than making music. However, Ren is a man of many talents who holds a deep scar inside his heart, making him the perfect heartthrob. (Bonus points to him because he also plays the saxophone!)
A girl with spunk, Yuki has her eyes on big dreams just like everyone else in the Pole Star Dormitory. The bubbliest of the bunch at her dorm, she's often seen talking with tongue sticking out! Her wish is for the whole 92nd Pole Star dormitory to stay together until graduation, to the point where she even hits Soma for putting this in jeopardy. With her specialty being wild game, it matches her determination and cheerful personality.
We couldn't forget about our favorite orange-haired fur baby, Tora! Even though he's a powerful yokai, Tora has the personality of a child. Conceited, overly confident, and boastful, Tora is the curious sort who is interested in the technological advances of humanity. He also has a favorite food: HAMBARKERS!
Don't Be Afraid to Stand Out!
All these lovely characters aren't afraid to stand out, from their exaggerated antics to the color of their hair. They're here to remind YOU: don't be afraid to stand out! Did we miss any of your favorite orange -haired anime characters? If so tell us on Facebook, Twitter, Google+, and Tumblr!