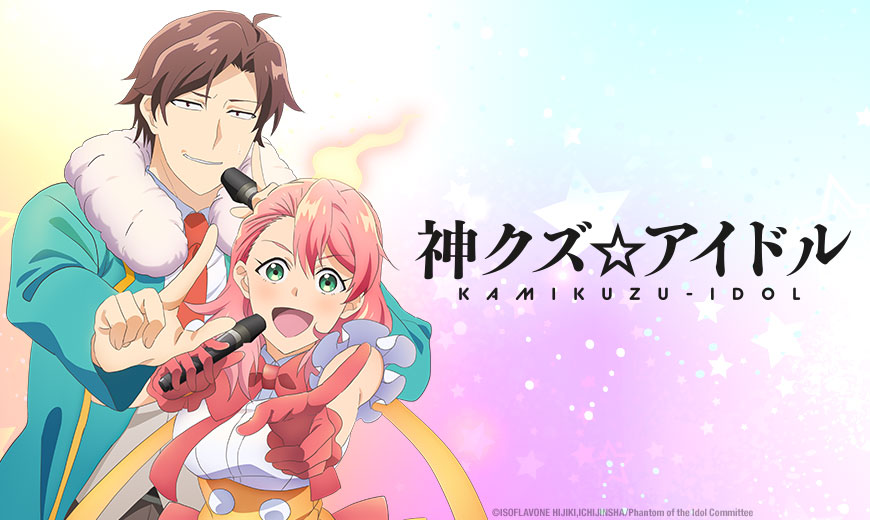 Paranormal Comedy Series "Phantom of the Idol" Joins Sentai's Summer 2022 Lineup
---
HOUSTON, TX — June 27, 2022 — Sentai announced today that it acquired exclusive rights to the laugh-out-loud paranormal comedy anime series Phantom of the Idol. Sentai will premiere the series exclusively on HIDIVE, its anime-focused streaming service, during the Summer 2022 simulcast season.
Most idols are fueled by their love of performing before adoring fans. Yuya, however, is fueled by his love of an easy paycheck! Yuya is one half of the idol duo ZINGS, but his supreme laziness (not to mention his disdain for idol fans in general) has him on the brink of getting blacklisted from the business. In a chance backstage encounter, he meets the spectral Asahi, a mysterious former idol who's eager to stage her own comeback by any means necessary… including assuming complete control of Yuya's willing body and aiming to become the best idol in the world together! Is their zany partnership a match a made in heaven, or is it pure idol hell?
Phantom of the Idol is produced by Studio Gokumi (Yuki Yuna is a Hero series, Kin-iro Mosaic series) and directed by Daiki Fukuoka (Yuki Yuna is a Hero: The Washio Sumi Chapter, Danganronpa 3 director). The series' music is by myu (Utawarerumono, The Legend of the Legendary Heroes).
The series stars, Fumiya Imai (Project SEKAI COLORFUL LIVE feat. Miku Hatsune) as Yuya Niyodo, Nao Toyama (My Teen Romantic Comedy SNAFU, MacrossΔ, Nisekoi) as Asahi Mogami, Shun Horie (Akudama Drive, Sarazanmai, Rent-a-Girlfriend) as Kazuki Yoshino, and Sho Hayami (Ascendence of a Bookworm, Bleach, Macross 7) as the Narrator.
Phantom of the Idol will premiere exclusively on HIDIVE in Summer 2022 with a home video release to follow.
For Sentai's latest announcements regarding this and other great titles, be sure to like us on Facebook and follow us on Twitter.
About Sentai
Sentai is a leading global supplier of anime content and official merchandise dedicated to bringing captivating stories and iconic characters directly from Japan. Sentai's brands include HIDIVE (direct-to-consumer streaming), SentaiFilmworks.com (direct to consumer E-Commerce), Anime Network (Cable SVOD) and Sentai Studios (localization and studio services). Sentai's diverse library includes thousands of hours of hit titles and classic series including MADE IN ABYSS, Akame ga Kill, Ya Boy Kongming!, Food Wars!, Clannad, Is it Wrong to Try to Pick Up Girls in a Dungeon?, High School of the Dead, Girls & Panzer, No Game No Life, K-On!, Assassin's Pride and Parasyte -the maxim-.
###