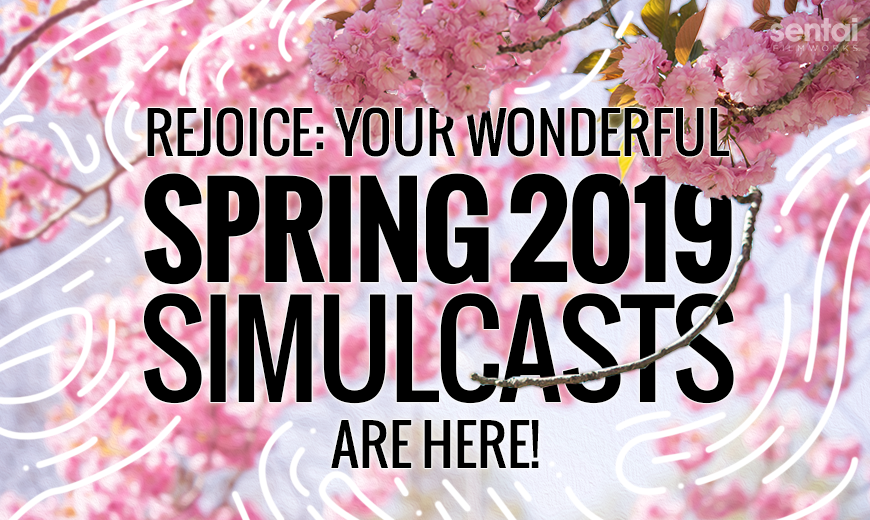 Rejoice: Your Wonderful Spring 2019 Simulcasts are Here!
---
A new season has arrived, which means spring 2019 simulcasts are finally here! Counting our new additions alongside our returning favorites, we've got a total of FIVE shows for your viewing pleasure.
Where can you find these five titles? On HIDIVE, of course! We've even taken the time to put together a streaming schedule for you, so print this out, laminate it, and keep it on hand as you dive into the new season.
Monday
Pop Team Epic Special 15:00 UTC [Premiered 4/1/19]
It wasn't a cruel April Fools' joke; it was true! The spring 2019 simulcast season kicked off on Monday with two brand new episodes of Pop Team Epic! Even better, there are four different versions available, and each features different voice actors/actresses. They're code-named Blue Dragon, White Tiger, Vermillion Bird and Black Tortoise!
Fun fact: Did you know these names are references to the four mythological creatures found in Chinese constellations? And they said Pop Team Epic wasn't educational!
NAMUAMIDABUTSU! -UTENA- 12:30 UTC [Premieres 4/8/19]
When you stop and think about it, anime is steeped in Buddhist symbolism and themes — especially this one since all the main characters are Buddhist deities living on Earth. They may be fighting against the evil Mara and seeking to show humanity the path to enlightenment, but first, they'll need to get used to modern life!
Friday
Senryu Girl [Premieres 4/5/19]
Ep 1: 4/5/19 at 17:57 UTC
Ep 2: 4/12/19 at 18:25 UTC
Ep 3+: Fridays at 18:10 UTC
The key to poetry is knowing which words to use and when to use them. If you need pointers, we're positive Nanako would be more than happy to give you some examples. We're being literal here. Our dear friend Nanako only communicates in senryu poetry, so be prepared for self-demonstrating instructions as Nanako and her friends run the Literature Club.
Ao-chan Can't Study! [Premieres 4/5/19]
Ep 1: 4/5/19 at 18:12 UTC
Ep 2: 4/12/19 at 18:40 UTC
Ep 3+: Fridays at 18:25 UTC
People have a bunch of preconceived notions over what love is and what it should be. Once those ideas are entrenched, they can be tough to dislodge. Especially for Ao. Whereas other people simply get misguided advice from sources such as magazines, Ao has the misfortune of having a father who's an erotic fiction writer. Needless to say, we suspect that her views on romance won't necessarily match her classmates.
Sunday
Why the Hell are You Here, Teacher!? 16:50 UTC [Premieres 4/7/19]
There are times where it's like everything conspires against you. No matter what you do and no matter how hard you try to avoid it, certain situations seem to have preordained outcomes. Which brings us to Ichiro, who keeps finding himself in compromising positions with his teacher, Kana. And you thought your high school years were rough!
Sentai Filmworks hopes you enjoy the new Spring 2019 simulcasts!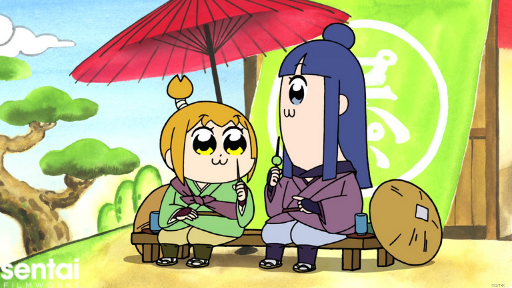 There you have it, Sentai fans! You know what titles are available and you know where to watch them, so break out your favorite snacks and prepare for simulcasting! Which show are you looking forward to the most? Let us know by tagging us @SentaiFilmworks when you use the social media buttons below! And don't forget to sign up for our newsletter for simulcast news and more!