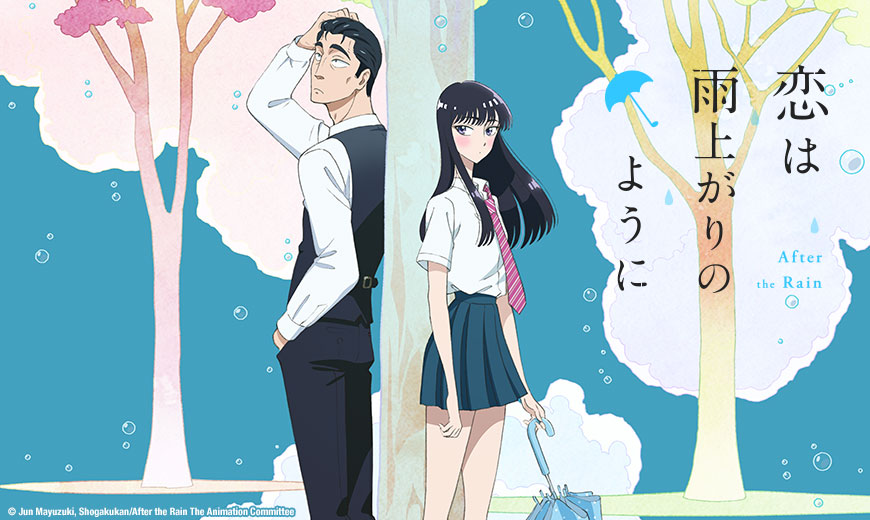 Sentai Acquires "After the Rain"
---
HOUSTON, TX — March 5, 2020 — Sentai announced today that it acquired After the Rain, an anime series produced by WIT Studio (Hozuki's Coolheadedness, Attack on Titan) based on the complex, character-driven manga of the same name.
After the Rain is a story about life's crossroads. There are moments great and small in which circumstance and choices, in equal measure, define a person. Akira Tachibana was once the ace of a track club, but an injury forced her to quell her passion for sports. Masami Kondo, a divorced father, had ambitions of being a writer and now manages a restaurant, where Akira works. It is the intersection of Akira and Masami's seemingly disconnected lives that makes each of them reconsider and redefine everything about themselves.
After the Rain is directed by Ayumu Watanabe (Space Brothers) with series composition from Hitomi Mieno (Flying Witch). The series stars Sayumi Watabe (Beastars) as Akira Tachibana and Hiroaki Hirata (Space Brothers #0) as Masami Kondo.
The series will be released on home video and select digital outlets.
For Sentai's latest announcements regarding this and other great titles, be sure to like us on Facebook and follow us on Twitter.
About Sentai
A Cool Japan Fund portfolio company, Sentai is a leading global supplier of anime and official anime merchandise, distributing, and curating one of the industry's most diverse libraries of top trending and classic titles. Sentai offers thousands of hours of content across both traditional and digital platforms and is dedicated to bringing captivating stories and iconic characters directly from Japan. With hit series that include MADE IN ABYSS, Food Wars!, Princess Tutu and Parasyte -the maxim-, Sentai's catalog continues to grow with new favorites like Bloom Into You, Revue Starlight and O Maidens in Your Savage Season, as well as classic anime series such as Legend of the Galactic Heroes and The Big O. For more information, visit www.sentaifilmworks.com.
###