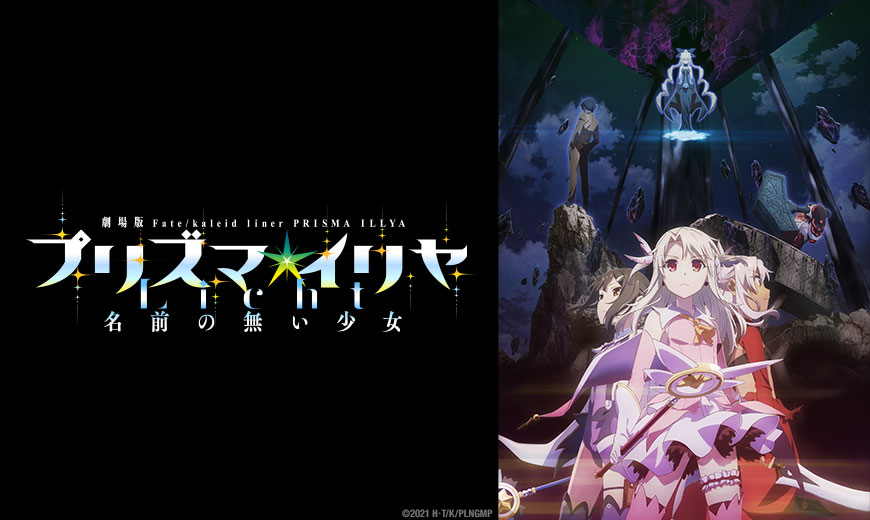 Sentai Acquires Feature Film "Fate/kaleid liner PRISMA ILLYA - Licht Nameless Girl"
---
HOUSTON, TX — August 20, 2021 — Sentai announced today that it acquired Fate/kaleid liner PRISMA ILLYA - Licht Nameless Girl, the latest feature length follow-up to the movie Fate/kaleid liner PRISMA ILLYA - The vow in the snow and latest installment in the hugely popular Fate/kaleid liner PRISMA ILLYA franchise. Sentai will distribute the film to audiences in North America, the United Kingdom, Ireland, Australia, New Zealand, South Africa, Scandinavia, the Netherlands, Portugal, Central America, South America, Spain, and Nordic countries.
Originally developed as an alternate universe to mega hit series Fate/stay night, Fate/kaleid liner PRISMA ILLYA now stands on its own as a bona fide hit and fan-favorite franchise. In the latest feature film installment, its most beloved characters face completely unexpected situations! The Ainsworth family aims to save the world, but the price is sacrifice of magical girl Miyu — but Miyu's brother, Shirou, won't let them have her without a fight. Now it's up to Illya to step in and find a solution that will save not only Miyu, but the entire world.
Fate/kaleid liner PRISMA ILLYA - Licht Nameless Girl is directed by Shin Onuma (WATAMOTE~No Matter How I Look at It, It's You Guys' Fault I'm Not Popular!~, Dusk maiden of Amnesia, ef ~ a tale of melodies) with studio SILVER LINK (Chivalry of a Failed Knight, Kokoro Connect, Non Non Biyori) in charge of animation. Kazuya Hirata (Hayate the Combat Butler, BOFURI: I Don't Want to Get Hurt, so I'll Max Out My Defense., Miss caretaker of Sunohara-sou) provides the film's character design.
The film stars Mai Kadowaki (Fate/stay night, Blood+, Strike Witches) as Illyasviel von Einzbern, Kaori Nazuka (Kämpfer, Eureka Seven, Code Geass: Lelouch of the Resurrection) as Miyu Edelfelt, Chiwa Saito (Bakemonogatari, Yona of the Dawn, D-Frag!) as Chloe von Einzbern, Natsuki Hanae (Food Wars!, Demon Slayer, Tokyo Ghoul) as Julian Ainsworth, Sumire Moroboshi (Maid-Sama!, The Promised Neverland, Rage of Bahamut: Virgin Soul) as Erika Ainsworth, Rie Kugimiya (Jujutsu Kaisen, Fullmetal Alchemist: Brotherhood, Fairy Tail) as Beatrice Flowerchild.
Sentai will release Fate/kaleid liner PRISMA ILLYA – Licht Nameless Girl on home video and in association with select digital outlets.
For Sentai's latest announcements regarding this and other great titles, be sure to like us on Facebook and follow us on Twitter.
About Sentai
A Cool Japan Fund portfolio company, Sentai is a leading global supplier of anime and official anime merchandise, distributing and curating one of the industry's most diverse libraries of top trending and classic titles. Sentai offers thousands of hours of content across both traditional and digital platforms and is dedicated to bringing captivating stories and iconic characters directly from Japan. With hit series that include MADE IN ABYSS, Food Wars!, Princess Tutu and Parasyte -the maxim-, Sentai's catalog continues to grow with new favorites like Bloom Into You, Revue Starlight and O Maidens in Your Savage Season, as well as classic anime series such as Legend of the Galactic Heroes and The Big O. For more information, visit www.sentai.com.
###