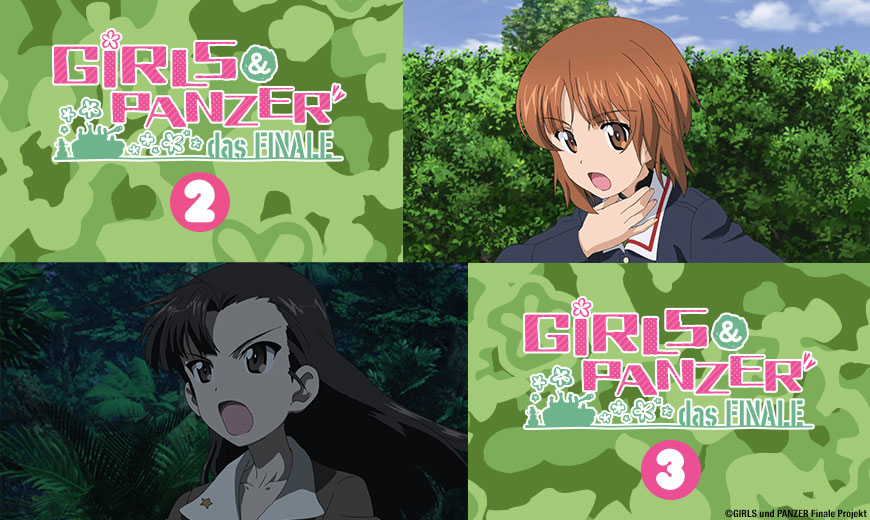 Sentai Acquires "Girls und Panzer das Finale" Movies 2 & 3
---
HOUSTON, TX — August 20, 2021 — Sentai announced today that it acquired Girls und Panzer das Finale parts 2 and 3, the next exciting chapters in the follow-up film series to the fan-favorite Girls und Panzer anime franchise. Sentai will distribute the movies to audiences in the United States and Canada, the United Kingdom, Ireland, Australia, New Zealand, South Africa, Netherlands, Scandinavia and Nordic countries.
It's time to gear up for more earth shaking tankery action times two! In the next round of the Continuous Cup against BC Freedom Academy, the tide of battle turns on a dime, leaving the Oorai Girls Academy tank combat team scrambling for a leg up on the competition! And their next opponents in the tournament bracket, Chi-Ha-Tan Academy, are going to be even tougher. But the members of Oorai Girls Academy won't go down without a fight no matter what tactics are thrown their way. Prepare for more explosive thrills and heavy caliber irreverence with Girls und Panzer das Finale – Part 2 and Girls und Panzer das Finale – Part 3!
Tsutomu Mizushima (Squid Girl, SHIROBAKO) returns to direct the next installments in the Girls und Panzer das Finale movie series, which have been animated by studio Actas (Princess Principal, Girls und Panzer). The film stars Ikumi Nakagami (BanG Dream! 2nd Season, Glitter Force) as Yukari Akiyama, Mami Ozaki (Soni-Ani: Super Sonico The Animation, Witchcraft Works) as Hana Isuzu, Mai Fuchigami (Sakura Trick, Assassination Classroom) as Miho Nishizumi, Yuka Iguchi (Ascendance of a Bookworm, A Place Further Than the Universe) Mako Reizei, Ai Kayano (No Game, No Life, Say "I Love You") as Saori Takebe and Kana Ueda (Fate/stay night, Maria Watches Over Us) as Momo Kawashima.
Sentai will release the second and third Girls und Panzer das Finale movies in association with select digital outlets and on home video.
For Sentai's latest announcements regarding this and other great titles, be sure to like us on Facebook and follow us on Twitter.
About Sentai
A Cool Japan Fund portfolio company, Sentai is a leading global supplier of anime and official anime merchandise, distributing and curating one of the industry's most diverse libraries of top trending and classic titles. Sentai offers thousands of hours of content across both traditional and digital platforms and is dedicated to bringing captivating stories and iconic characters directly from Japan. With hit series that include MADE IN ABYSS, Food Wars!, Princess Tutu and Parasyte -the maxim-, Sentai's catalog continues to grow with new favorites like Bloom Into You, Revue Starlight and O Maidens in Your Savage Season, as well as classic anime series such as Legend of the Galactic Heroes and The Big O. For more information, visit www.sentai.com.
###