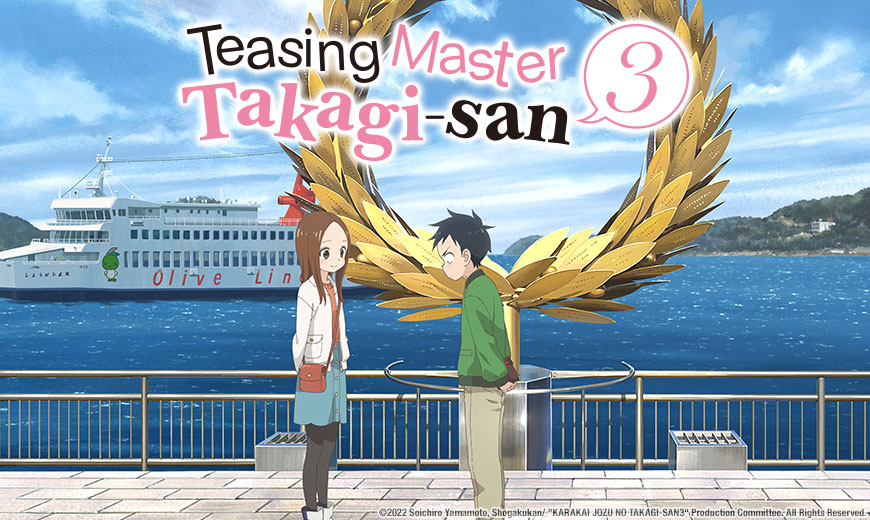 Sentai Acquires Latest "Teasing Master Takagi-san" Series
---
HOUSTON, TX — December 28, 2021 — Sentai announced today that it acquired the latest season of Teasing Master Takagi-san as well as the forthcoming Teasing Master Takagi-san feature film, both based upon the award-winning, cleverly mischievous manga of the same name. Teasing Master Takagi-san3 will stream exclusively on HIDIVE as part of the Winter 2022 simulcast season to audiences around the world (excluding Asia).
Takagi is a master of clever antics that turn her frequent target, Nishikata, into a blushingly embarrassed wreck. But Nishikata hasn't endured years of pranks from his childhood friend for nothing. Every day and every battle of wits with Takagi brings him one step closer to turning the tables and making her blush, and now Nishikata is lying in wait for the perfect opportunity to win adorable, glorious revenge.
Teasing Master Takagi-san3 is produced by Shin-Ei Animation (Tonari no Seki-kun: The Master of Killing Time, Sweetness & Lightning) and directed by Hiroaki Akagi (Teasing Master Takagi-san, Those Snow White Notes) with scriptwriting from Hiroko Fukuda (Real Girl, Doukyonin wa Hiza, Tokidoki, Atama no Ue), Aki Itami (Flowers of Evil, Fruits Basket) and Kanichi Katou (Mairimashita! Iruma-kun, Tsugumomo). Aya Takano (Himouto! Umaru-chan, Shirokuma Cafe) provides character design work.
The series stars Rie Takahashi (KonoSuba: God's Blessing on This Wonderful World!, Isekai Quartet) as Takagi, Yuki Kaji (Ahiru no Sora, Attack on Titan) as Nishikata, Konomi Kohara (The Demon Girl Next Door, Kaguya-sama: Love is War) as Mina and Yuma Uchida (Given, Fruits Basket: The Final) as Nakai.
Sentai will stream Teasing Master Takagi-san3 exclusively on HIDIVE with a home video release to follow.
For Sentai's latest announcements regarding this and other great titles, be sure to like us on Facebook and follow us on Twitter.
About Sentai
Sentai is a leading global supplier of anime and official anime merchandise, distributing and curating one of the industry's most diverse libraries of top trending and classic titles. Sentai offers thousands of hours of content across both traditional and digital platforms and is dedicated to bringing captivating stories and iconic characters directly from Japan. With hit series that include MADE IN ABYSS, Food Wars!, Princess Tutu and Parasyte -the maxim-, Sentai's catalog continues to grow with new favorites like Bloom Into You, Revue Starlight and O Maidens in Your Savage Season, as well as classic anime series such as Legend of the Galactic Heroes and The Big O. For more information, visit www.sentai.com.
###