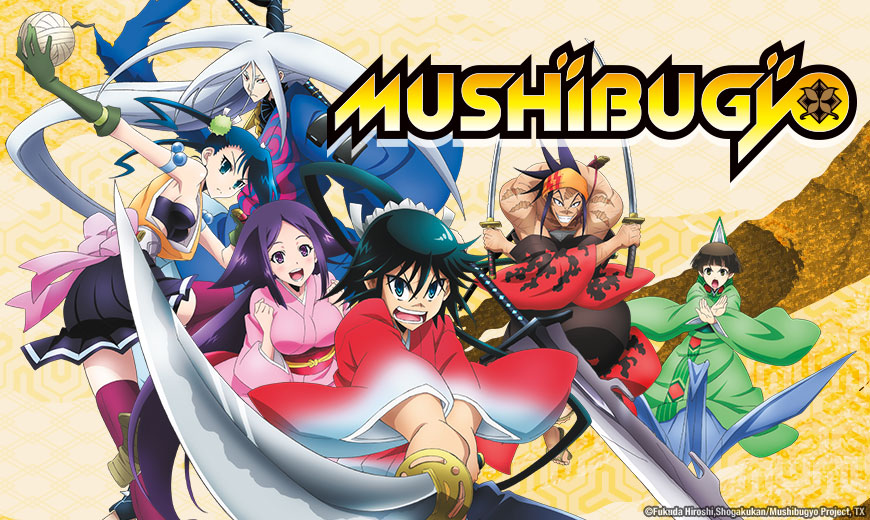 Sentai Acquires "Mushibugyo" Anime Series
---
HOUSTON, TX — December 16, 2021 — Sentai announced today that it acquired the action-packed Mushibugyo anime series. Sentai will distribute the series to audiences in the United States, Canada, the United Kingdom, Ireland, Australia, New Zealand, South Africa, the Netherlands, Scandinavia, Spain, Portugal, Central America and South America.
To combat monstrous, gigantic swarms delivering death and misery to a frightened population, Edo-period Shogun rulers assemble a cadre of superhuman warriors known as the Insect Magistrate Office. Among them, a young swordsman named Jinbee Tsukishima yearns to atone for past sins by taking his fallen father's place in their ranks. But first he'll have to prove his worth if he's to join the fight to save humanity from the brutal onslaught.
Mushibugyo is directed by Takayuki Hamana (Erin, Library Wars, Arte) and animated by Seven Arcs Pictures (Trinity Seven, Bermuda Triangle ~ Colorful Pastorale, Vivid Strike!). Yoshimitsu Yamashita (Blade of the Immortal, Phantom: Requiem for the Phantom, Samurai Flamenco) provides the series' character design while Yoichi Kato (Aikatsu!, Yokai Watch, SCARLET NEXUS) provides series' composition.
The series stars KENN (Ahiru no Sora, Beyond the Boundary, Space Brothers) as Jinbee Tsukishima, Rumi Okubo (Sabagebu!, One Week Friends, Death Parade) as Hibachi, Takuya Eguchi (My Teen Romantic Comedy SNAFU, My Love Story!!, BAKI) as Shungiku Koikawa, Takuma Terashima (Kokoro Connect, Log Horizon, MEKAKUCITY ACTORS) as Mugai and Yu Serizawa (Real Girl, Magical Girl Site, How clumsy you are, Miss Ueno.) as Tenma Ichinotani.
Sentai will stream Mushibugyo in association with select digital outlets with a home video release to follow.
For Sentai's latest announcements regarding this and other great titles, be sure to like us on Facebook and follow us on Twitter.
About Sentai
Sentai is a leading global supplier of anime and official anime merchandise, distributing and curating one of the industry's most diverse libraries of top trending and classic titles. Sentai offers thousands of hours of content across both traditional and digital platforms and is dedicated to bringing captivating stories and iconic characters directly from Japan. With hit series that include MADE IN ABYSS, Food Wars!, Princess Tutu and Parasyte -the maxim-, Sentai's catalog continues to grow with new favorites like Bloom Into You, Revue Starlight and O Maidens in Your Savage Season, as well as classic anime series such as Legend of the Galactic Heroes and The Big O. For more information, visit www.sentai.com.
###