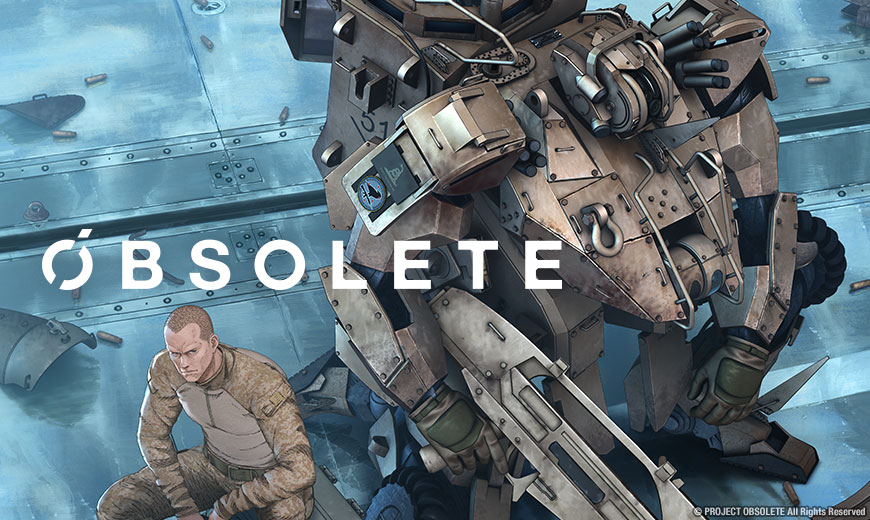 Sentai Acquires Sci-Fi Series "OBSOLETE"
---
HOUSTON, TX — February 22, 2022 — Sentai announced today that it acquired OBSOLETE, the sci-fi series from Gen Urobuchi, legendary creator of Aldnoah.Zero and Fate/Zero.
In a trade deal for Earth resources, aliens known as Peddlers barter their supremely advanced Exoframe technology — robotic mecha controlled by neural linking. But access to that extraterrestrial technology threatens to fundamentally alter human civilization, especially when it comes to the theater of war.
The series stars Masahiko Tanaka (Shaman King, Hajime no Ippo, Attack on Titan) as Bowman, Toshiyuki Morikawa (MADE IN ABYSS, Berserk, JoJo's Bizarre Adventure: Diamond is Unbreakable) as Miyajima, Jin Yamanoi (Biohazard: Degeneration, Ristorante Paradiso, Hunter x Hunter) as Loewner, Wataru Takagi (One Piece, Great Teacher Onizuka, Dorohedoro) as Fernando and Ryuzaburo Otomo (Vampire Hunter D, Dragon Ball Z, Bleach) as Zahir.
Fate/Zero creator Gen Urobuchi (Puella Magi Madoka Magica, Psycho-Pass) is in charge of project planning and series composition. The series' theme song is by Technoboys Pulcraft Green-Fund (Kakegurui, Outburst Dreamer Boys, The Art Club Has a Problem!) with music from Tomohisa Ishikawa (Super Cub, Appleseed Saga Ex Machina, Kurokami the Animation).
Studio BUEMON produced the animation for OBSOLETE. BUEMON was established in 2014 with CG staff from Sunrise Nerima Studio who have previously worked on anime such as Steam Boy, FREEDOM and Short Peace.
OBSOLETE is directed by Hiroki Yamada and Seiichi Shirato. Hiroki Yamada worked as a CG designer with Studio Ghibli and Sunrise Emotion prior to joining BUEMON in 2014. He made his directorial debut in 2016 with Matasaburo of the Wind. Seiichi Shirato has contributed work to a number of anime, games, manga, and novels. His major works include the anime Jormungand, Joker Game, Drifters and Princess Principal.
Sentai will release OBSOLETE on home video in Q2 2022.
For Sentai's latest announcements regarding this and other great titles, be sure to like us on Facebook and follow us on Twitter.
About Sentai
Sentai is a leading global supplier of anime content and official merchandise dedicated to bringing captivating stories and iconic characters directly from Japan. Sentai's brands include HIDIVE (direct-to-consumer streaming), SentaiFilmworks.com (direct to consumer E-Commerce), Anime Network (Cable SVOD) and Sentai Studios (localization and studio services). Sentai's diverse library includes thousands of hours of hit titles and classic series including MADE IN ABYSS, Akame ga Kill, Food Wars!, Clannad, Is it Wrong to Try to Pick Up Girls in a Dungeon?, High School of the Dead, Girls & Panzer, No Game No Life, K-On!, Assassin's Pride and Parasyte -the maxim-.
###