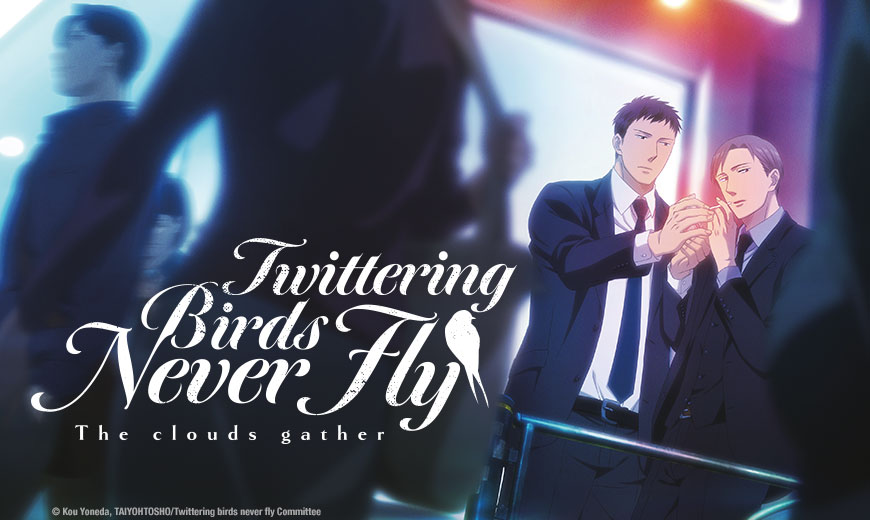 Sentai Acquires "Twittering Birds Never Fly" Feature Length Trilogy
---
HOUSTON, TX — August 26, 2020 — Sentai announced today that it acquired Twittering Birds Never Fly, the feature-length animated trilogy adapted from Kou Yoneda's best-selling, groundbreaking manga of the same name.
Clouds Gather, the trilogy's first installment, introduces two steely members of the Yakuza, each with secrets in their past, who occupy trusted and feared positions in the Japanese underworld. Recent parolee, Doumeki, is assigned to guard Yashiro, a mid-level enforcer who deals out daily doses of coercion, retribution and other criminal acts with brutal efficiency. But behind closed doors, their relationship quickly becomes psychologically and physically complicated. Theirs is a story entanglement, tension, power and control. Visually stunning and highly visceral, Twittering Birds Never Fly – Clouds Gather is a gritty take on classic noir mixed with stark eroticism. And as much as it leaves its characters forever changed, so too will audiences find themselves transfixed by Twittering Birds Never Fly.
Produced by studio GRIZZLY (Yarichin☆Bitch Club), Twittering Birds Never Fly - the clouds gather - is the first chapter in a trilogy of films that chronicles Yashiro and Chikara's evolving relationship. Kaori Makita (Banana Fish, episode director) is poised to direct while Hiroshi Seko (Ajin: Demi-Human) provides the script. The manga series upon which the films are based was shortlisted for the Sugoi Japan Award in 2016 and was named a highly recommended yaoi title in a nationwide survey of employees of Japanese bookstores.
Seiyuus Wataru Hatano (Hitorijime My Hero) and Tarusuke Shingaki (My Hero Academia 4) performed respectively the roles of Chikara Domeki and Yashiro in the audio drama adaption of the manga series; they will reprise these roles for the Twittering Birds Never Fly films.
The film's release schedule will include traditional bookings at select cinemas as well as virtual screenings for audiences at home.
For Sentai's latest announcements regarding this and other great titles, be sure to like us on Facebook and follow us on Twitter.
About Sentai
A Cool Japan Fund portfolio company, Sentai is a leading global supplier of anime and official anime merchandise, distributing, and curating one of the industry's most diverse libraries of top trending and classic titles. Sentai offers thousands of hours of content across both traditional and digital platforms and is dedicated to bringing captivating stories and iconic characters directly from Japan. With hit series that include MADE IN ABYSS, Land of the Lustrous, MONSTER MUSUME Everyday Life with Monster Girls and Parasyte -the maxim-, Sentai's catalog continues to grow with new favorites like Bloom Into You, Revue Starlight and DEVILS' LINE, as well as classic anime series such as Legend of the Galactic Heroes and The Big O. For more information, visit www.sentaifilmworks.com.
###