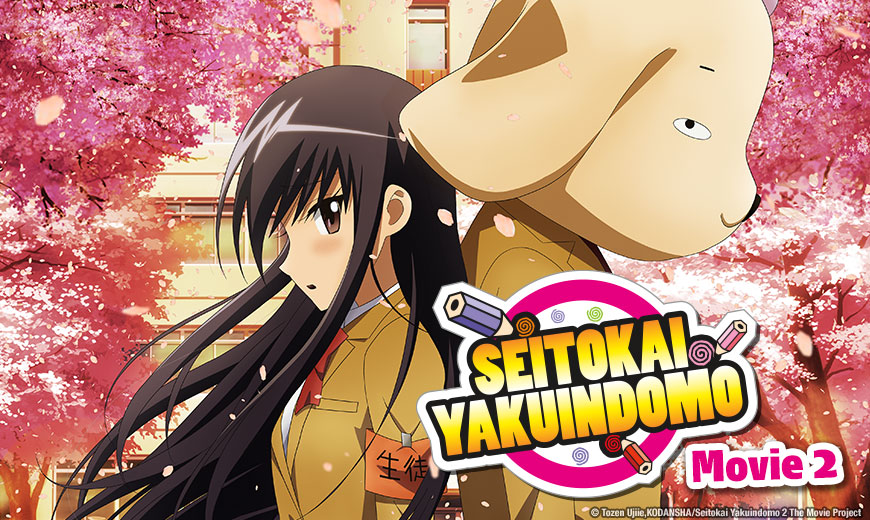 Sentai Adds "Seitokai Yakuindomo Movie 2" to Lineup
---
HOUSTON, TX — April 15, 2021 — Sentai announced today that it acquired distribution rights to Seitokai Yakuindomo 2 The Movie, the second side-splitting film in the Seitokai Yakuindomo anime universe, for audiences in USA, Canada, UK, Ireland, Australia, New Zealand, Latin America, Scandinavia, the Netherlands, South Africa, Spain and Portugal. Sentai adds the latest film to the franchise lineup that includes the first two seasons and first movie in the Seitokai Yakuindomo series.
The cast of Seitokai Yakuindomo is back and ready to quip! In this companion film that follows season 2 of the zany, irreverent Seitokai Yakuindomo anime series, the Ousai Private Academy student council must again grapple with a mix of double-entendres and doubly potent teen hormones as they integrate boys into a previously all-girls school.
Animated by Studio GoHands (Seitokai Yakuindomo, Hand Shakers, Princess Lover), the film was directed by Hiromitsu Kanazawa (W'z, K, Coppelion), who also penned the screenplay. Makoto Furuta (Azumanga Daioh) provides the film's character design. The movie stars Yoko Hikasa (No Game, No Life, Domestic Girlfriend, 7SEEDS) as Shino Amakusa, Sayuri Yahagi (To LOVE Ru, Senryu Girl, Karin) as Suzu Hagimura, Shintaro Asanuma (Chivalry of a Failed Knight, Tsurune, Cutie Honey Universe) as Tsuda Takatoshi and Satomi Sato (Is the Order a Rabbit?, K-ON!, Hyouka) as Aria Shichijo.
Seitokai Yakuindomo 2 The Movie will be released on home video and streamed on select digital outlets.
For Sentai's latest announcements regarding this and other great titles, be sure to like us on Facebook and follow us on Twitter.
About Sentai
A Cool Japan Fund portfolio company, Sentai is a leading global supplier of anime and official anime merchandise, distributing and curating one of the industry's most diverse libraries of top trending and classic titles. Sentai offers thousands of hours of content across both traditional and digital platforms and is dedicated to bringing captivating stories and iconic characters directly from Japan. With hit series that include MADE IN ABYSS, Food Wars!, Princess Tutu and Parasyte -the maxim-, Sentai's catalog continues to grow with new favorites like Bloom Into You, Revue Starlight and O Maidens in Your Savage Season, as well as classic anime series such as Legend of the Galactic Heroes and The Big O. For more information, visit www.sentai.com.
###