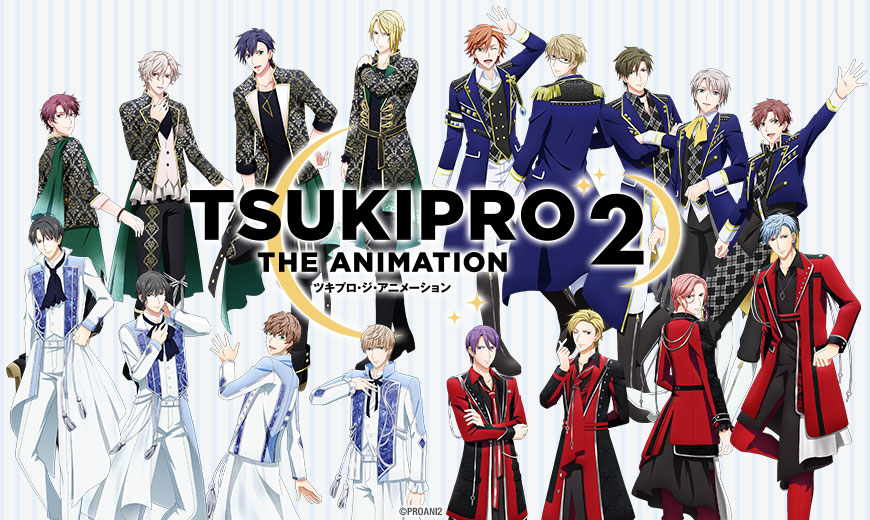 Sentai Adds "TSUKIPRO the Animation 2" to Idol Lineup
---
HOUSTON, TX — June 29, 2021 — Sentai announced today that it acquired TSUKIPRO the Animation 2, the latest addition to the TSUKIPRO multi-media franchise, to its growing catalog of idol properties like Uta no Prince-sama, BanG! Dream and D4DJ. Sentai will distribute the title in North America, the United Kingdom, Ireland, Australia, New Zealand, South Africa, the Netherlands, Scandinavia, Nordic countries, Spain, Portugal, and Central and South America.
The bands of TSUKINO TALENT PRODUCTION are back and ready to rock in season two of TSUKIPRO the Animation! Whether you're a fan of rock, EDM or pop, there's a band for you to love under the TSUKIPRO label. Get to know the members of SolidS, QUELL, SOARA and Growth as they grow closer as bandmates, weather the drama of idol stardom and bring their music to the masses with style!
The series is produced by AZ Creative (Dame X Prince Anime Caravan) and directed by Shigeru Kimiya (episode director: Squid Girl) with series composition from Satoko Sekine (Mysteria Friends).
The series stars Takuya Eguchi (Akihiko Kaji, Given) as Shiki Takamura, Soma Saito (Takumi, Akame ga Kill!) as Tsubasa Okui, Hanae Natsuki (Tanjiro, Demon Slayer) as Rikka Sera, Yuichiro Umehara (Mitsuhide Rouen, Snow White with the Red Hair) as Dai Murase, Shunsuke Takeuchi (Brawler, Akudama Drive) as Shu Izumi, Kotaru Nishiyama (Ryuichi Kashima, Gakuen Babysitters) as Eichi Horimiya, Shugo Nakamura (Tomoki Takashima, Outburst Dreamer Boys) as Issei Kuga, Sho Nogami (Shiki Iseya, THE IDOLM@STER SideM) as Ichiru Kuga, Toshiyuki Toyonaga (Yuri Katsuki, Yuri on Ice!!) as Sora Ohara, Yuki Ono (Taiga Kagami, Kuroko no Basket) as Morihito Arihara, Makoto Furukawa (Saitama, One Punch Man) as Soshi Kagurazaka, Taishi Murata (Haruto Soma, Just Because!) as Ren Munakata, Chiharu Sawashiro (Argon, Show by Rock!! Stars!!) as Nozomu Nanase, Shunichi Toki (Ginji, Kakuriyo: Bed and Breakfast for Spirits) as Koki Eto, Yoshitaka Yamaya (Itsuki Kawasumi, The Rising of Shield Hero) as Kensuke Yaegashi, Daiki Yamashita (Izuku Midoriya, My Hero Academia) as Ryota Sakuraba and Junta Terashima (Takumi Kijima, Ao-chan Can't Study!) as Mamoru Fujimura.
Sentai will stream TSUKIPRO the Animation 2 in association with select digital outlets in Summer 2021 with a home video release to follow. Additionally, Sentai will stream the first season of TSUKIPRO the Animation in association with select digital outlets.
For Sentai's latest announcements regarding this and other great titles, be sure to like us on Facebook and follow us on Twitter.
About Sentai
A Cool Japan Fund portfolio company, Sentai is a leading global supplier of anime and official anime merchandise, distributing and curating one of the industry's most diverse libraries of top trending and classic titles. Sentai offers thousands of hours of content across both traditional and digital platforms and is dedicated to bringing captivating stories and iconic characters directly from Japan. With hit series that include MADE IN ABYSS, Food Wars!, Princess Tutu and Parasyte -the maxim-, Sentai's catalog continues to grow with new favorites like Bloom Into You, Revue Starlight and O Maidens in Your Savage Season, as well as classic anime series such as Legend of the Galactic Heroes and The Big O. For more information, visit www.sentai.com.
###