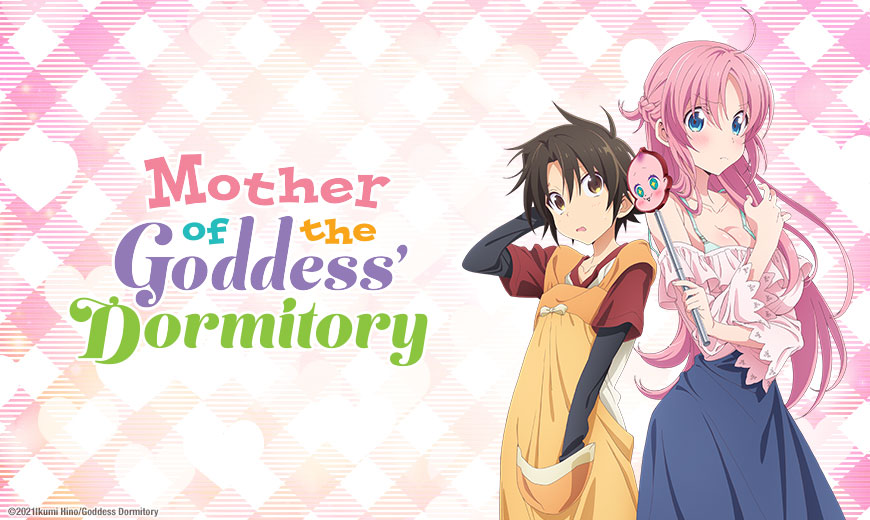 Sentai Books "Mother of the Goddess' Dormitory"
---
HOUSTON, TX — July 7, 2021 — Sentai announced today that it acquired irreverent comedy series Mother of the Goddess' Dormitory for the Summer 2021 simulcast season. Sentai will distribute the series to audiences in North America, Australia, New Zealand, UK, Ireland, South Africa, the Netherlands, Scandinavia and Nordic Countries, Spain, Portugal and Central and South America.
Down-on-his-luck Koushi Nagumo wanders the streets unemployed, homeless and in search of his next meal. His fortunes improve after a chance meeting with a vivacious young woman whose proposition seemingly solves nearly all his problems. Thanks to her, Koushi enters the welcoming halls of a dormitory at a women's college… only this particular assignment is no stuffy, sleepy affair. The Goddess' Dormitory is known for housing the college's most unruly students! If he wants to keep a roof over his head, Koushi must become the "Dormitory Mother" charged with maintaining order and good discipline. But doing his job and keeping his sanity are no small feat with characters as endearingly eccentric and untamable as these!
Mother of the Goddess' Dormitory is directed by Shunsuke Nakaju (episode director: BanG Dream!) and produced by studio asread (The Future Diary). The series stars Misuzu Yamada as Koushi Nagumo, Ayaka Nanase (SWORDGAI The Animation) as Atena Saotome, Chiaki Takahashi (School Days) as Mineru Wachi, Risako Murai (Date A Live) as Kiriya Sensho, Asaki Fukuyama as Frey, Yuki Yomichi (Super Cub) as Serene Hozumi and Hikaru Nanjo as Khoroya Sutea.
Sentai will release Mother of the Goddess' Dormitory in association with select digital outlets in Summer 2021 with a home video release to follow.
For Sentai's latest announcements regarding this and other great titles, be sure to like us on Facebook and follow us on Twitter.
About Sentai
A Cool Japan Fund portfolio company, Sentai is a leading global supplier of anime and official anime merchandise, distributing and curating one of the industry's most diverse libraries of top trending and classic titles. Sentai offers thousands of hours of content across both traditional and digital platforms and is dedicated to bringing captivating stories and iconic characters directly from Japan. With hit series that include MADE IN ABYSS, Food Wars!, Princess Tutu and Parasyte -the maxim-, Sentai's catalog continues to grow with new favorites like Bloom Into You, Revue Starlight and O Maidens in Your Savage Season, as well as classic anime series such as Legend of the Galactic Heroes and The Big O. For more information, visit www.sentai.com.
###