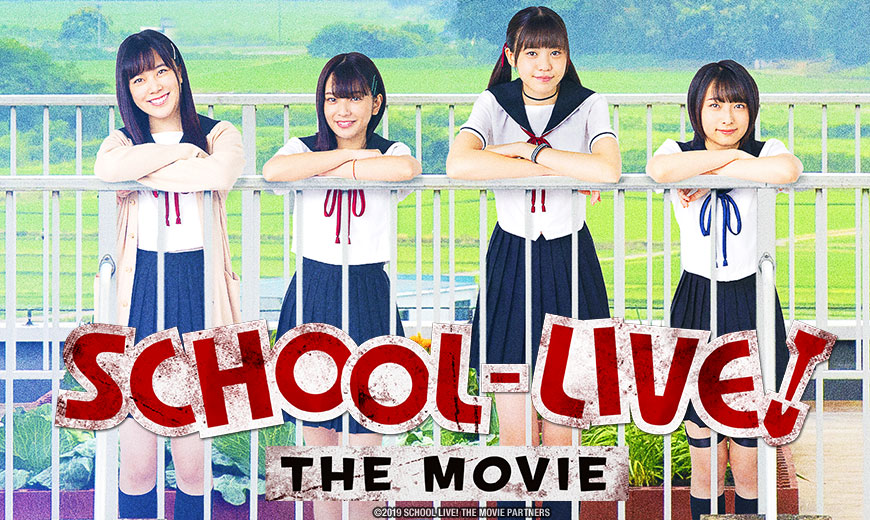 Sentai Braces for the Zombie Apocalypse with "School-Live! ~the movie"
---
HOUSTON, TX — April 27, 2021 — Sentai announced today that it acquired exclusive rights to School Live! ~the movie, the live-action adaptation of the popular horror anime School-Live! that captivated audiences with its unique premise and chilling visuals. Sentai will distribute the film in the United States, Canada, United Kingdom, Ireland, Australia, New Zealand, Latin America, Nordic countries, the Netherlands, Spain and Portugal.
On any normal day, high school can be a terrifying place. But in an apocalyptic world overrun by murderous undead, this school is salvation. In it, Yuki and her friends take shelter and do their best to live and to keep their sanity as strong as their friendship. Sentai has also licensed Gakko*** SCHOOL-LIVE! Another Story, a four-episode prequel series to the live-action film that stars Hinako Sakurai as Yukari Sawatari, a character original to the miniseries.
School-Live! ~the movie is written and directed by Issey Shibata (Shibuya Kaidan, Riaru Onigokko). The movie stars the idol group Last Idol, including members Nanami Abe as Kurumi Ebisuzawa, Midori Nagatsuki as Yuki Takeya, Wakana Majima as Yuri Wakasa, Rio Kiyohara as Miki Naoki, Daichi Kaneko as Tsumugi Katsuragi and Nonoka Ono as Megumi Sakura.
School-Live! ~the movie and Gakko*** SCHOOL-LIVE! Another Story will be available on home video and stream on select outlets.
For Sentai's latest announcements regarding this and other great titles, be sure to like us on Facebook and follow us on Twitter.
About Sentai
A Cool Japan Fund portfolio company, Sentai is a leading global supplier of anime and official anime merchandise, distributing and curating one of the industry's most diverse libraries of top trending and classic titles. Sentai offers thousands of hours of content across both traditional and digital platforms and is dedicated to bringing captivating stories and iconic characters directly from Japan. With hit series that include MADE IN ABYSS, Food Wars!, Princess Tutu and Parasyte -the maxim-, Sentai's catalog continues to grow with new favorites like Bloom Into You, Revue Starlight and O Maidens in Your Savage Season, as well as classic anime series such as Legend of the Galactic Heroes and The Big O. For more information, visit www.sentai.com.
###