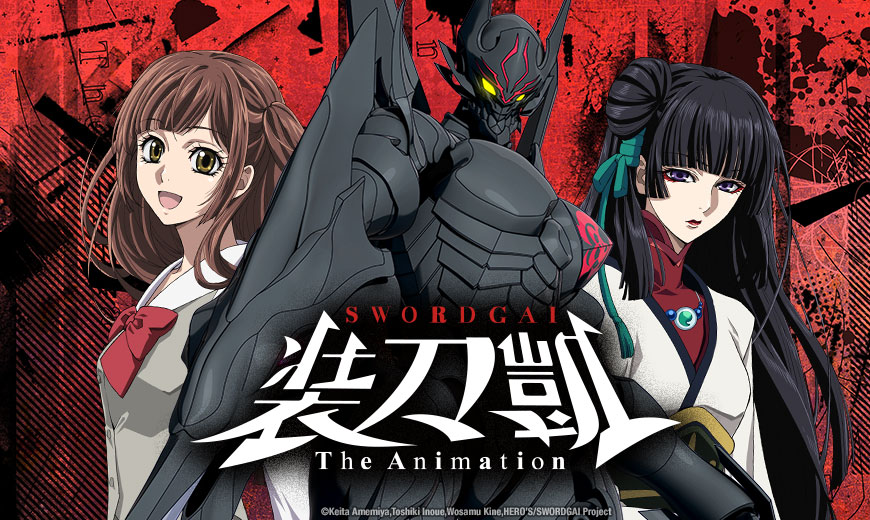 Sentai Brandishes "SWORDGAI The Animation"
---
HOUSTON, TX — March 23, 2021 — Sentai announced today that it acquired distribution rights to brutal action series SWORDGAI The Animation for audiences in the United States, Canada, United Kingdom, Ireland, Australia, New Zealand, South Africa, Scandinavia, Spain, Portugal, the Netherlands, and Latin America.
In this world, sentient, powerful swords rain death on a powerless populace. Gai Ogata's parents are murdered by Shiryu, a cursed blade with an endless thirst for blood. From childhood, Gai is transfixed on Shiryu, training as a blacksmith in hopes of someday surpassing the sword's deadly guile with a creation of his own. But when another tragic turn of events costs Gai his arm, his master repurposes Shiryu into an unconventional prosthetic, binding Gai to the bloodthirsty weapon permanently. Now Gai must learn to control the sword's most violent impulses before he faces Zsoltgewinn, the legendary sword so powerful that no mere human can wield it — and only one of these legendary blades will come away from the clash victorious.
SWORDGAI The Animation is a production of Production I.G (Haikyu!!, Attack on Titan, Ghost in the Shell) and DLE (Dog & Scissors, Skull-face Bookseller Honda-san, Aokana: Four Rhythm Across the Blue). It is directed by Takahiro Ikezoe (episode director for Fullmetal Alchemist: Brotherhood, KenIchi: The Mightiest Disciple, Big Windup!) with series composition from Toshiki Inoue (Ushio and Tora, Death Note, Fullmetal Alchemist), the series' original creator.
The series stars Yuto Uemura (Ahiru no Sora, Run with the Wind, Bungou Stray Dogs) as Gai Ogata, Yuichiro Umehara (GATE, Young Jack Black, Gatchaman Crowds Insight) as Seiya Ichijou and Yuuka Aisaka (Chivalry of a Failed Knight, Sakura Trick, Amagi Brilliant Park) as Sayaka Ogata.
SWORDGAI The Animation will be released on home video.
For Sentai's latest announcements regarding this and other great titles, be sure to like us on Facebook and follow us on Twitter.
About Sentai
A Cool Japan Fund portfolio company, Sentai is a leading global supplier of anime and official anime merchandise, distributing, and curating one of the industry's most diverse libraries of top trending and classic titles. Sentai offers thousands of hours of content across both traditional and digital platforms and is dedicated to bringing captivating stories and iconic characters directly from Japan. With hit series that include MADE IN ABYSS, Food Wars!, Princess Tutu and Parasyte -the maxim-, Sentai's catalog continues to grow with new favorites like Bloom Into You, Revue Starlight and O Maidens in Your Savage Season, as well as classic anime series such as Legend of the Galactic Heroes and The Big O. For more information, visit http://www.sentai.com/.
###