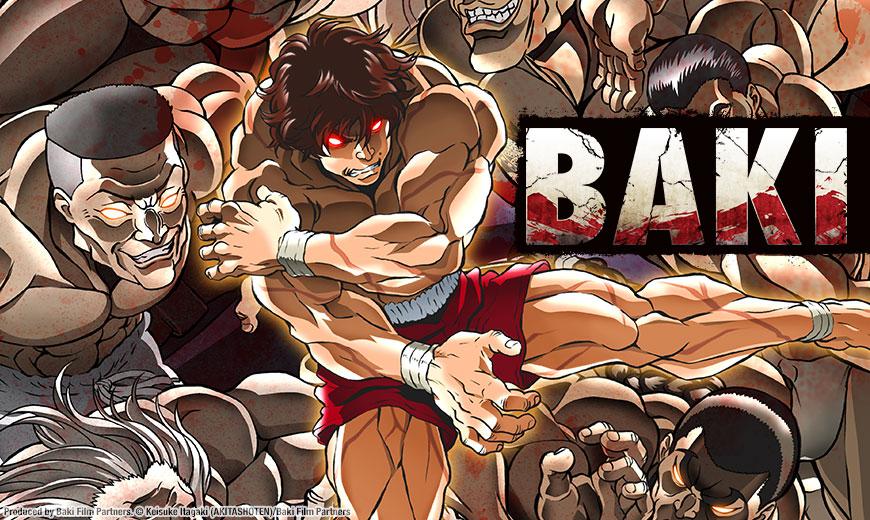 Sentai Bringing "BAKI" to Home Video
---
HOUSTON, TX — February 16, 2021 — Sentai announced today that it acquired BAKI, the brutal martial arts anime series, for release in a home video complete collection. Sentai's release will feature the original Japanese with English subtitles together with an all-new English dub.
Five vicious convicts escape death row. They make their way to Tokyo intent on committing violent blood sport. Now they're after Baki Hanma. With the onslaught looming, Baki must enlist Kaoru Hanayama, Doppo Orochi, Sea King Retsu and Goki Shibukawa, each with his own unique combat ability, if Baki wants to live to brawl another day.
From the mind of the series' original creator, Keisuke Itagaki, BAKI adapts the "Most Evil Death Row Convicts Saga" of the second manga series. BAKI is produced by TMS Entertainment (Gugure! Kokkuri-san, MEGALOBOX , LUPIN THE 3rd) and directed by Toshiki Hirano (Vampire Princess Miyu, Magic Knight Rayearth, Magic Kaito), with series composition from Tatsuhiko Urahata (GATE, Black Bullet, Monster). The series stars Nobunaga Shimazaki (Waiting in the Summer, My Love Story!!, Black Clover) as Baki Hanma, Takuya Eguchi (My Teen Romantic Comedy SNAFU, Mysterious Girlfriend X, 91 Days) as Kaoru Hanayama, Takayuki Sugo (Gintama, Princess Principal, Golden Kamuy) as Doppo Orochi, Rikiya Koyama (Ushio and Tora, GATE, Hajime no Ippo) as Sea King Retsu and Shimada Bin (Saint Seiya, One Piece, Mobile Suit Gundam I) as Goki Shibukawa.
Sentai will make the series available on home video with an all new English-language dub and in original Japanese with English subtitles.
For Sentai's latest announcements regarding this and other great titles, be sure to like us on Facebook and follow us on Twitter.
About Sentai
A Cool Japan Fund portfolio company, Sentai is a leading global supplier of anime and official anime merchandise, distributing, and curating one of the industry's most diverse libraries of top trending and classic titles. Sentai offers thousands of hours of content across both traditional and digital platforms and is dedicated to bringing captivating stories and iconic characters directly from Japan. With hit series that include MADE IN ABYSS, Food Wars!, Princess Tutu and Parasyte -the maxim-, Sentai's catalog continues to grow with new favorites like Bloom Into You, Revue Starlight and O Maidens in Your Savage Season, as well as classic anime series such as Legend of the Galactic Heroes and The Big O. For more information, visit www.sentai.com.
About TMS Entertainment:
TMS Entertainment (better known as TMS) is one of the world's largest and most distinguished animation studios. TMS has won recognition from the international filmmaking industry for its highly-acclaimed animation, pioneering techniques and proud commitment to quality. With a dedicated team of development, production and design executives, TMS's growing reputation is reflected by the versatility, artistry and originality of the programs the company has produced for international markets worldwide.
Established in 1964, TMS has produced more than 200 features, and over 100 TV program series, with a total of 12,000 half hours for global distribution. TMS programs have attained worldwide recognition and continue to strive for excellence.
WEBSITE: www.tmsanime.com
TWITTER: http://Twitter.com/tmsanime
FACEBOOK: http://Facebook.com/animetms
###