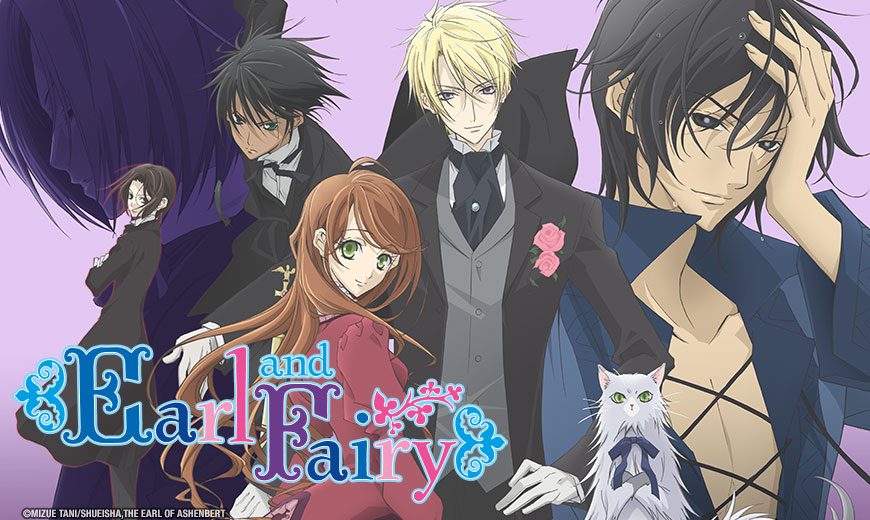 Sentai Falls for "Earl & Fairy"
---
HOUSTON, TX — April 13, 2021 — Sentai announced today that it acquired distribution rights to Earl & Fairy (Hakushaku to Yousei), based upon the light novel series of the same name by Mizue Tani, for audiences in the United States, Canada, the United Kingdom, Ireland, Australia, New Zealand, South Africa, Latin America, Spain, Portugal, Turkey, Nordic, Scandinavia.
Lydia Carlton possesses the rare ability to interact and communicate with fairies, supernatural creatures invisible to most humans. Few believe her stories about her occupation as a doctor to these strange beings, but the mysterious and handsome Edgar is in need of her particular expertise. Edgar seeks to become the Blue Knight Earl, or the human ruler of the fairy realm, and he will need Lydia's help to navigate the deceptively complex world of the fairies and claim the crown he craves.
Earl & Fairy is a production of Artland Studios (Legend of the Galactic Heroes, Katekyo Hitman Reborn, Bokura ga Ita). It is directed by Koichiro Sotome (episode director Mushishi, Kimi ni Todoke, Bokura ga Ita) with character design from Maki Fuji (Destiny of the Shrine Maiden, Blade Dance of the Elementalers, I've Always Liked You).
The series stars Nana Mizuki (Princess Tutu, Dororo, ItaKiss) as Lydia Carlton, Hikaru Midorikawa (Diabolik Lovers, Fushigi Yuugi, Shaman King) as Edgar J. C. Ashenbert, Tomokazu Sugita (Tada Never Falls in Love, ClassicaLoid, Gintama) as Raven, and Hiro Yuki (Revolutionary Girl Utena, Witch Hunter Robin, Dragon Ball Z) as Nico. Hikaru Midorikawa also performs the series' theme song.
Sentai will stream the series in association with select digital outlets.
For Sentai's latest announcements regarding this and other great titles, be sure to like us on Facebook and follow us on Twitter.
About Sentai
A Cool Japan Fund portfolio company, Sentai is a leading global supplier of anime and official anime merchandise, distributing and curating one of the industry's most diverse libraries of top trending and classic titles. Sentai offers thousands of hours of content across both traditional and digital platforms and is dedicated to bringing captivating stories and iconic characters directly from Japan. With hit series that include MADE IN ABYSS, Food Wars!, Princess Tutu and Parasyte -the maxim-, Sentai's catalog continues to grow with new favorites like Bloom Into You, Revue Starlight and O Maidens in Your Savage Season, as well as classic anime series such as Legend of the Galactic Heroes and The Big O. For more information, visit www.sentai.com.
###