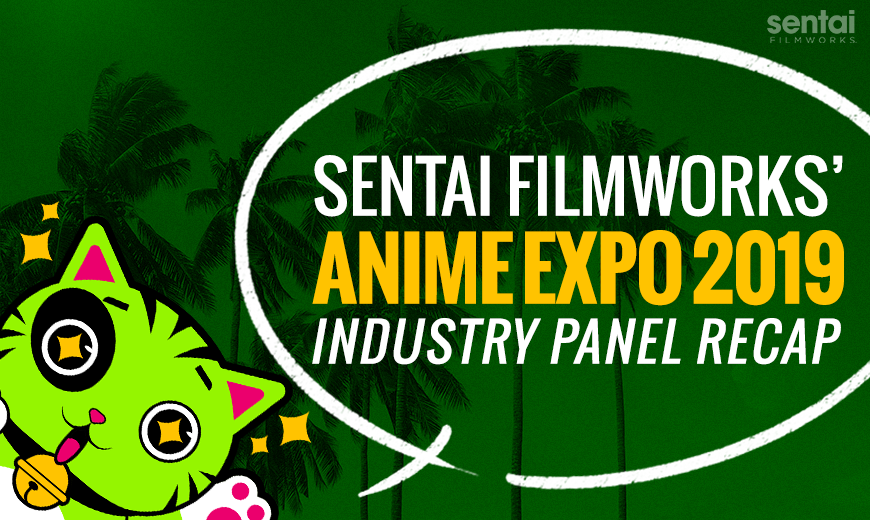 Sentai Filmworks' Anime Expo 2019 Recap
---
Now was that an exciting panel or what? For those of you who couldn't make it to our panel this year, we wrote a quick Anime Expo 2019 recap blog with you in mind.
Summer 2019 Simulcasts Are Coming
It's time for a brand spanking new anime season, and boy, do we have some titles for you. The fun started July 5th on HIDIVE, so head on over and start watching!
Title HIDIVE Premiere
O Maidens in Your Savage Season 7/5/19 @ 13:25 UTC
Wasteful Days of High School Girls 7/5/19 @ 13:30 UTC
Re:Stage! Dream Days♪ 7/7/19 @ 14:00 UTC
The Demon Girl Next Door 7/11/19 @ 17:28 UTC
Is It Wrong to Try to Pick Up Girls in a Dungeon? II 7/19/19 @ 16:30 UTC
Make Way for More MADE IN ABYSS
That's right -- the saga of the Abyss continues! Riko and Reg finally have their fated encounter with "Best Dad" Bondrewd as they delve even deeper in MADE IN ABYSS: Dawn of the Deep Soul. Expect to see it coming your way in early 2020.
The Dubs are Coming!
Who's getting dubs? You're getting dubs. Why? Because you're breathtaking.
You Got a Third Helping of English Dubs with Food Wars! The Third Plate
Not only are you getting Food Wars! The Third Plate soon, you're getting a DUBBED version to go along with it!
You Scored an Exclusive English Dub Clip of Haikyu!! 3rd Season
Wait, there's an English dub clip of the 3rd season of Haikyu!!? YAAAAAAS!! Let's have a pep rally right now and watch it again:
Discover New Feelings with an English Dub of Kase-san and Morning Glories
You all loved Bloom Into You, right? Then good news, everyone: We've acquired another LGBT romance you can look forward to.
My Teen Romantic SNAFU Too! is Getting an English Dub, Too
Speaking of romance, guess what else we're dubbing? (Hint: we've seen your tweets.)
You Want Comedy? The English Dub for Delinquent Hamsters Has Your Back
Your eyes are not deceiving you. That hamster really does have a pompadour. Believe us when we tell you that we're gonna have FUN dubbing this one.
Let's see, that should cover just about everything.
*Snaps fingers* Ah yes, we've got one last reminder:
We're Back on Toonami with Food Wars!
Don't forget — Food Wars! airs on SATURDAYS at 1:00 am Eastern and Pacific. Here's an awesome trailer from TOM:
Thanks to our friends over at Toonami!
That's a Wrap for our Anime Expo 2019 Recap
Did you have fun at Anime Expo this year? Feel free to send pictures, tweets, and posts our way by tagging us @SentaiFilmworks. And don't forget—our summer sale is here! Check it out for all your summer anime needs.