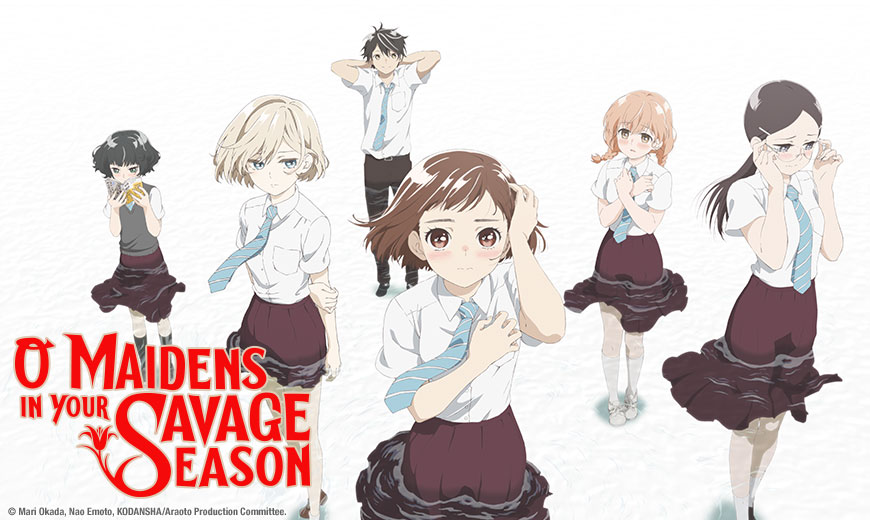 Sentai Filmworks Blossoms with "O Maidens in Your Savage Season"
---
HOUSTON, TX – June 28, 2019 – Sentai Filmworks announced today that it acquired exclusive rights to the coming-of-age series O Maidens in Your Savage Season, an anime adaptation of the manga written by Mari Okada and illustrated by Nao Emoto, through a global license arrangement (excluding Asia, Germany, France and Australia).
When the girls in the literature club ask themselves, "What do you want to do before you die?" one of them gives a most surprising response. Now they're all preoccupied (for better or for worse) by their friend's unexpected answer! Soon each of these very different young women find themselves propelled along the uncertain road to adulthood, their emotional journeys taking them down paths as surprising as their friend's unconventional wish. Poignant, painful and awkward in turns, O Maidens in Your Savage Season chronicles with humor and with grace the universal rites of passage so endemic to growing up.
The manga's original creator, Mari Okada (Fate/Stay Night, Wandering Son, The Pet Girl of Sakurasou), composed the series' script. O Maidens in Your Savage Season is produced by Studio Lay-duce (Release the Spyce, Classroom☆Crisis, Fate/Grand Order -First Order-) with directors Andou Masahiro (Cowboy Bebop: The Movie, Sailor Moon, Snow White with the Red Hair) and Tsukada Takurou (Fate/Grand Order: Moonlight/Lostroom).
The anime stars Tomoyo Kurosawa (Land of the Lustrous, Amagi Brilliant Park, Cutie Honey Universe) as Hitoha Hongo, Momo Asakura (Sakura Trick, GATE, Kaguya-sama: Love is War) as Momoko Sudo, Chika Anzai (Chihayafuru, Scum's Wish, KOKKOKU) as Niina Sugawara, Sumire Uesaka (Love, Chunibyo & Other Delusions!, Senryu Girl, BanG Dream! S2) as Rika Sonezaki and Hiyori Kouno (The Promised Neverland, Are You Lost?, Death March to the Parallel World Rhapsody) as Kazusa Onodera.
The series will be available for the Summer 2019 simulcast season to stream on select digital outlets with a home video release to follow.
For Sentai Filmworks' latest announcements regarding this and other great titles, be sure to like us on Facebook and follow us on Twitter.
About Sentai Filmworks, LLC
Sentai Filmworks is a leading global supplier of anime and official anime merchandise, distributing, and curating one of the industry's most diverse libraries of top trending and classic titles. Offering thousands of hours of content across both traditional and digital platforms, Sentai is dedicated to bringing captivating stories and iconic characters directly from Japan. In addition to Is It Wrong to Try to Pick Up Girls in a Dungeon? and Sword Oratoria, Sentai Filmworks' hit series include MADE IN ABYSS, Land of the Lustrous, The Big O, and Parasyte -the maxim-. Sentai's catalog continues to grow with new favorites like Domestic Girlfriend, Princess Principal, and Bloom Into You, as well as classic anime series such as Legend of the Galactic Heroes. For more information, visit www.sentaifilmworks.com.
###