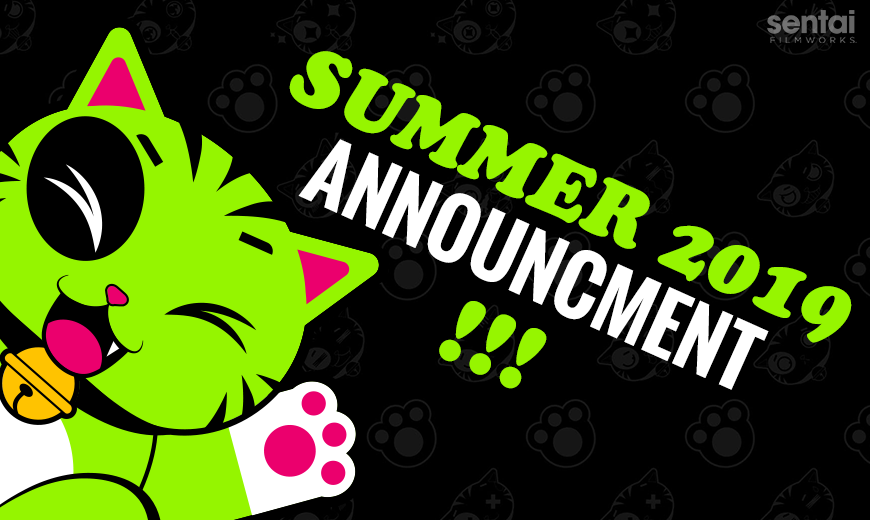 Sentai Filmworks Cuts Class with "Wasteful Days of High School Girls"
---
HOUSTON, TX – June 28, 2019 – Sentai Filmworks announced today that it acquired exclusive rights to the comedy series Wasteful Days of High School Girls through a licensing arrangement that includes the United States, Canada, Australia, New Zealand, the United Kingdom, Ireland, South Africa, the Netherlands, Scandinavia, Spain, Portugal and Latin America.
Bored out of her skull, Tanaka decides to give her friends some rather quirky nicknames, but they aren't going to take her unflattering descriptions lying down. Sakuchi (who got saddled with "Ota" due to her nerdy otaku tendencies) and Saginomiya (dubbed "Robo" thanks to her deadpan personality) decide to call Tanaka "Baka" — and honestly? This should give you a pretty good idea of the shenanigans these three get up to. They're at the height of their youth and they're utterly ridiculous, eagerly and hilariously wasting away their days as high school girls!
Wasteful Days of High School Girls stars Chinatsu Akasaki (Love, Chunibyo & Other Delusions, Love Lab, Food Wars!) as Nozomu "Baka" Akasaki, Haruka Tomatsu (Sakura Trick, Psychic Squad, Waiting in the Summer) as Akane "Ota" Kikuchi and Aki Toyosaki (K-On!, Knights of Sidonia, Sunday Without God) as Shiori "Robo" Saginomiya, with additional voices from Miyu Tomita (MADE IN ABYSS, Himouto! Umaru-chan, The Magnificent KOTOBUKI), Satomi Sato (Is the Order a Rabbit?, Free!, Okami-San and Her Seven Companions) and M・A・O (FLIP FLAPPERS, Land of the Lustrous, Noragami), among others.
The series is produced by studio Passione (Citrus, Rail Wars!, Hinako Note). Takeo Takahashi (Citrus, Spice and Wolf, So I Can't Play H) helms the project as Chief Director while Masahiro Yokotani (K-On!!, Re:ZERO -Starting Life in Another World-, The Devil is a Part-Timer!) provides series composition.
The series will be available for the Summer 2019 simulcast season to stream on select digital outlets with a home video release to follow.
For Sentai Filmworks' latest announcements regarding this and other great titles, be sure to like us on Facebook and follow us on Twitter.
About Sentai Filmworks, LLC
Sentai Filmworks is a leading global supplier of anime and official anime merchandise, distributing, and curating one of the industry's most diverse libraries of top trending and classic titles. Offering thousands of hours of content across both traditional and digital platforms, Sentai is dedicated to bringing captivating stories and iconic characters directly from Japan. In addition to Is It Wrong to Try to Pick Up Girls in a Dungeon? and Sword Oratoria, Sentai Filmworks' hit series include MADE IN ABYSS, Land of the Lustrous, The Big O, and Parasyte -the maxim-. Sentai's catalog continues to grow with new favorites like Domestic Girlfriend, Princess Principal, and Bloom Into You, as well as classic anime series such as Legend of the Galactic Heroes. For more information, visit www.sentaifilmworks.com.
###