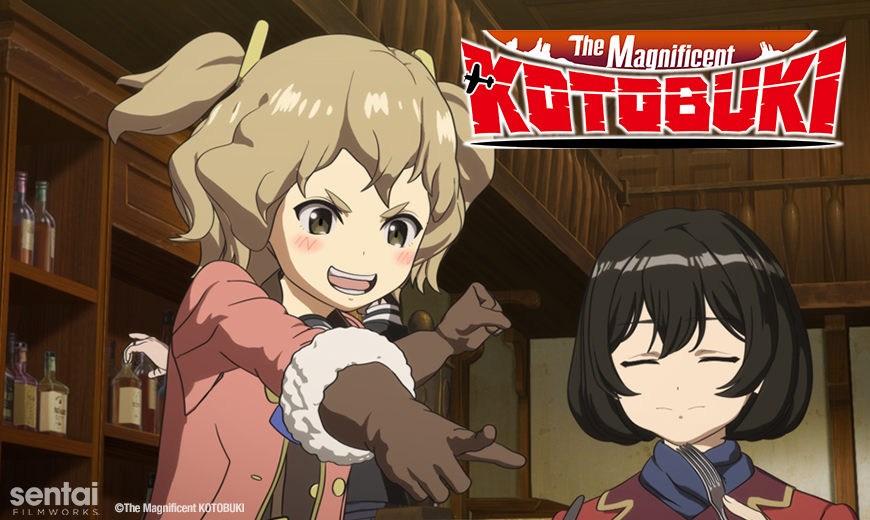 Sentai Filmworks Deploys "The Magnificent KOTOBUKI"
---
HOUSTON, TX, January 7, 2019 – Sentai Filmworks announced today that it has acquired exclusive rights to The Magnificent KOTOBUKI for the United States, Canada, the United Kingdom, Ireland, Australia, New Zealand, Latin America, the Netherlands, Denmark, Norway, Sweden, Spain, and Portugal. Anime powerhouse Tsutomu Mizushima (Girls und Panzer, XXXholic, SHIROBAKO) will direct the series, with Michiko Yokote (Naruto, Bleach, Cowboy Bebop, Patlabor, Tsurune) in charge of series composition.
In this original anime series, air combat is part of daily life, and the story unfolds as a team of beautiful ace pilots battle against renegades in the skies. The talented members of Team KOTOBUKI use their impressive dogfighting skills to help defend and transport goods for survival across a desolate wasteland. For the right price, protagonist KYLIE, KOTOBUKI's no-nonsense leader REONA, and the rest of the team will take on any enemy that comes their way!
Hishashi Egawa (Hellsing Ultimate) and Ten Hirota (At the Mercy of the Sky) will direct the 3D animation. The Japanese voice cast includes Sayumi Suzushiro (Bloom Into You, We Never Learn) as KYLIE, Sayaka Nakaya (AKB0048, Momokuri) as KATE, Asami Seto (Chihayafuru, Food Wars!) as REONA, Hibiku Yamamura (Arata The Legend, Doreiku the Animation) as ZARA, Miyu Tomita (MADE IN ABYSS, Holmes of Kyoto) as CHIKA and Eri Yukimura (A Certain Magical Index Ⅲ) as EMMA.
The series will soon be available for the Winter 2019 simulcast season to stream on select digital outlets with a home video release to follow.
For Sentai Filmworks' latest announcements regarding this and other great titles, be sure to like us on Facebook and follow us on Twitter.
About Sentai Filmworks, LLC
Sentai Filmworks is a leading global supplier of anime and official anime merchandise, distributing, and curating one of the industry's most diverse libraries of top trending and classic titles. Offering thousands of hours of content across both traditional and digital platforms, Sentai is dedicated to bringing captivating stories and iconic characters directly from Japan. With hit series that include MADE IN ABYSS, Land of the Lustrous, MONSTER MUSUME Everyday Life with Monster Girls and Parasyte -the maxim-, Sentai's catalog continues to grow with new favorites like Bloom Into You, Revue Starlight and DEVILS' LINE, as well as classic anime series such as Legend of the Galactic Heroes and The Big O. For more information, visit www.sentaifilmworks.com.
###