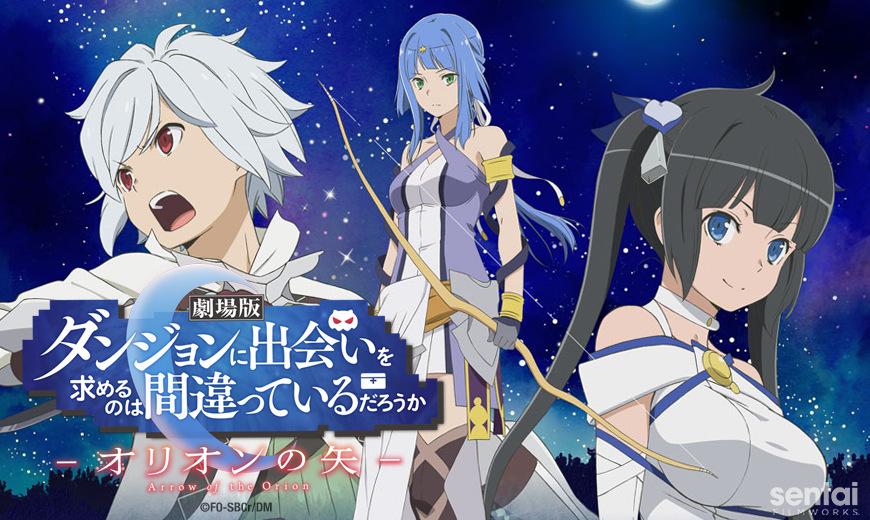 Sentai Filmworks Expands DanMachi Universe With "Is It Wrong to Try to Pick Up Girls in a Dungeon?: Arrow of the Orion" Feature Film and Prepares Early 2019 Theatrical Rollout
---
HOUSTON, TX, November 16, 2018 – Sentai Filmworks announced today that it acquired exclusive distribution rights to Is It Wrong to Try to Pick Up Girls in a Dungeon?: Arrow of the Orion, the feature-length film, based on the hugely popular franchise known to insiders as DanMachi. The original television series, first released outside of Japan by Sentai Filmworks in 2015 was a breakout hit and enduring fan favorite.
Adventurers may come from far and wide to test their mettle within the dungeon beneath Orario, but that's not the only location to experience! The gang may be familiar with the dark depths, but in this new story by the series' original writer, Fujino Omori, Bell's latest quest takes him beyond the dungeon. Fans can follow Hestia, Bell, Liliruca and the rest alongside the goddess Artemis as the Is It Wrong to Try to Pick Up Girls in a Dungeon? saga continues in a brand-new adventure!
Produced by EGG FIRM + SB Creative and directed by Katsushi Sakurabi (Flying Witch and The Pet Girl of Sakurasou) the feature also enlists Yasuhiro Oumura (Azumanga Daioh and When They Cry) as art director. Shigeki Kimoto (Flying Witch and Azumanga Daioh) expands upon the character designs from the series' original character designer, Suzuhito Yasuda.
For Sentai Filmworks' latest announcements regarding this and other great titles, be sure to like us on Facebook and follow us on Twitter.
About Sentai Filmworks, LLC
Sentai Filmworks is a leading global supplier of anime and official anime merchandise, distributing, and curating one of the industry's most diverse libraries of top trending and classic titles. Offering thousands of hours of content across both traditional and digital platforms, Sentai is dedicated to bringing captivating stories and iconic characters directly from Japan. With hit series that include Parasyte –the maxim–, No Game, No Life, Food Wars!, Is it Wrong to Try to Pick Up Girls in a Dungeon?, and Akame ga Kill!, Sentai's catalog continues to grow with new favorites like Himouto! Umaru-chan and Monster Musume: Everyday Life with Monster Girls, as well as classic anime series such as Legend of the Galactic Heroes. For more information, visit www.sentaifilmworks.com.
###