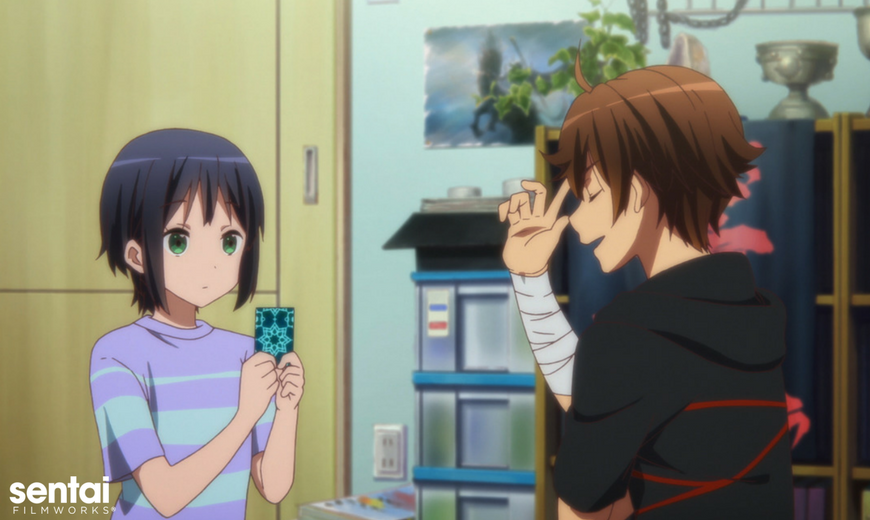 Sentai Filmworks Licenses "Love, Chunibyo and Other Delusions!: Rikka Version"
HOUSTON, APRIL 4, 2017 – The world looks different through the eyes (though usually just one eye...) of a true chunibyo in Sentai Filmworks' newest acquisition: Kyoto Animation's Love, Chunibyo and Other Delusions!: Rikka Version. The movie is a fresh retelling of the original Love, Chunibyo, & Other Delusions TV series, told from the point of view of the Tyrant Eye herself, Rikka Takanashi.
Chunibyo, an "ailment" of flights of fancy or perceived grandeur, can often strike Japanese youth in middle school, but for high-schooler Rikka Takanashi, her battles against supernatural forces are very real. In this retelling of the original TV series, the spunky and fearless (but often clueless) RIkka brings us her own spin on the saga between herself and the former "Dark Flame Master," Yuta Togashi.
Sentai Filmworks plans to release Love, Chunibyo and Other Delusions!: Rikka Version with an English dub to home video in 2017.
For Sentai Filmworks' latest announcements regarding this and other great titles, be sure to like us on Facebook and follow us on Twitter.
About Sentai Filmworks, LLC
Sentai Filmworks is a leading global supplier of anime and official anime merchandise, distributing and curating one of the industry's most diverse libraries of top trending and classic titles. Offering thousands of hours of content across both traditional and digital platforms, Sentai is dedicated to bringing captivating stories and iconic characters directly from Japan. With hit series that include Parasyte –the maxim–, No Game, No Life, Food Wars!, Is it Wrong to Try to Pick Up Girls in a Dungeon?, and Akame Kill!, Sentai's catalog continues to grow with new favorites like Himouto! Umaru-chan and Monster Musume: Everyday Life with Monster Girls, as well as classic anime series such as Legend of the Galactic Heroes. For more information, visit www.sentaifilmworks.com.