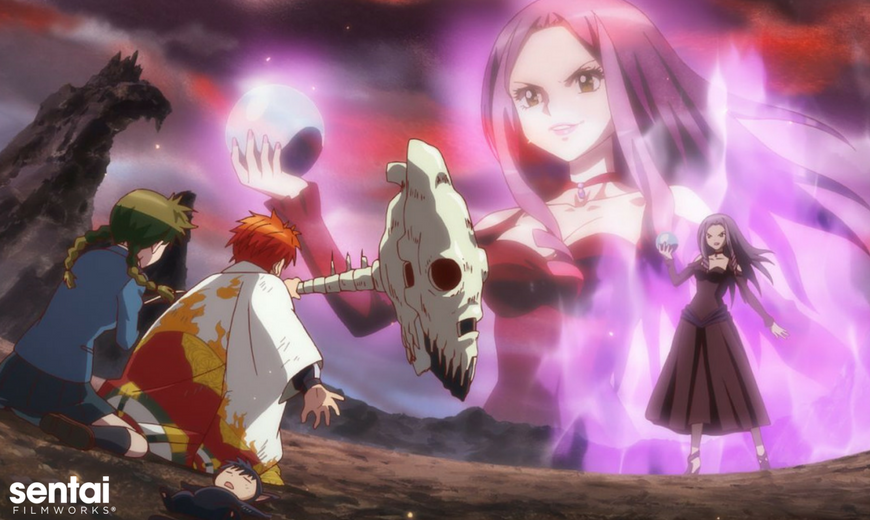 Sentai Filmworks Licenses Rumiko Takashi's RIN-NE 3
HOUSTON, MARCH 16, 2017 – Get ready to ride the Wheel of Reincarnation once more in Sentai Filmworks' latest addition to the Spring 2017 anime lineup: RIN-NE 3. Rinne Rokudo, Rokumon, and Sakura Mamiya are back for more misadventures in a story that pairs school life with the afterlife.
Saving lost souls on the tightest budget known to man is only a day's work for half-human, half-Shinigami kind-of-thing Rinne! Together with the almost too-collected Sakura and his black cat Rokumon, life continues as normal as Rinne helps guide the dead to their final rest. However, new transfers are never a good sign, and a popular fortune teller ends up at Rinne and Sakura's school as their new teacher. Things get chaotic when a strange girl wielding a scythe makes an appearance, and Rinne realizes that he might discover a major piece surrounding the mystery of his past.
Based on the original manga by famed manga-ka Rumiko Takahashi (Inuyasha, Maison Ikkoku, Ranma ½), the series will be directed by Hiroshi Ishiodori (RIN-NE; Kiss Him, Not Me). Brain's Base (Natsume's Book of Friends, My Teen Romantic Comedy SNAFU) returns to handle animation production for the third season of RIN-NE.
RIN-NE 3 is scheduled for an April 8th release in Japan. It will soon be available to stream on select digital outlets for the Spring 2017 simulcast season with a home video release to follow. For Sentai Filmworks' latest announcements regarding this and other great titles, be sure to like us on Facebook and follow us on Twitter.
About Sentai Filmworks, LLC
Sentai Filmworks is a leading global supplier of anime and official anime merchandise, distributing, and curating one of the industry's most diverse libraries of top trending and classic titles. Offering thousands of hours of content across both traditional and digital platforms, Sentai is dedicated to bringing captivating stories and iconic characters directly from Japan. With hit series that include Parasyte –the maxim–, No Game, No Life, Food Wars!, Is it Wrong to Try to Pick Up Girls in a Dungeon?, and Akame ga Kill!, Sentai's catalog continues to grow with new favorites like Himouto! Umaru-chan and Monster Musume: Everyday Life with Monster Girls, as well as classic anime series such as Legend of the Galactic Heroes. For more information, visit www.sentaifilmworks.com.