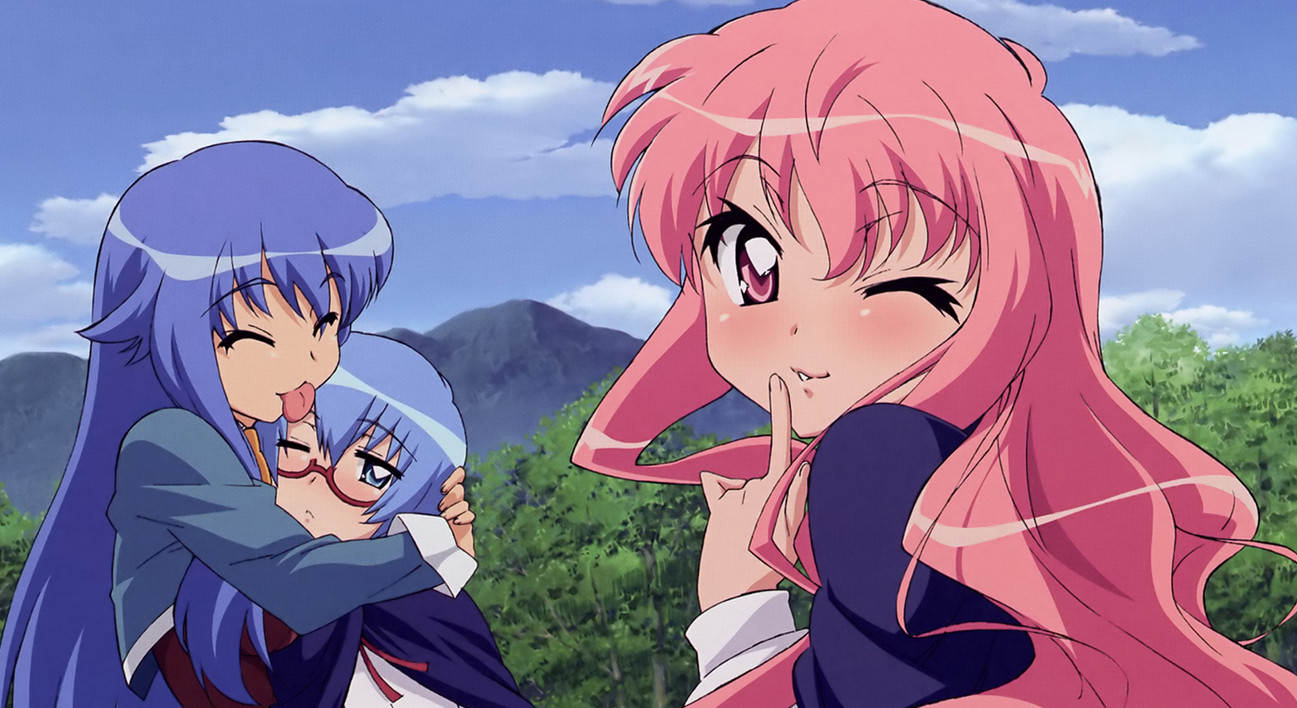 Sentai Filmworks Licenses "The Familiar of Zero: Knight of the Twin Moons"
---
HOUSTON, November 17, 2014 – When your hero's a zero and decides to stick around, there's not much to do but soldier on in Sentai Filmworks' latest acquisition, Familiar of Zero: Knight of the Twin Moons. This magical comedy series is directed by Yuu Kou (Uta no Prince Sama, Loveless) with character designs by Masahiro Fujii (Dream Eater Merry, Hayate the Combat Butler!!), art direction by Yoshinori Hirose (Best Student Council, Kampfer), and animation production by J.C. Staff (Excel Saga, Golden Time).
Louise the Zero and her familiar Saito are back for another round of chaotic magic and even more chaotic romance. With the Albion invasion put to a stop, it seems as if peace has finally returned to the Kingdom of Tristain. After Saito sacrifices his only chance to return to Tokyo in order to remain at Louise's side, it seems like the relationship between this fiery mage and her familiar should finally find a little peace as well. Unfortunately, thanks to Saito's wandering eye and Louise's explosive temper, their relationship is more turbulent than ever. As Louise struggles between understanding her feelings for Saito and her powers as the only Void magic user in the world, the threat of war looms once again on the horizon with the appearance of a dangerous foe wielding a dark artifact. With Louise's childhood friend Henrietta now crowned Queen of Tristain, Louise will have to learn to control her magic if she hopes to protect her friend and put an end to the conflict once and for all!
Familiar of Zero: Knight of the Twin Moons will be available soon through select digital outlets with a home video release to follow.
About Sentai Filmworks
Sentai Filmworks is one of the fastest-growing anime companies in North America, producing hit series like Persona 4, Girls und Panzer, Devil Survivor 2, Bodacious Space Pirates, Majestic Prince and High School of the Dead as well as high profile theatrical films such as Grave of the Fireflies, K-ON! and Appleseed. Sentai Filmworks' programs are distributed through Super D, Diamond Comic Distributors, Section23Films and Waxworks through retailers Amazon, Best Buy, Fry's, FYE, Hastings, Suncoast, The Right Stuf, Wal-Mart and other good and fine stores. Digital product offerings may be found at Amazon, Anime Network, Crunchyroll, Google Play, Hulu, iTunes, Netflix, PlayStation Network, Rovi, Samsung, Vudu, XBOX Marketplace and YouTube.