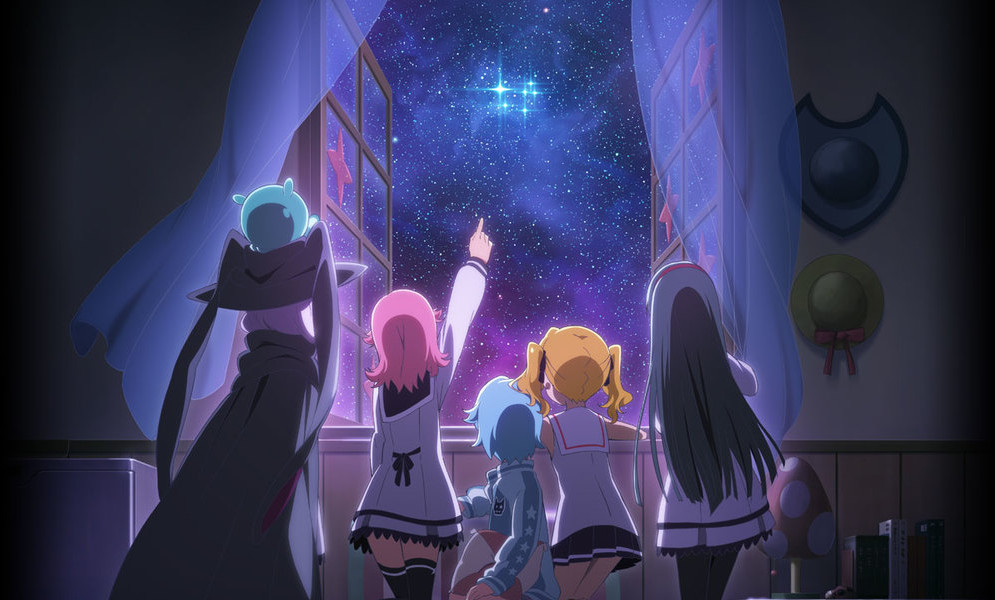 Sentai Filmworks LIcenses "Wish Upon the Pleiades"
---
HOUSTON, April 6, 2015 – Sentai Filmworks is proud to announce its latest acquisition, Wish Upon the Pleiades, as part of their Spring 2015 anime season acquisitions. A collaborative effort between car maker Subaru and legendary studio Gainax, Pleiades centers around a group of magical girls on the hunt for alien fragments to help an otherworldly visitor return home.
Shouji Saeki will be directing this magical adventure comedy series, with character designs by Mai Otsuka, who also did character work in the recent slice of life comedy Non Non Biyori. Hiroshi Kato will be handling art direction, with Satoki Iida providing sound direction. Wish Upon the Pleiades started as a joint partnership between the car maker Subaru and anime studio Gainax with a series of original net anime shorts and soon spawned a film and anime project, manga, and 4-koma styled 4 panel manga adaptation.
Wish Upon the Pleiades is scheduled for an April 2015 release and will soon be available through select digital outlets with a home video release to follow.
About Sentai Filmworks
Sentai Filmworks is one of the fastest-growing anime companies in North America, producing hit series like Persona 4, Girls und Panzer, Devil Survivor 2, Bodacious Space Pirates, Majestic Prince and High School of the Dead as well as high profile theatrical films such as Grave of the Fireflies, K-ON! and Appleseed. Sentai Filmworks' programs are distributed through Super D, Diamond Comic Distributors, Section23Films and Waxworks through retailers Amazon, Best Buy, Fry's, FYE, Hastings, Suncoast, The Right Stuf, Wal-Mart and other good and fine stores. Digital product offerings may be found at Amazon, Anime Network, Crunchyroll, Google Play, Hulu, iTunes, Netflix, PlayStation Network, Rovi, Samsung, Vudu, XBOX Marketplace and YouTube.