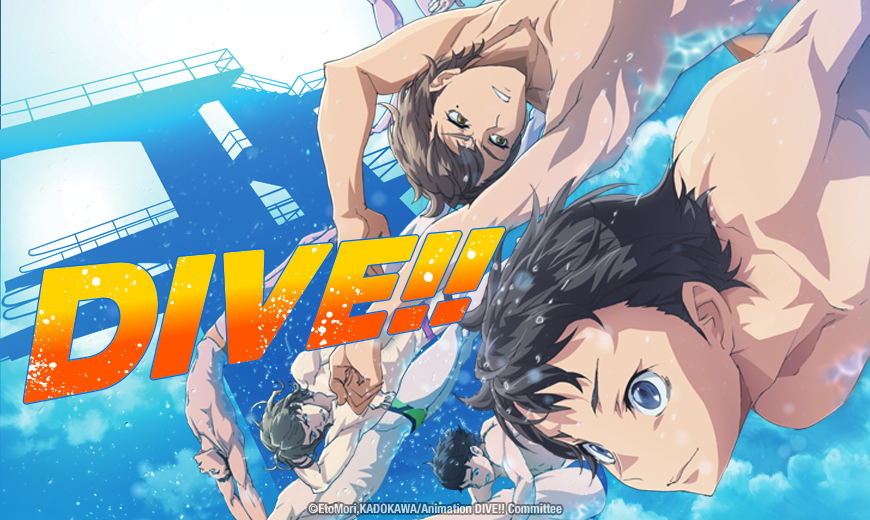 Sentai Filmworks Makes a Splash with "DIVE!!"
---
HOUSTON, TX August 28, 2018 – Sentai Filmworks announced today that it has acquired distribution rights to the high school swim team series DIVE!! for the USA, Canada, the UK, Ireland, Wales, Australia, New Zealand, Scandinavia, South Africa, Latin America, Spain and Portugal. DIVE!! will be available for purchase in December 2018.
From Zero-G studios (Grand Blue, DOREIKU The Animation), DIVE!! revolves around the Mizuki Diving Club as they struggle to stay afloat due to financial troubles. With their sponsor threatening to pull their funding, Tomoki Sakai and the other members of the club need nothing short of a miracle to keep practicing the sport they love. Luckily, their new coach Kayoko Asaki makes it her mission to not only save the club but to get the team to pass the Olympic qualifications!
Produced by Fuji TV (One Piece, Dragon Ball, Hunter x Hunter), Aniplex (Boruto, FULLMETAL ALCHEMIST), DMM pictures (Inuyashiki, Dies Irae) and Dentsu (Fairy Tail, Bleach), discover how passion, determination and teamwork transform the members of the Mizuki Diving Club as they begin the battle to fulfill their dreams.
For Sentai Filmworks' latest announcements regarding this and other great titles, be sure to like us on Facebook and follow us on Twitter.
About Sentai Filmworks, LLC
Sentai Filmworks is a leading global supplier of anime and official anime merchandise, distributing, and curating one of the industry's most diverse libraries of top trending and classic titles. Offering thousands of hours of content across both traditional and digital platforms, Sentai is dedicated to bringing captivating stories and iconic characters directly from Japan. With hit series that include MADE IN ABYSS, Land of the Lustrous, Big O, and Akame ga Kill!, Sentai's catalog continues to grow with new favorites like Sword Oratoria: Is it Wrong to Try to Pick Up Girls in a Dungeon? On the Side, Princess Principal, and FLIP FLAPPERS, as well as classic anime series such as Legend of the Galactic Heroes. For more information, visit www.sentaifilmworks.com.