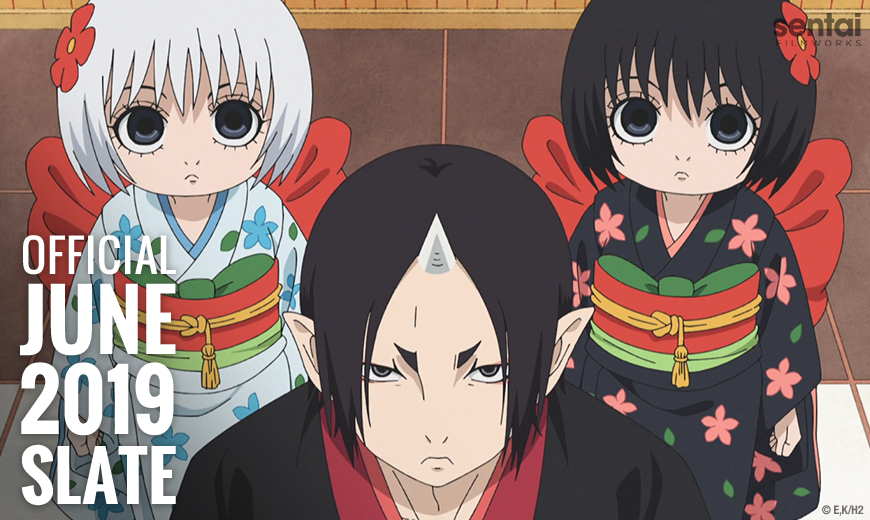 Sentai Filmworks Official June 2019 Slate
---
Title: GODANNAR
Published by: Sentai Filmworks
Distributed by: Section23 Films
Run Time: 650 min.
Street Date: 6/4/2019
Format: BD
Language: English & Japanese with English Subtitles
SYNOPSIS: Five years ago, Goh, the pilot of the giant robot Dannar, rescued Anna Aoi as the monstrous Mimetic Beasts attempted to wipe human life from the planet. Now the Beasts are back, but Goh's not going back into battle alone. Not only does his new bride-to-be Anna have a mech of her own, but their "his and her" giant robots are designed to mate together to form the ultimate in alien-smashing technology, the mighty Godannar! Unfortunately, while they may have the perfect partnership on the battlefield, things aren't running so smoothly on the home front and when "the other woman" from Goh's past suddenly returns, the rifts that are opened may be wide enough to put the entire defense of mankind in jeopardy! Can an international supporting cast of the wildest giant robot pilots ever hold the line until Goh and Anna can come together in the cockpit, join interlocking parts and create the perfect marriage of man, woman and machine? It's time to love, honor and kick serious monster ass as family ties go nuclear in GODANNAR!
Title: HOZUKI'S COOLHEADEDNESS 2
Published by: Sentai Filmworks
Distributed by: Section23 Films
Run Time: 650 min.
Street Date: 6/11/2019
Format: BD
Language: Japanese with English Subtitles
SYNOPSIS: This is a tale of Hell. The many souls of the dead make their way to the underworld and face the judgement of King Enma. As Enma's foremost aide, Hozuki is as busy as ever keeping things running. He oversees the punishments of the dead and instructs their tormentors, along with making an occasional inspection of the Mundane World. Together with his usual cohorts, Hozuki will encounter familiar faces from European Hell, a feisty princess, a crane, and other famous Yokai of legend. The exciting and rambunctious days in the underworld continue on!
Title: HE IS MY MASTER
Published by: Sentai Filmworks
Distributed by: Section23 Films
Run Time: 300 min.
Street Date: 6/25/2019
Format: SD on BD
Language: Japanese with English Subtitles
SYNOPSIS: Yoshitaka Nakabayashi may be young, rich and not unattractive, but as runaway sisters Izumi and Mitsuki Sawatari quickly discover upon becoming Yoshitaka's new maids, he has some SERIOUS issues. Like his insistence on being called "Master", and dressing the girls in costumes he creates himself. Unfortunately, Izumi's personal net worth is in the negative digits, and with Mitsuki and her pet alligator to support, she'll just have to grin and bear whatever comes out of Yoshitaka's twisted closet! But the costumes are only the beginning, and when Anna, a third au pair with obsessive issues of her own, joins the party the situation will go from bad to perverse. The rules of dealing with domestic help have never been so completely abused as when the madmen at Gainax (Evangelion, FLCL) unleash their most demented series ever: HE IS MY MASTER!