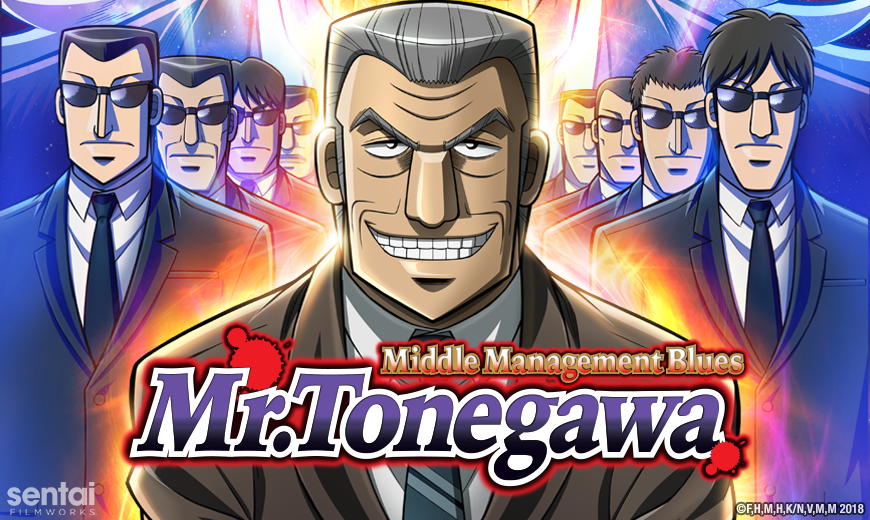 Sentai Filmworks Onboards "Mr. TONEGAWA Middle Management Blues" as a New Summer 2018 Title
---
HOUSTON, TX, July 5, 2018 – Sentai Filmworks announced today that it acquired the distribution rights to the Summer 2018 comedy, Mr. TONEGAWA Middle Management Blues. This spinoff series from the award-winning world of Kaiji, will be available for USA, Canada, New Zealand, Australia, the UK, Ireland and other select territories.
President Hyodo is tired of dealing with debtors, so he orders mid-level manager, Yukio Tonegawa, to form a group of men and devise a series of sadistic games, called the Game of Death, to collect what is owed to him. Initially, Tonegawa and his black-suited men, known as Team Tonegawa, are hesitant to participate but quickly discover that their new line of work is more enjoyable than they originally thought.
Madhouse (Kaiji, One Punch Man) will be in charge of the animation production. Toshiyuki Morikawa (Naruto, Bleach, Mobile Suit Gundam Wing) will voice the protagonist, Yukio Tonegawa, and character design will be handled by Haruhito Takada (Kaiji, Fullmetal Alchemist, Gakuen Basara).
The series will soon be available to stream on select digital outlets with a home video release to follow.
For Sentai Filmworks' latest announcements regarding this and other great titles, be sure to like us on Facebook and follow us on Twitter.
About Sentai Filmworks, LLC
Sentai Filmworks is a leading global supplier of anime and official anime merchandise, distributing, and curating one of the industry's most diverse libraries of top trending and classic titles. Offering thousands of hours of content across both traditional and digital platforms, Sentai is dedicated to bringing captivating stories and iconic characters directly from Japan. With hit series that include MADE IN ABYSS, Land of the Lustrous, Big O, and Akame ga Kill!, Sentai's catalog continues to grow with new favorites like Sword Oratoria: Is it Wrong to Try to Pick Up Girls in a Dungeon? On the Side, Princess Principal, and FLIP FLAPPERS, as well as classic anime series such as Legend of the Galactic Heroes. For more information, visit www.sentaifilmworks.com.
###